Stepping Strong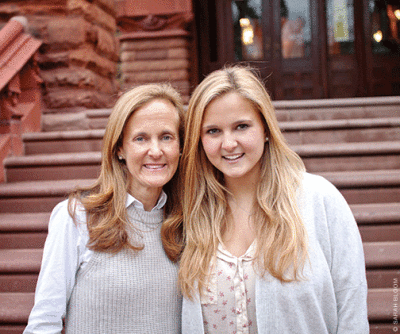 The questions began for Gillian Reny as soon as the freshman arrived at Penn this past fall. Curious as to why she was starting college on crutches, her classmates would ask what happened to her legs. Not wanting to cause alarm by "telling them something so unexpected and awful," her responses were usually vague.
"I would often just say that I had an accident," Gillian says. "But once I got more comfortable with people in my dorm and on my hall, I shared my story. And everyone has been so understanding and supportive."
Her story: On April 15, 2013, Reny was standing near the finish line at the Boston Marathon, with her parents, when two pressure-cooker bombs exploded nearby. Her mother and father—Audrey Epstein Reny C'86 WG'91 and Steven Reny W'87—both suffered minor injuries. Gillian wasn't as fortunate. Shrapnel tore into her legs, inflicting particular damage to her right one, which lost chunks of skin, muscle, and bone.
All three family members were taken to an ambulance, together, and rushed to Brigham and Women's Hospital.
"No civilian should have to see what we saw that day," Audrey said later in an interview with the Gazette. "And no mom should ever have to see her child so seriously injured."
Understandably, Audrey doesn't like to say much else about what happened that day on Boylston Street—where the Renys were on hand to watch their oldest daughter, Danielle, run her first marathon as part of the Harvard College Marathon Challenge. Audrey prefers to focus on how the doctors at Brigham worked furiously to save Gillian's legs in the aftermath, how her daughter remained remarkably upbeat throughout her five-and-a-half-week stay in the hospital—like "a beacon of sunshine in the midst of all of that chaos," Audrey says—and how, despite the horrific injury, Gillian still pulled off the feat of graduating from high school and starting at Penn on time.
Now, above all else, she wants to keep a sharp focus on the Gillian Reny Stepping Strong Fund, a campaign the family launched in February to raise money for the Brigham and Women's Hospital trauma unit. The family's goal is to help "future patients with traumatic, athletic, and disease-related limb injuries regain their strength and step strong once again."
"We had the great fortune of meeting brilliant caregivers," Audrey says. "We met incredibly resilient patients. We were the beneficiaries of an abundance of love and care and thoughtful outreach.
"That's why we established the fund," she adds. "So other victims can have the best possible outcome as well."
While there have been many fundraising efforts connected to victims of the Boston Marathon bombing—many of whom lost limbs in the attack—this one is the first, Audrey believes, that specifically targets the medical community. The Renys, who are working closely with the hospital, hope to raise $3 million to support research in trauma healing—including limb reconstruction and bone regeneration—as well as training for the next generation of trauma surgeons through fellowships and innovation awards.
In a show of support for the Stepping Strong Fund, a team of 13 runners planned to run this year's Boston Marathon on April 21, and about 60 more were set to run in the Boston Athletic Association 5K race during marathon weekend.
"We've been receiving gifts from far and wide, from all across the globe, at all giving levels," Audrey says. "It's really been extraordinary. … It sort of feels like pretty much anyone we talk to about it is excited to get on board and really wants to do something positive in the wake of something so awful."
While much of the support has come from the Boston area, where the Reny family lives, Gillian has also felt a lot of love from Penn. Her sorority, Tri Delta, is planning a fundraiser for the coming year. And many of her new friends, she says, have made contributions and shared news of the fund through social media.
On a larger scale, the University came together to facilitate Gillian's transition to Penn, allowing her to take three courses per semester instead of four, and making sure the location of her classrooms aren't spread too far apart to minimize how much she needs to walk around campus. Audrey credits Dean of Admissions Eric Furda C'87 for spearheading those efforts. Furda notes that many different people came together for Gillian, including College House staff members and academic advisers.
"I said to a close colleague that, as an alum—as someone who's worked here for 10 years in two different time frames—this is the time that you're proud that the institution is pulling together for one student," says Furda, who first reached out to Audrey shortly after the bombings to tell her that Penn would try to accommodate Gillian's needs as fully as possible. "That's what you need to do," he says. "That's what you have to do. And that's what you should do. But it's nice to see when it all comes together."
The institutional support has surprised Gillian. "I had no idea that a big University like Penn could be so supportive and welcoming," she marvels.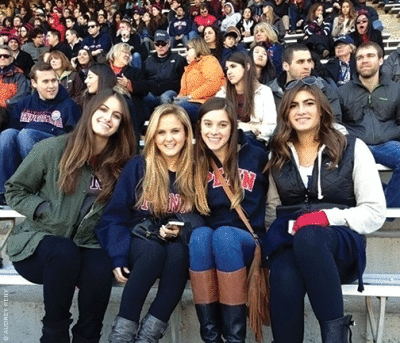 But in truth, aside from a few logistical matters, Gillian didn't need too much assistance to make the most of her freshman year. In addition to joining a sorority, she tutors at a West Philadelphia school, volunteers at the Ronald McDonald House, and has gotten involved in the Kite and Key Society—all while promoting the Stepping Strong Fund.
"Gillian is the most radiant person you'll ever meet," Furda says. "That's part of the tragedy of this. This is truly a young woman who has a positive aura about her."
Somehow, she has maintained that positive aura throughout the last year, even while dealing with multiple surgeries and a grueling rehabilitation process in which she has had to relearn how to walk. Now, she's mostly off crutches and doesn't have to deal with as many questions from inquisitive classmates. But when she is asked, she'll tell them what happened, that it won't slow her down, and reiterate her gratitude to the doctors who saved her legs.
"I remember feeling a great sense of relief and safety when we arrived at the hospital," Gillian says. "Once we were there, I felt hopeful that I was going to be OK for the first time. I guess that is why starting the fund is so meaningful and important to me. I owe them so much."

—Dave Zeitlin C'03
Donations to the Gillian Reny Stepping Strong Fund can be made at BWHSteppingStrong.org.