Spreading Safety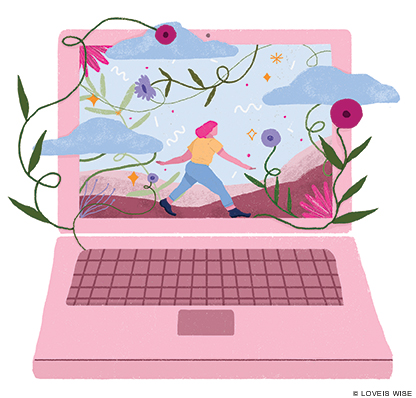 Safe Kids Stories promotes "stealth culture change."
---
Lorene Cary C'78 G'78—the writer, English department senior lecturer, and social and arts activist—is explaining the origins of Safe Kids Stories (safekidsstories.com), which aims "to see safety, peace, and non-violence with the clarity and imagination with which we now see danger."
Cary got the idea for the weekly blog and advocacy group a few years ago while serving on Philadelphia's School Reform Commission, the state- and city-appointed five-member panel that has overseen the School District of Philadelphia since 2001, where she chaired a new safety committee. Amazingly, "there had never been one, but it was so clear to me that the one thing we had to do was the first thing parents want—for you to keep their children safe all day," Cary says in an interview in her Fisher-Bennett Hall office.
Physical security was obviously the first concern, but the concept goes far beyond that. "For real—there was a blue-ribbon commission. And what they said was, 'Safety comes from caring relationships,'" Cary recalls. "Well, we sort of know that already, but then you get sidetracked, right?'" When the people around care about them, kids are safer. "No matter what. No matter how much money you have, no matter how many metal detectors, no matter what your income level is."
A lot of the stories people told Cary—the ones that don't get covered in a media environment where "if it bleeds, it leads," and most stories involving kids and schools are horror stories—had to do with examples of those caring relationships. "But there was no outlet for sharing" them, she says.
"I wanted to create a place where we could put up stories about young people, relationships, wholeness … anything from a bunch of teachers learning an anti-bullying program, to young people writing about a book that they believe helped keep them safe in some way."
The website launched in October 2015. Cary credits Peter Conn, the Vartan Gregorian Emeritus Professor of English, "who's been a great mentor," and School of Social Policy and Practice Dean John Jackson for helping get the project off the ground. SP2 provides some funding, Cary adds, but the great bulk of the work is volunteer-based. The editor is former New York Times Book Review editor Rebecca Pepper Sinkler CGS'75 Hon'91.
The articles posted are a mixed bag, in the best sense. They range from essays on the joys and lessons to be found in golf, or swimming, or playing music; to meditations on ethnicity and personal identity; to teachers' tales of connecting with students, or failing in the effort; to searching examinations of youth crime, foster care, and the juvenile-justice system.
Contributors include professional writers, teachers, counselors, social workers, college students from Penn and other area schools, and even some younger kids. Sinkler will sometimes solicit writers—like Caldecott Medal-winning children's book illustrator Jerry Pinkney, who sent in an essay on his early life and becoming an artist last July, when Safe Kids Stories was involved in sponsoring a Jerry Pinkney Day in Philadelphia—as will Cary herself and Peter Conn, she says. (The home page invites submissions, too.)
A good chunk of material comes out of Cary's classes at Penn, where she teaches fiction and nonfiction writing, and writing for children. All are classified as academically based community service. Sometimes students will do workshops at city schools or places like Mighty Writers, a free afterschool writing skills program that serves 7- to 17-year-olds. But the service component can take other forms, too.
"I want my students to go out into the world and write with real people in some way or other," Cary says. "It deepens them. But it also says, being of service in the community does not always mean being a little Penn missionary, saying, 'Oh, how can I help you?' Sometimes it's, 'Let's go out, and let's look at what's going on, and what can you learn?' And then, 'How do [you] write about it in a way that is good enough to be published and to get by, first me, and then Becky Sinkler?' And not everybody makes it."
One of those who did is Syra Ortiz-Blanes C'17, who took Cary's class on writing for children and helped organize the Safe Kids Stories launch while taking her nonfiction class in fall 2015. (Her essay, "My Mama, My Abuela, My Home," which draws connections between her own family relationships and the ones depicted on the TV show Jane the Virgin, is reprinted as this issue's "Notes from the Undergrad.")
Ortiz-Blanes had never written for children before, and Cary's class taught her "a valuable lesson: that reading, and writing, were to be shared and could change the world and children's lives." Helping with the Safe Kids Stories launch "taught another radical and beautiful idea: literature and writing could make children safe!" she adds in an email. "Children are exposed to so much fear in media and entertainment. It makes sense: the world we are living in is a scary place. And yet, if we are to change it, then we need to change how we talk about danger. A cultural shift needs to happen. Thus, we need to talk about how we find safety and comfort in the world around us, and we need to create safe spaces. Reading and writing is a great way to do that."
In an age of media bubbles and niche markets, Safe Kids Stories aims for something like the old days of movies and network TV, when "the whole family would go," says Cary. In practice, traffic to the site varies greatly, depending on the social-media presence of the author, which "absolutely changes everything," and subject matter. "Something that's connected to a library podcast gets the library's 20,000 [followers]," Cary says. "We have a Facebook. We have a Twitter."
Yet Cary is wary of putting too high a premium on likes and shares. "We also don't do anything that's clickbait-y," she says. "Clickbait on the web is anger, resentment, and righteous indignation. We could do those stories. But that's not about safety. That's about danger."
One way to spread the word is through events. For the launch the featured speaker was the writer-filmmaker-recording artist MK Asante, a professor of creative writing and film at Morgan State University best known for his memoir, Buck, about discovering his creativity while growing up in "Killadelphia" in the 1990s. Last summer's Jerry Pinkney Day was another example, and this spring brought another event featuring Pinkney in connection with a show of his illustrations at Woodmere Art Museum in Chestnut Hill. In March, Sinkler posted a piece about how Pinkney—another African American for whom art was an escape from the discrimination and hard times of his youth—captivated a group of high school art students from Camden, New Jersey, who peppered him with questions about his work and life. This October 18, Asante will return to Philadelphia for a day of activities with students, educators, and readers cosponsored by Safe Kids Stories, the Free Library, the School District, and Penn's creative writing program and English and Africana studies departments.
Such events are invaluable in showing kids role models, says Cary, who strives to do the same in her own life and career. And, "like the site, they are a place where millennials, intellectuals, teachers, parents, and young people talk about the project of our species, which is raising our young," she adds. "You know, we get together, we see each other for a while, and we say, 'How are your kids?' And then we cry if they're not well. We rejoice if they are.
"That's what this site is meant to do, and you build that community across race, class, gender," she adds. "But it's been slow and intentional. If you're going to do a cross-class, cross-generation, cross-race project, you have to take time—because we don't have a lot of models for it."
Cary estimates another three years "before we will be where we want this thing to be. And that would be posting regularly with many national partners. Putting up a podcast that reaches many people. Creating one or two professional-development series a year. And bringing in more community writers. Our real ambition, the ambition we claim, is stealth culture change." —JP