Space Jam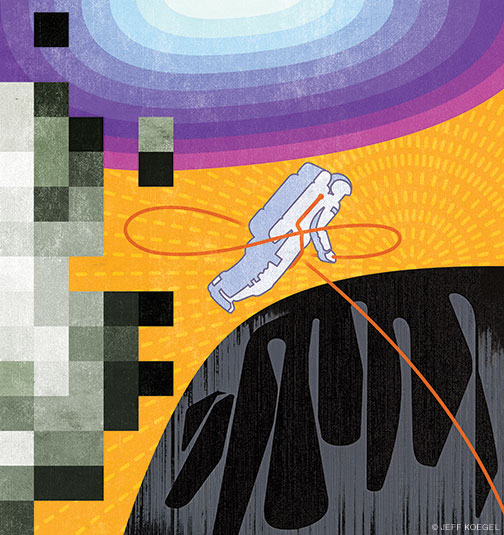 John Diliberto roams the sonic frontier for public radio.
---
Things could have gone quite differently for music maven John Diliberto C'76—and for the American progressive music scene—had he chosen West Point instead of Penn. The football programs at both schools tried to recruit the beefy Massachusetts native, who was an all-conference defensive tackle in high school, but even back then he had more than the gridiron on his mind.
"I was also a progressive rock freak and flute player," Diliberto says. And when he asked about the music program at the US Military Academy, "the West Point person had nothing to say beyond, 'Well, we have a marching band.'"
"I got much better answers," he recalls, "at my Penn interview."
What he found when he got to campus was even more auspicious: a hothouse for experimental radio that was hitting its stride in the mid-1970s. From that fertile soil ultimately sprang one of the least conventional but longest lasting music-driven fixtures of American public radio: Echoes. Aired on more than 100 non-commercial radio stations in the US, this contemplative show has been lulling listeners with a spacey blend of ambient electronica, neo-classical, contemporary folk, New Age, jazz, and world fusion music—seamlessly woven together with calming, kindred forms of post-rock, dream pop, and trip hop—for 30 years this October. Diliberto has been its mellifluously-toned tastemaker since the beginning, when the show sprang from his longtime friendship with Kimberly Haas EAS'79 and Jeff Towne C'85, who were fellow volunteers at WXPN in the station's student-run heyday.
Echoes operates in a tranquil, rarified alternative-music universe, and has a reputation befitting the late-night and early-dawn time slots it typically airs. After a hard day's night, the show's hypnotic heartbeat and cyclical construction has carried many a listener off to dreamland.
"I hear that comment a lot," Diliberto laughs. "But I think a majority of listeners find the program equally useful in helping them to concentrate and create—to write, to paint, whatever. It pulls you away from your screens, your daily stresses and ruminations."
It has also become a home for a loose collection of sonic artists who often struggle to find any airtime at all. Everyone from American minimalist masters Philip Glass and Steve Reich, to genre jumpers Laurie Anderson and Pat Metheny, to British ambient innovator Brian Eno and Italian neo-classical keyboardist/composer Ludovico Einaudi have made pilgrimages to Echoes' HQ, for on-air interviews and studio concert sessions.
In the early years, Diliberto, coproducer and engineer Jeff Towne, and cocreator Kimberly Haas ran the studio "in our living room at 46th and Hazel," Diliberto says. After he and Haas married, "we repurposed a second bedroom in Manayunk, then built a basement studio in the Downingtown house where Kim and I moved to raise the kids."
Haas split from Diliberto and the show eight years ago, and is now a producer for WHYY radio and a reporter for the website Hidden City Philadelphia. Diliberto and Towne currently pilot their sonic voyages from a quaint Victorian mansion in Chester Springs, Pennsylvania.
The journey started at Penn, where Diliberto joined WXPN's all-volunteer staff and hosted a variety of specialty shows: folk, jazz, prog rock, and "space music." As a junior, "thanks to the annual churn of graduating seniors that kept opening up slots," he rose to the rank of music director. "The '70s was a great time to be on the radio," he reminisces. "We had an 'all things good' attitude going at the station, as a very idealistic alternative to commercial radio."
Majoring in extra-curricular activities, though, often meant classes missed and a transcript littered with incompletes, Diliberto concedes. His four years as an undergraduate didn't end with a diploma in hand. "I gave it all on the airwaves, and with three years on the football field."
It was also at WXPN that he fell in step with Haas, another volunteer who, just after her 1979 graduation, was named the radio station's first paid music director/program director.
Plugging into the National Public Radio community, Haas became aware that NPR "was building a satellite transmission system to distribute shows with incredible sound quality, and was giving out production grants to prime the pump with high value shows." In 1981, she and John scored a stipend for a documentary series titled Electronic Minstrels, spotlighting avant-garde music figures. Then came the pathbreaking Totally Wired. "One day I was interviewing synth pop stars Depeche Mode in London," Diliberto says, "the next in Cologne talking with electronic music visionary Karlheinz Stockhausen."
By 1989, "the stars were really aligned" for Echoes' birth, recalls program codeveloper Towne.
There was a growing buzz around New Age music, which suddenly had its own Billboard sales chart. Two days before the annual submission deadline for Corporation for Public Broadcasting grants, the Penn pals delivered a proposal and demo tape for a high brow "soundscape" show and won $350,000 to jumpstart Echoes.
The elevator pitch for Echoes funding—and the show's CD of the Month Club—was and remains: "We're covering new and emerging music that's otherwise ignored on radio; music that people want to hear and that's shaping music for the future," says Diliberto. "And that's certainly proven true, in the evolution of movie scoring and most obviously in the explosion of electronic dance music that grew out of the synthesizer-based aesthetic."
"Echoes is essential exposure for bands like ours," says Marc Byrd of the Nashville-based ambient/post rock band Hammock.
"John has carved out a musical world which is uniquely his," testifies Will Ackerman, founder of the Windham Hill record label, which elevated the New Age genre—and also sparked, he rues, lots of dumbed-down, tinkly-bell, spa music imitators. "John's listeners trust him to push the edges now and again, introduce them to new music and new artists. Some light, some with darkness. He trusts his instincts, and always expands his listeners' horizons."
Including listeners at the station where it all began.
"John keeps the show fresh and revitalized, and plays a lot of current music that fits perfectly well on stations like WXPN," says program manager Bruce Warren. The station may be far removed from its student-run days, but it still carries Echoes on weeknights from 11 p.m. to 1 a.m.
—Jonathan Takiff C'68