Southern Historian, Crimson President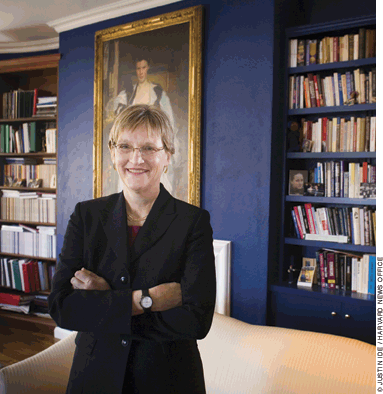 Class of '75 | On February 11, Dr. Drew Gilpin Faust G'71 Gr'75 was named the 28th president of Harvard University, the first woman to be selected for the post. Having served as founding dean of Harvard's Radcliffe Institute for Advanced Study since 2001, she oversaw the transformation of Radcliffe from a college into a multidisciplinary scholarly enterprise.
Before that Faust had spent 25 years on the Penn faculty, most recently as Annenberg Professor of History and director of the women's studies program. She is an expert in Southern history and the Civil War, and her sixth book, This Republic of Suffering (Alfred A. Knopf), is due out in 2008.
Since the announcement of her appointment, which takes effect July 1, Faust has received more than 1,000 emails and hundreds of letters of encouragement. In March she had a conversation with Charles Ornstein C'96, who took four courses from her at Penn and is now a reporter for The Los Angeles Times ["Profiles," Sept/Oct '05]. Below are excerpts.
---
Now that some time has passed since your appointment, has the significance of it really set in for you?
I still wake up in the morning and think, "Oh my goodness, I'm going to be the president of Harvard." I haven't quite gotten used to that idea. I think one of the aspects of this that I didn't fully realize was how much my appointment would mean to people I never would have imagined would care. I certainly never had any idea I'd be getting letters from little girls saying, "Now I know I can do anything."
How steep will the learning curve be from being dean of the Radcliffe Institute at Harvard to being president of the entire university?
I'm learning a huge amount every minute of every day. I think I have an advantage in that many of the faces are familiar and the basic structures of this institution are familiar to me. If I had come in from outside as an entirely new person, this would have been so much more difficult.
You've been universally lauded for your scholarly work on the American South. Is it difficult to put your research on hold for what will surely be a full-time job as president?
There was a kind of extraordinary serendipity about the timing of this appointment. I sent my book off to the publisher six days before the Corporation asked me to be the president of Harvard. Doesn't that seem remarkable? I will miss reading history and writing history, but I don't have a burning project right now.
What lessons from history will you be able to apply to your new job? And does being a historian give you any advantage?
Well, I felt coming from history gave me a huge advantage as Radcliffe dean. This was an organization in enormous transition. It was upended from being a college to being merged into Harvard, and the Radcliffe alumnae were very distressed about that change and very embedded in their past. And I thought, quite self-consciously, about using those traditions and honoring those traditions in order to facilitate change, and how you can mobilize the past in service of the present.
I will do this job as I did the Radcliffe job, very much as a historian. Bringing about change at this institution and moving it forward, I believe, is going to take careful attention to what the institution values in its past and how that can be mobilized for a different future.
You were on the search committee at Penn in 1993-94 when Judith Rodin [CW'66 Hon'04] was selected as the first female president of an Ivy League school. Did that give you any sort of ambitions? Did you see the symbolism of that?
I remember an interview with Judy in one of the final rounds of that search. I remember asking her how she felt her career had been affected by the fact that she was a woman, and what the stresses and strains she'd face might be. And it was just very interesting for me to hear her respond about the extra scrutiny she'd felt she'd been subjected to, the issues of authority she'd sometimes faced.
That I asked her that question meant that I was very interested, clearly, in the fact that she was a woman. I don't think Judy made me want to be a university president, but she did make me develop a tremendous respect for what they do.
Some of your colleagues have said that you had been considered for presidential appointments at other schools but you had withdrawn your name from consideration. Why wasn't the time right in the past to pursue a presidency at a different university?
Once I got into the Radcliffe position, I felt I needed to see the Radcliffe creation through. And the approaches made to me for other administrative opportunities came too early. It just wasn't the right moment. Radcliffe wasn't at a point where I felt I could responsibly let go of what we were trying to do. We were trying to do a lot of difficult things, bring about change. I just couldn't leave it earlier.
Do you miss Penn? Is it tough rooting against them in sports, especially now as the cheerleader in chief?
I don't know if I can go to a Penn game. [She smiles.] I couldn't go back to Penn for a while. It just made me too nostalgic. I would go to Philadelphia and not go to the Penn campus. But now I can go back. I love seeing people there and I've gotten to know [Penn President Amy Gutmann] well, and she's going to be a great colleague and advisor to me.
How does your husband, former Penn professor Charles Rosenberg, feel about assuming the role of first husband at Harvard? Is that a strange feeling for him?
Yes. He's very wry and ironic. So I would say he's dealing with it with irony. He's been hugely supportive—I should say that also. He's been really marvelous through all of this.
What do you think that the biggest issues are today facing not only Harvard but American higher education in general, and are they different?
I'm struck actually by the similarities. I think we're all concerned about access, about opening up American higher education to people of talent, regardless of their financial means, their racial or gender backgrounds.
You have another book coming out next year, This Republic of Suffering. Tell me about it.
It's about death and the American Civil War, and it asks the question: How did society deal with this huge death toll? Six-hundred-twenty thousand soldiers died; uncounted, unknown numbers of civilians died. The soldiers alone represented two percent of the population. That would be 6 million people in the United States today. How on earth would we respond to that? How did it make them think about the responsibilities of the nation-state for which all of these individuals had been sacrificed? So the chapters, each one is a gerund that begins with Dying and [moves to] Killing and Burying and Naming and Realizing and Believing and Doubting and Accounting and Numbering.