Softball Finds a Steely Edge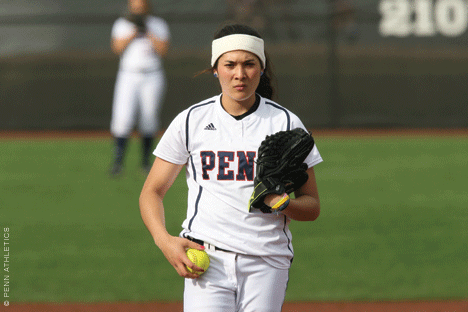 Alexis Borden
---
By Dave Zeitlin | The most beautiful piece of artwork hanging in Penn softball coach Leslie King's office has the imprint of a shoe right in the middle of it.
It's a page of the scorebook from Penn's 4-0 win over Cornell in last season's one-game playoff for the Ivy League South Division title—a contest in which freshman Alexis Borden pitched the first perfect game in program history. At the time, junior utility player and scorekeeper Bridget Ellsworth only filled out the first 20 of Cornell's 21 consecutive outs. When the final out was made, on a catch in foul territory by freshman left fielder Sydney Turchin, Ellsworth threw the scorebook in the air and stepped on it as she raced to join the mob of teammates hugging Borden in the middle of their Penn Park field. Only later did King fill in the final out, frame the scoresheet, and hang it in her office.
The footprint doesn't bother her. If anything, it's a symbol of how far the Penn softball program has come—and how many more steps are left in the journey.
"It was a tremendous moment and something we'll always look back on and treasure," King said from the Dunning Coaches' Center in late January, a little more than a month before the 2013 season was set to begin. "But we also understand that was a moment in time. Now it's a new year."
The perfect game wasn't the only great moment of 2012. Led by their ace pitcher Borden, who became the third player in program history to be named Ivy League Rookie of the Year, the Quakers set program records for overall wins (33) and Ivy League wins (15) while capturing their second division title since the Ivy League went to a divisional format in 2007. Eight Quakers represented Penn on the all-Ivy squad, including Borden, who broke Penn's single-season records for both wins (24) and strikeouts (193).
And the best part? The Quakers return almost everybody from that team, including their entire starting lineup.
"We're cautiously optimistic," King said, "that we're going to have a real good shot at a championship."
They haven't nabbed one since 1981. The Quakers missed out on a conference title last season when, days after Borden's perfect game, North Division champ Harvard swept them in the best-of-three Ivy League Championship Series. That also kept the squad from getting an automatic berth in the NCAA tournament.
"The losses to Harvard were probably some of the most difficult of my career," said King, who's entering her tenth season at the program's helm. "The whole team believed, with every fiber of our being, that we were going to win that championship. … It took me personally weeks to get over it … It's like someone punched you in the stomach over and over again and you're shaking your head thinking, 'That didn't just happen.'"
The players took it hard, too. But eventually they were able to put the entire season in perspective and use what happened at Harvard as motivation going into the 2013 campaign.
It only seems fitting that the Ivy League slate opens for Penn with a home doubleheader against the Crimson on March 29.
"I didn't see it as a letdown just because of what it took to get there," Borden said of last year's championship series. "I feel like that in itself was a huge accomplishment."
Part of the reason getting to the league finals was such a huge accomplishment is because of where the program had been. Since softball became a varsity sport at Penn in 1974, the Quakers have enjoyed only 10 winning seasons—and none between 1985 and 2007.
How have they orchestrated the turnaround? One reason might be their new, luxurious stadium at Penn Park, which opened for business last season.
"I remember the first game we went out there and I was just like, 'Wow, we've never had this many fans ever,'" says senior outfielder Brooke Coloma, who finished second in the Ivy League with 34 RBIs last season. "People actually know where our softball field is."
Between the beauty and convenience of Penn Park, the confidence gained from last season's run, the returning talent across the board, and the dominance of Borden—who said she's a "little bit stronger, a little bit wiser and a little more determined" going into her sophomore season—the Quakers certainly seem poised for a big year in 2013.
Women's lacrosse aims for seventh straight Ivy title

Karin Brower Corbett couldn't believe some of the things she heard from her players when she took over the Penn women's lacrosse program in 2000.
"The kids here were great but lacrosse to them was just another extracurricular activity," she said. "They would say to me, 'Karen, I have to go to a sorority dance and I can't make lifting.' OK, that's really not what's going to happen here."
For Brower Corbett, it took four or five years of "disciplining a lot and banging your head against the wall" to start to change the culture of the program. By the middle of the last decade, Penn transitioned from a middle-of-the-road Ivy League team to a nationally relevant program that recruited some of the best high-school lacrosse players on the East Coast. From there, the Quakers made three straight trips to the national semifinals (2007-09) and captured six consecutive Ivy League championships.
They're looking to make that seven this spring.
"What happens whenever you win championships is you're not satisfied," Brower Corbett said. "You want more. And this team wants more."
Brower Corbett admitted that last year's team was not one of her best, but the 2012 Quakers gutted their way through injuries and relied on the leadership of captains Erin Brennan W'12 and Emily Leitner C'12 to win the regular-season league title, the longest-running such stretch in Division I women's lacrosse.
Penn, however, eventually ran out of gas, losing to Dartmouth in the Ivy League tournament finals before bowing out of the NCAA tournament in the first round to Loyola. That means that, despite their enormous success in conference play, this current crop of seniors, led by returning All-American Maddie Poplawski, is the first class at Penn since the mid-2000s that's never played in the NCAA final four.
"They don't know what that's about," Brower Corbett said. "They don't know how much fun that is and what an honor that is and the work it takes to get there. That's our challenge."
The seniors will get a lot of help from a freshman class that Brower Corbett calls "probably the strongest class we've ever had"—extremely high praise when you consider all of the All-Americans the program has churned out over the past decade. And many of them will be thrown into the fire immediately as Penn plays a typically daunting schedule that includes matchups against three of the top-five seeds from the 2012 NCAA tournament.
"I want to be the best," Brower Corbett says. "And you can only play the best to be the best."
It's certainly a lot different now than her days convincing players to blow off sorority dances. But this is exactly where she wants to be: aiming for national championships every single year.
"It doesn't get any easier because the expectations are always there," Brower Corbett says. "But I don't mind the expectations."
---
Dave Zeitlin C'03 writes frequently for the Gazette and oversees the magazine's sports blog.