Snow Mogul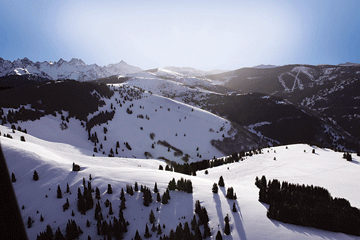 Class of '88 | Imagine fresh powder, wide open bowls, runs three miles long, Olympic-caliber skiers ripping rooster-tail plumes of snow on every turn, snowboarders jibbing through terrain parks, and toddlers snow-plowing between their parents' legs. Afterwards, think hot tubs and hot toddies or cocoa with the folks under a chandelier of elk antlers. That kind of skiing, at once hard-core and elegant, typifies Vail Resorts, which owns four of Colorado's 25 ski areas yet attracts half the state's skiers to its slopes. The company also owns Heavenly, the largest ski area in California, which sits on Lake Tahoe and straddles the Nevada state line.
The exhilarating winter dreamland is not run by a smooth-slaloming Swiss national or an extreme-skiing Colorado native but by a 39-year-old New Yorker whose uncles taught him to ski on East Coast ice, and who has worked in finance ever since he earned his bachelor's degree from Wharton.
"When I got out of Penn, I didn't think my career would have anything to do with skiing," admits Rob Katz W'88, who became the CEO of Vail Resorts last February.
Now Katz runs five of the most-visited ski resorts in North America, all of which are ranked among the top 20 in Skimagazine's readers' poll. At the summit is No. 1-ranked Vail, followed by three other Colorado mainstays—the picturesque Breckenridge (No. 6), Beaver Creek (No. 8), and Keystone (No. 14)—and the Golden State resort of Heavenly (No. 17). The company's holdings include 20 luxury lodges, six golf courses, 125 retail shops, real-estate holdings, and 15,000 employees. All told, the company is worth a cool $1.63 billion.
It is, says Katz, "an amazing platform to do innovative things and continue to grow the business."
One of those innovative things was Katz's decision, after six months on the job, to purchase 152,000 megawatt-hours of wind energy, which represents Vail Resorts' entire annual energy consumption and makes it the second-largest commercial purchaser of wind energy in the United States. That move should play well in green-minded Colorado, as was Vail Resorts' subsequent decision to form a partnership with the National Forest Foundation to raise $600,000 for conservation projects by asking guests to voluntarily contribute $1 on lift tickets and lodging.
Oddly enough, two catastrophic events—bankruptcy and terrorism—resulted in opportunities that led to Katz's current position.
The first came when Drexel Burnham went bankrupt, two years after he began working as an analyst in mergers and acquisitions; Katz was one of more than 4,000 employees let go. After a brief stint at Smith Barney, he learned that his old boss at Drexel was starting a new investment fund called Apollo, and Katz joined him in August 1990.
Two years later, Apollo bought Vail, and in an ironic twist, Katz found himself interviewing prospective Vail CEO Adam Aron in 1996. Then came September 11, 2001, which prompted Katz to rethink his future in New York.
"If we were looking for a time to move," he says, "that was as good of a sign as we were going to get."
The following summer he and his wife and two sons moved to Boulder; Katz continued to work for Apollo and led Vail's board. In early 2006 Aron resigned and Katz was offered the CEO position.
"A lot of my time is really spent on HR [human resources], managing and motivating people—as well as making the big strategic decisions," he says of his new role. "On a personal level, the best part of the job is that everyone in the company has an unbelievable amount of passion for what we do."
As CEO, Katz is also entitled to a bit of ski time—but don't expect him to be slicing high-speed turns through the glades like the locals.
"When I'm on the mountain, I can't be too crazy," he says. "It doesn't look good if the CEO hits somebody or falls off the trail."
— Aimee Berg