Riepe Succeeds Vagelos as Trustee Chairman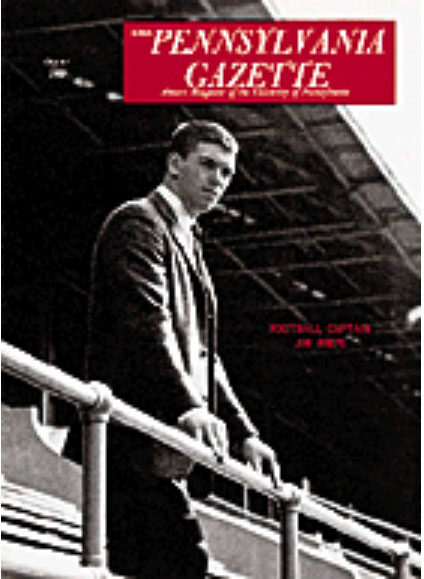 WHATEVER else he may accomplish in his tenure, the new chairman of Penn's board of trustees has already achieved one distinction: As far as we can tell, he's the first to have appeared on the cover of the Gazette as an undergraduate. "Football Captain Jim Riepe" gazes from the front of the October 1964 issue. On June 18, 1999, the man he grew up to become—James S. Riepe W'65 WG'67, vice chairman of the Baltimore-based investment-management firm T. Rowe Price Associates—was elected to succeed Dr. P. Roy Vagelos C'50 Hon'99 as head of the University's top decision-making body.
    The Gazette showed remarkable "prescience" in its cover choice, Riepe said, with a laugh, during a telephone interview—after a confirming photocopy of the cover was faxed to his office. "Wait'll my son sees that; he never knew I was that young."
    When first approached about becoming chairman, Riepe said, he was surprised. First, he hadn't realized that Vagelos was nearing age 70, when he would have to move to emeritus trustee status. Also, "the board is blessed with a lot of talented people," he pointed out. "I was not expecting this at all."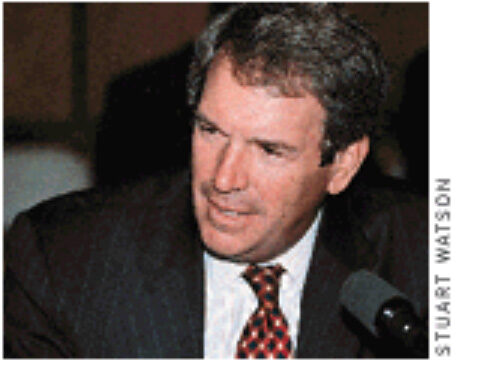 After speaking with Vagelos and Alvin V. Shoemaker W'60 Hon'95 to get their perspectives on the post—and with Dr. Judith Rodin CW'66, president of the University, about her expectations—Riepe consulted with his partners at T. Rowe Price to "see if we could do this or not—because I very much wanted to keep my day job." While those responsibilities will prevent him from being on campus as much as the retired Vagelos, Riepe says, "By and large I think I will try and accomplish the same things."
    Vagelos, who will continue to serve as an emeritus trustee, joined the board in 1988, shortly after stepping down as chairman and CEO of Merck & Co. He was named trustee chairman in 1994, serving for "four and two-thirds years," as he noted with a scientist's precision at the June meeting. In brief, typically low-key remarks, Vagelos praised Rodin, the University's "extraordinary faculty and students," and his fellow trustees. "We worked hard and had a great time," he said. He cited the opportunity to teach students at the University as having been a special source of satisfaction ["Notes From the Undergrad," July/Aug].
    "It has been my privilege to work side-by-side with Roy Vagelos these past five years," said Rodin. "With his unique combination of scientific expertise, business experience and personal leadership, he has served his alma mater in extraordinary ways. I know that Roy will be of good counsel to Jim Riepe as he takes over the chairmanship. I look forward to working with Jim in this next chapter of his long history of involvement with Penn."
    Riepe, who also said he "very much enjoyed working with Roy" as chair, described his predecessor as "very thorough," someone who "always had the University's interests at heart," was "probably reasonably demanding in his dealings with the administration—in a constructive way," and was "a good communicator."
    During his tenure, Vagelos in particular championed efforts to increase student financial aid and to provide greater opportunities for undergraduate research. Contributions for scholarship funds have grown rapidly, and Vagelos himself also contributed $10 million to fund the Vagelos Scholars Program in Molecular Life Sciences for undergraduates. Another $10 million gift went toward the Roy and Diana Vagelos Laboratories in the Institute for Advanced Science and Technology.
    At this early stage, Riepe said he would be "hard-pressed" to list his own goals as chair, beyond advancing the priorities in the Agenda for Excellence and maintaining the "incredible momentum the University has built up in these recent years." He added that he would like to "leverage this really talented board of trustees that we have, both in their oversight role and as supporters of the institution," and that he hoped "to involve to a greater extent the boards of overseers" of the various schools.
    Noting that he had long been involved in alumni activities—including serving on the board of the General Alumni Society (now University of Pennsylvania Alumni Society) and as the first chairman of the Alumni Council on Admissions, which counsels the children of Penn alumni on applying to the University—Riepe called the alumni a "critical constituency" who serve as the "institutional memory and spiritual heart" of the University. Sometimes overlooked among their contributions, he added, is that alumni are the "source of at least 10 percent of each freshman class," in the form of their children.
    "I see the alumni playing a very integral role going forward in the achievement of the Agenda for Excellence—not just financially but in all other ways as well," said Riepe. He expressed the hope that alumni would recognize that Penn is a "vibrant, stimulating" institution; how "highly regarded nationally" the University is; and "how the campus has been transformed since many of them have last visited." He would like to see alumni become even more engaged with the University, "so they can benefit from the social and intellectual stimulation" it offers—including its distance-learning courses, the Penn and alumni Web sites and electronic communication.
    Riepe joined the trustees in 1990 and has been a member of the board's executive committee since 1993. Before being named chairman, Riepe had headed the trustees' audit-and-compliance committee and the investment board, as well as serving on the budget-and-finance, external-affairs and student-life committees. He is also a member of the undergraduate-financial-aid committee and the Agenda for Excellence Council.
    As a student at Penn, besides captaining the football team, he was a member of the Sphinx Society and of Kappa Sigma Fraternity. He is married to an alumna, Gail Petty Riepe CW'68, and the parent of an alumnus, James S. Riepe Jr. C'98. He and his wife established a scholarship fund to assist Penn undergraduates from the Baltimore area in 1989.