Rhodes Scholars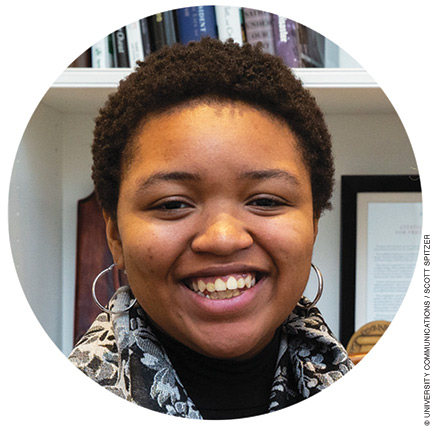 Anea Moore
In November, Penn senior Anea Moore was awarded a Rhodes Scholarship for graduate study at the University of Oxford. The Philadelphia native, who is majoring in sociology and urban studies, is a first-generation college student who has devoted substantial energy to improving the undergraduate experience of other such students. Moore created a program housed at the Greenfield Intercultural Center that provides additional resources to more than 1,000 first-generation/low-income students. She has also served as co-president of the Collective Success Network at Penn and chair of the Netter Center for Community Parterships student advisory board, among other leadership positions. She came to Penn as a Philadelphia Mayor's Scholar and was also the University's 2017 Newman Civic Fellow.
At Oxford, Moore plans to pursue a doctor of philosophy degree in evidence-based social intervention and policy evaluation. She applied for the Rhodes Scholarship with assistance from the Center for Undergraduate Research and Fellowships.
"All of us at Penn are incredibly proud of our newest Rhodes Scholar Anea Moore," said Penn President Amy Gutmann. "Anea's commitment to advocacy on behalf of first-generation, high-need students advances our Penn Compact 2020's inclusion principle to the next level by creating programs to strengthen academic success and retention. She shows a passion for engagement and embodies the finest attributes of Penn scholars who are working to make a profound difference in the world. Anea is truly deserving of this preeminent recognition."
Adamseged Abebe
Penn senior Adamseged Abebe, of Gondar, Ethiopia, has been awarded an inaugural Global Rhodes Scholarship for graduate study at Oxford. He was one of two chosen from countries around the world for the new award, which allows exceptional students who are from countries not historically eligible to apply.
Abebe is simultaneously pursuing a bachelor's degree in health and societies from the School of Arts and Sciences and a master's in nonprofit leadership from the School of Social Policy and Practice. He has conducted research on mitochondrial proteins at Penn Medicine; HIV/AIDS, mental health, and population health in Malawi; and the impact of Chinese investment on Ethiopian infrastructure. He has also served as a teacher and a mentor for children at a nonprofit school in Ethiopia for the past three summers. He is a Penn World Scholar, a Perry World House Student Fellow, a Lipman Family Prize Fellow, and a Paul Robeson and Anna Julia Cooper Scholar.
"We are so very proud that Adamseged Abebe—Adam to his friends at Penn—is one of the two inaugural Global Rhodes Scholars," said Gutmann. "His compassion and determination to help others throughout the world is the essential embodiment of a global citizen at Penn. Adam wants to make a difference in the world, and I could not be more confident that he will, aided by this well-deserved recognition as a Global Rhodes."
At Oxford, he will pursue a master's degree in international development.