Reconstructing the Maya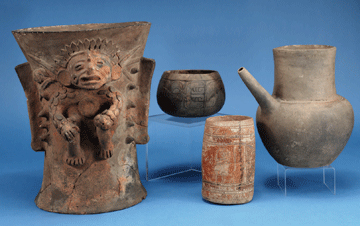 "Painted Metaphors" at the Penn Museum.
---
In 1910, George Byron Gordon, then-director of the University of Pennsylvania Museum of Archaeology and Anthropology, asked his old friend Robert James Burkitt to help the Museum acquire and excavate some Maya sites in Guatemala. Three years and much badgering later, Burkitt agreed. He spent the next 25 years unearthing hundreds of artifacts throughout Guatemala's previously untapped highland backcountry. At the time, Burkitt and others preserved the works as best they could and shipped them to the Penn Museum, where the majority have remained in storage—until now.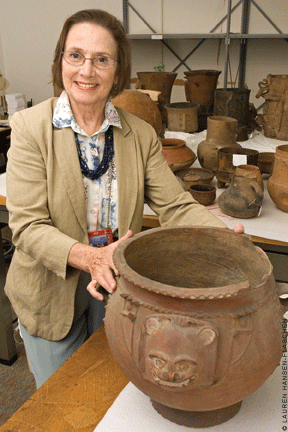 Burkitt's legacy includes dozens of letters—penned in his own phonetic, "reformed-spelling" English—along with a substantial portion of the Museum's Maya collection. When Elin Danien CGS'82 G'89 Gr'98 discovered these letters in the Penn Museum archives in the 1970s, "the man's whole character was so eccentric that it just intrigued me," she says. "I became really obsessive about getting the objects he'd sent back here exhibited."

Thirty years and one dissertation later, Danien's fascination with Burkitt and the artifacts he uncovered has resulted in "Painted Metaphors: Pottery and Politics of the Ancient Maya." On view at the Penn Museum through January 31, 2010, the exhibition illuminates the lives of ordinary highland Maya—a population often ignored by studies of their wealthier lowland counterparts.

The exhibition includes more than 150 artifacts—day-to-day objects that "show how life in an outlying corner of the Maya universe was affected by the political and military upheavals in Tikal and other great Maya cities during the Late Classic period [600-800 C.E.]," notes Danien. At its core are nearly two dozen colorful ceramic vases that Burkitt excavated in Chama, a village far from the region's more sophisticated lowland cultural hubs. These vessels are the only artifacts on view that would have been used solely by elite Maya, and according to Danien their bright scenes are more than just eye-catching. They are actually the painted metaphors in question: illustrations of the people and ideas that were invading the Maya territory some 1,200 years ago. Thanks to Burkitt, they are also the only existing collection of Chama polychromes with documentation. ("That's a nice way of saying the rest were looted," Danien adds.) 

No aspect of everyday Maya life is ignored, from shaman figurines and jade jewelry to weaving implements and ceremonial incense burners. An assortment of cookware includes a pot with the body and head of a rat, used for only the fanciest of feasts. Mesoamerican baseball is highlighted in a group of ballplayer figurines and whistles, while musical instruments, including a flute and an ocarina, are also on display. The Mayan fondness for chocolate is revealed through a number of objects, among them a spouted pitcher that would have been used to pour cacao into cups from high above, creating a head of foam like that found on today's lattes.

The exhibition includes photos and videos of Maya life in Chama today. "Visitors will see that the Maya did not disappear," Danien says, "and that their current lifestyles and traditions are very similar to the Maya who lived nearly 1,300 years ago."

Danien's fascination with Maya culture was born long before she discovered Burkitt's letters. While living in Mexico as a young woman, she found herself drawn to the Pre-Columbian history of the region, and when she came to the Museum as a guide in 1972, she focused on the Maya "because of the superb collection," she says. (Danien later founded the institution's annual Maya Weekend, which recently celebrated its 27th year.)

She was 46 when she took her first undergraduate course at Penn in 1975, and 23 years later she completed her doctoral dissertation on the collection of Chama polychrome pottery on view in "Painted Metaphors." The exhibition's three-decade gestation period, she notes wryly, was "the longest pregnancy in the history of the world."

The final trimester was particularly trying, and not just for Danien. For the last 10 years, Penn Museum conservator Lynn Grant has been charged with assembling these extraordinarily challenging ceramic jigsaw puzzles.

"The Maya valued process over product," she says, "so a lot of this pottery wasn't well-fired, and it wasn't made to last. These objects were seen as disposable." In preparing the works for exhibition, Grant re-formed bowls that had been smashed into hundreds of pieces during building-termination rituals (the Maya believed in "killing" vacated buildings) and pieced together dozens of other artifacts that had broken down over time. These pieces required even more attention than usual, she says, since the exhibition will hit the road in late 2010, traveling to the Frank H. McClung Museum in Knoxville, Tennessee and the Hilliard University Art Museum at the University of Louisiana.

This careful, detailed conservation process—and the exhibition itself, for that matter—reveals "the importance of museums as stewards," Danien says. "Without the Museum there to keep and conserve these objects, they would just be pretty pieces of pottery."

— Molly Petrilla C'06