Quarantine Commencement
Scattered around the world, the Class of 2020 was reminded of other graduates who left Penn in a time of "great adversity."
---
Inveniemus Viam Aut Faciemus.
For more than a century, Penn students have walked beneath those words, which are inscribed atop the Class of 1893 Memorial Gate, beside Houston Hall. Some probably never notice them. Fewer still likely know what they mean:
"We will find a way or we will make one."
Penn President Amy Gutmann invoked that Latin phrase during a video tribute that highlighted the University's 264th Commencement—"a commencement unlike any other," remarked chaplain Chaz Howard C'00 during the opening invocation to a 40-minute online ceremony on May 18 that featured Gutmann guiding the graduates on a virtual walk through Penn's campus, beginning at that ornate gate.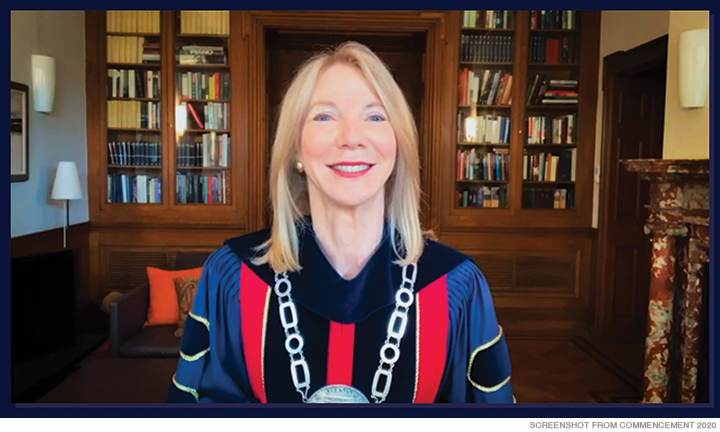 "In great adversity, it can be all too easy to turn back," Gutmann said. "But your class has marched forward. Joining with countless others at Penn and beyond, you have both found and made a way. Penn has graduated hundreds of extraordinary classes but yours now joins a very small group that have made a way through times of enormous challenge."
Because of the "enormous challenge" presented by the COVID-19 pandemic, Penn's on-campus commencement ceremony at Franklin Field has been postponed until May 22–23 of 2021, delaying for a year the opportunity for the Class of 2020 to walk down Locust Walk, "side by side by side with friends, waving to family, getting those selfies," Gutmann said. "But we will reunite. You will have the unforgettable commencement you and your families have earned. In the meantime, campus holds a powerful message for you about the unique experiences shared by the Class of 2020."
After the virtual visit to the Class of 1893 Memorial Gate, Gutmann led the graduates to the Hospital of the University of Pennsylvania, where "so many of the ill were treated" during the 1918 flu pandemic; to an Ivy Stone on the north wall of Houston Hall laid by the Class of 1944, when the Penn community "showed their mettle" during "another profoundly difficult time"; to the War Memorial Flagpole beside Shoemaker Green, which "offers testament to service and sacrifices of generations of Penn students"; and finally to Franklin Field, where President Franklin Roosevelt delivered a 1936 speech during the Great Depression that included words Gutmann said should hold "special meaning" for the Class of 2020: "To some generations, much is given. Of other generations, much is expected."
"Etched in stone, forged in iron, written on our hearts, the Penn story echoes across campus," Gutmann said. "It speaks of resilience, courage, and common cause, of dark storms chased by brighter days. The story of the Class of 2020 speaks the same. It is clear that of your generation, much is expected. And I am proud to say, so far you have done beautifully."
Scattered around the country and world, graduates watched commencement from their homes, with only close family to mark the occasion. For first-generation college graduates like Rosie Nguyen W'20, it stung to miss out on wearing a cap and gown and sitting with classmates inside Franklin Field—even the uncomfortable parts of it. "Someone tweeted about how it's like sitting for three hours under the sun while someone reads a phone book," she said. "Sure, but I never got to experience that. My parents have never got to experience that in their lives. No one in the generations above me got to experience that."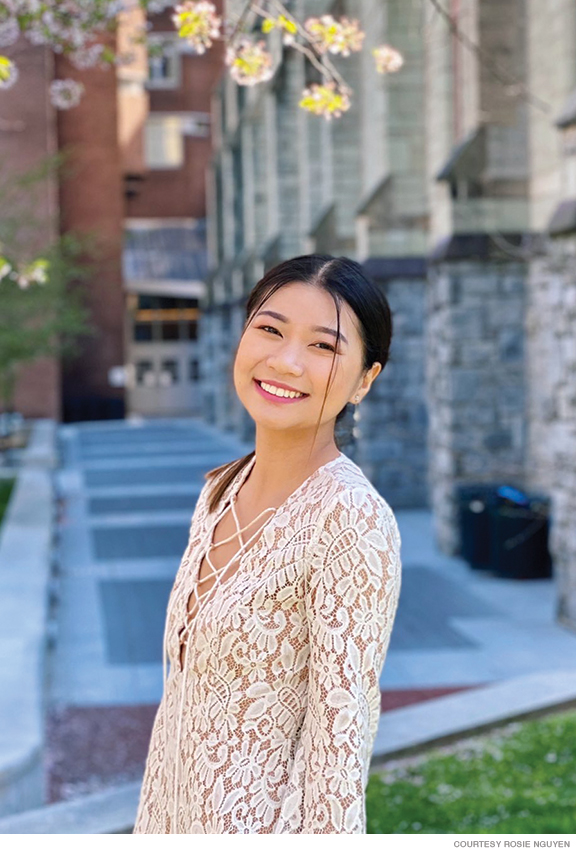 For that reason, Nguyen is excited to attend next year's ceremony. But she still made the most of watching from her Houston home this year. Her dad opened a bottle of wine. Her mom made a bouquet of backyard flowers and grabbed a leftover cucumber from the summer rolls she had made to use as a microphone to interview her daughter about her favorite parts of Penn. "It was really sweet," Nguyen said. "She interviewed my dad and brother too."
Nguyen also thought the online commencement celebration was "heartwarming," pointing to a tribute video that featured graduates discussing their academic experiences, favorite Penn traditions, sporting events, life in Philly, the campus arts scene, and more. Before that, the Penn Band reunited virtually to play the 100-year-old fight song "Fight On, Pennsylvania!" and Duval Courteau C'20 belted out the national anthem from her house.
"It was amazing that we were all over the world and yet all of these different faces were on the screen," Nguyen said. "It felt like I almost got to see everyone again."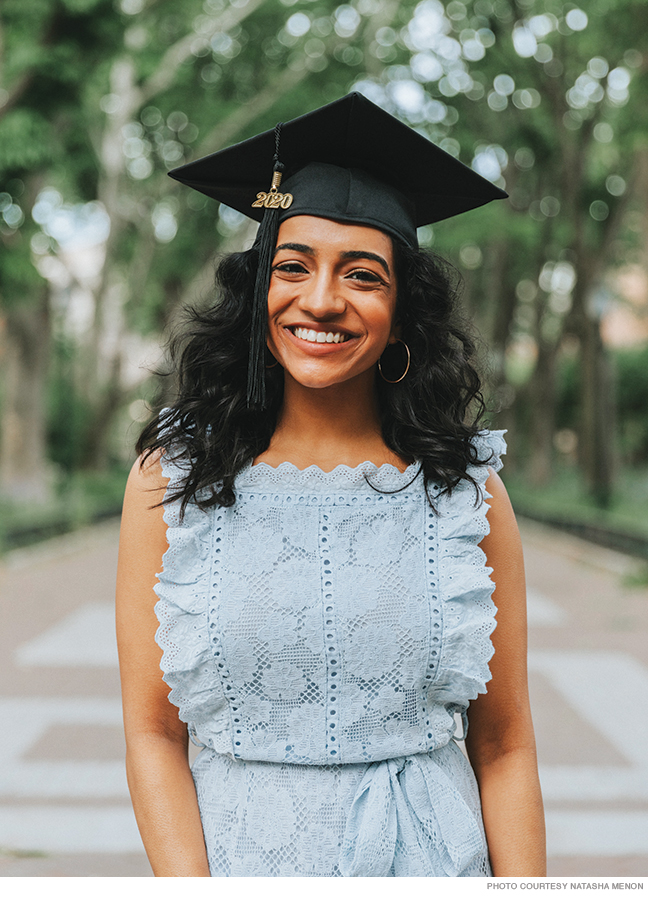 Natasha Menon C'20 GEng'21, the Undergraduate Assembly president, admitted that it felt a little disorienting to graduate without hearing her name called and walking across a stage (as students do at their school's graduation ceremonies, not the University-wide commencement). But she ordered a graduation cap off Amazon and snapped a few photos when she returned to campus to move out of her apartment. And once back home in Scottsdale, Arizona, she enjoyed cake and champagne with her parents and brother (who graduated from medical school the same weekend) while watching the online celebration live. The complete ceremony, which can still be viewed at commencement.upenn.edu, also included readings of this year's honorary degree recipients and senior award winners, brief words of advice from commencement speaker Chimamanda Ngozi Adichie, the conferral of degrees from the deans of every school, and a surprise appearance by John Legend C'99 Hon'14 singing "The Red and Blue," decked out in a Penn sweatshirt, with all of his Grammys behind him.
"I liked that I was able to sit with my family and be surrounded by them and see their reactions," Menon said. "Otherwise, I would've been amongst my friends, which is great, but I wouldn't have been able to see my family's faces from far away. It was nice to be in the comfort of my own home, with my dogs."
Senior class president Karim El Sewedy EAS'20 W'20 said he too appreciated the opportunity to watch commencement "intimately with your parents as opposed to sitting in a crowd far away from them." El Sewedy was particularly moved by the "powerful" words of Chaz Howard, whose invocation struck a similar tone as a speech El Sewedy gave at Wharton's virtual graduation, in which he reflected on newfound opportunities that may arise for this generation of graduates because of the current crisis.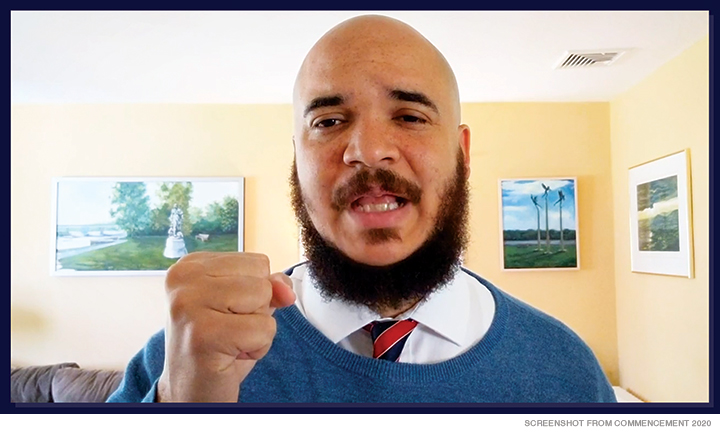 "May these graduates see challenges not just as moments to survive but as moments to serve," Howard said. "May they see interruptions as opportunities. May they, even through tears, see catastrophes as callings. May what has been an unpredictable, uncomfortable, and in many ways disappointing ending to their collegiate journeys somehow be redeemed.
"What an auspicious time for them to graduate. Indeed a season of tragedy and loss—yet also a new heroic age." —DZ
Beatrice Forman C'22 contributed to this report.