Purely Uncoincidental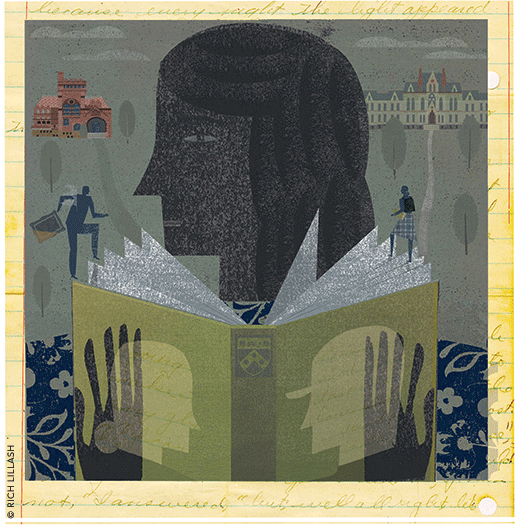 My students and their fictitious doubles.
Beth Kephart | On November 4, 1966, in the deep of night, the rains came to Italy—pummeling gardens, sluicing through gutters, and drowning the River Arno, which works its way from Mount Falterona through Florence. People, horses, pets lost their lives. Bridges tumbled, churches flooded, treasure vanished. The beating art heart of civilization was cataclysmically mucked. Some of the most significant paintings, sculptures, letters, and books ever created were buried and broken beneath tons of sludge.
Into the devastation stepped Frederick Hartt, an esteemed art historian at Penn. Hartt had served on the American Committee for the Restoration of Italian Monuments in the wake of World War II. He was an acclaimed authority on the Florentine collections, and a man who understood his own responsibilities. "I taught my Monday classes in a state of profound depression," he told Mary Ann Meyers, in a story published in the February 1967 issue of The Pennsylvania Gazette. "That evening I telephoned the leading authority on Italian painting in the United States … and I asked him if we couldn't organize a [restoration] committee in the face of the current catastrophe." Within days, Hartt was on a plane. The Mud Angels—mostly young volunteers from around the world—soon followed.
A few years ago, Hartt stepped out of fact and into the pages of a novel I was writing that had, as one of its core elements, that obliterating flood. I was writing, too, about the salvaging of self in the face of a neurodegenerative disorder known as frontotemporal dementia. I was writing metaphors of disrepair in search of hope.
Joining Hartt in my story was the Penn of 1966 and the Penn of now. The stoic eye of Franklin Field. The insular hush of the Quad in snow. The research of University neuroscientists. The Spruce Hill neighborhood. A reading room. I was a Penn student years ago. I teach as an adjunct in the spring. It was inevitable, I suppose, that a campus that has both confounded and passionately engaged me would become a character in a story I told.
But it isn't just the University greens and walkways, the brick and the stone that permeate the pages of this novel, One Thing Stolen. It's also the essence of the students I have met in that Victorian classroom where I teach. Their abundant particularity. Their specific light. Their hope, tenacity, intuition, and ingenuity set against broad swaths of anxiety and distress.
To be a Penn student is a privilege, absolutely, but privilege isn't necessarily or even primarily the natural domain of the young people I meet. They are emergent, they are bright, they are headed toward something, but few among them have had it easy. The students who gather around the table in that Victorian twin have lost siblings, parents, teachers, best friends, faith in the bedrock, parts of themselves. They have been diagnosed, they have been uprooted, they have stood in danger's way, they have endured violence and prejudice. They are, at times, the first members of their family to matriculate in college. English is not always their first language. Home is a word they are still defining. I say that I teach at Penn, but that is a preposterous shorthand. I show up, and I'm profoundly educated.
I am inspired.
So it is that the Katherine Goldrath of One Thing Stolen is a Penn student of the 1960s who follows Professor Hartt to the flooded city as a Mud Angel—while the Katherine Goldrath of my classroom was a young woman bound and determined to make a difference as both a physician and a careful listener, and already is. So it is that the Maggie Ercolani of One Thing Stolen is a big-hearted Someone who sets aside her own ambitions to care for a friend facing that shattering neurological condition, while the Maggie Ercolani I met in my classroom is a young woman who has fought a graceful, winning battle against a sudden medical setback in her own life ["First Day, Interrupted," Mar|Apr 2013]. It would have been dishonest, I felt, not to use these students' names as proof of the shimmer I've discovered in my classroom. When I asked for their permission they (in all modesty) said yes.
Novels are fabrications; they are fiction. Characters are constructs, words, periods, and pauses. The truth folds, the truth slides, we novelists are making things up. Still, I could not write One Thing Stolen without Professor Hartt and his Mud Angels. I could not establish one version of Penn without remembering my own walks across the campus, over time. I could not build a story of hope without honoring the students who, spring semester after spring semester, renew my faith in a chaotic, deluging world.
Beth Kephart C'82 is the award-winning author of 19 books. One Thing Stolen (Chronicle Books) was named an Amazon Editor's Teen Pick for April.