Protesting Pollution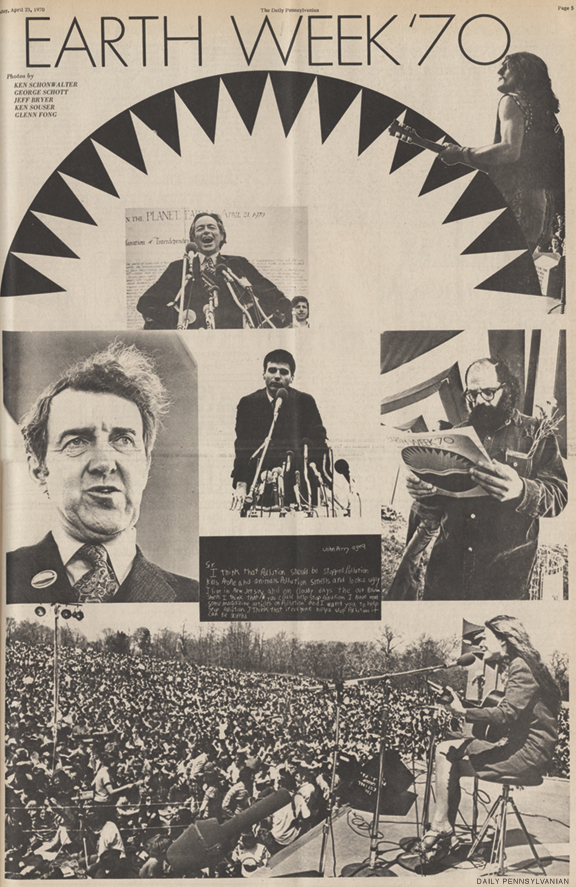 "There is power here in the slopes of this park, in the hearts and by the concern of those gathered here today," said Edmund Muskie, a US senator from Maine, as he addressed a crowd of nearly 30,000 in Fairmount Park. It was Philadelphia's first Earth Day: April 22, 1970. And it was the culmination of Earth Week, a pumped-up celebration of the environment, founded, in part, by Penn students 50 years ago.
The seed for Earth Day was planted in 1969, when, seeing the success of teach-ins in raising awareness about the Vietnam War, Gaylord Nelson, a US senator from Wisconsin, called for national teach-ins about the environment. Communities across the nation sprang into action, and Penn's campus became the unofficial Philadelphia headquarters. The city would not just have one day dedicated to environmental education, but an entire Earth Week.
Chaired by Austan S. Librach GRP'78 and directed by Edward W. Furia Jr. C'63 GCP'69 L'69, Philadelphia's Earth Week Committee consisted of mostly Penn students and faculty, including professor of landscape architecture Ian McHarg ["A Man and His Environment," Sep|Oct 2019]. Together, they organized a series of events to educate the region about the perils of pollution throughout the week of April 16–22, 1970.
Activities were held in Penn's Irvine Auditorium, as well as on the campuses of Temple, Swarthmore, and Villanova. The penultimate event—the signing of the "Declaration of Interdependence"—drew 7,000 people to Independence Mall. The cast of the Broadway musical Hair performed, as did the Native American rock band Redbone.
This spread, from the April 23, 1970, edition of the Daily Pennsylvanian, shows some of the performers and speakers at Earth Week, which included poet Allen Ginsberg, consumer protection activist Ralph Nader, Pulitzer Prize-winning biologist René Dubos, Zen Buddhist Alan Watts, Senator Muskie, and Professor McHarg.
"Why do I have to be the one to bring you the bad news?" McHarg asked the crowd during his speech. "You've got no future."
Despite McHarg's ominous outlook, some positive momentum was gained that day. When asked about the success of Earth Week, Furia told the DP it was "unbelievable … I can't even talk."
In December 1970, Congress authorized the creation of the Environmental Protection Agency, which enforces the Clean Air Act of 1970, the Clean Water Act of 1972, and the Safe Drinking Water Act of 1974, among other environmental regulations. —NP