Musical Migrations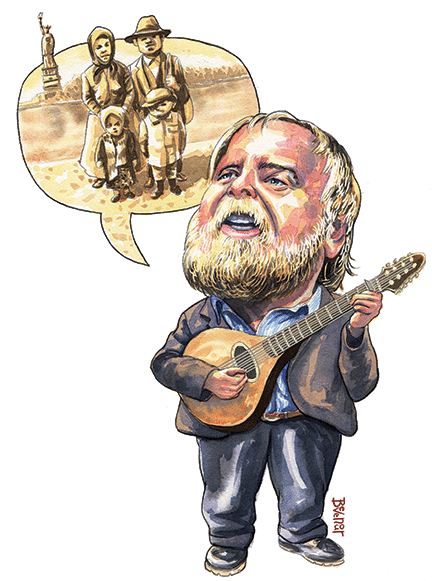 Class of '92 | It's the Saturday before St. Patrick's Day and the Limerick-born banjoist and folklorist Mick Moloney Gr'92 stands center stage at New York's Symphony Space. He's accompanied, as one might expect, by a few fiddlers, an accordionist and an Uilleann (Irish bagpipes) player. Grabbing the mic, he's at once sharp-eyed and slouchy, but at 70, his dark red hair and full beard are wispier and grayer than many devotees might remember. He tells the audience they will hear a quintet of bearded banjo players from the mountains of West Virginia, then Cheick Hamala Diabate, the Malian master of the n'goni, a lute-like instrument viewed as the precursor to the banjo.
The concert marks the fourth Celtic Appalachian Celebration that Moloney has convened, a quirky assemblage that reflects his longstanding interest in unpacking the ways in which the keening melodies of African spirituals, the joyous strains of Irish jigs, and the raucous reels of Appalachian bluegrass have intertwined.
A few days later, it's time for the actual wearing of the green, and the effusive Moloney is ready to settle in for a good long telephone chat and a hot cuppa. He's out in San Francisco, about to play another holiday concert.
"When I first came to America, you got your gig on St. Patrick's Day and that was it," he says. "Now, the season starts in early March and stretches into April. The day itself isn't that sacrosanct."
He has spent the day itself introducing the city's sights to an Irish musician who's joined him on tour. That's par for the course for Moloney, who has launched the careers of several Irish acts, most notably that of Irish-American stepdancer Michael Flatley of Riverdance fame.
It was precisely because someone took such an interest in him that Moloney wound up living in Philadelphia for almost three decades. That someone was the late Kenneth S. Goldstein Gr'63, recipient of the first PhD in folklore awarded by the University and later chair of its Department of Folklore and Folklife. When Moloney first arrived in the States in 1971, it was in Philly that he landed as a member of the Johnstons, a popular Irish folk band. As one of the acts scheduled to perform at the Philadelphia Folk Festival, the group bunked at the home of Goldstein, one of the festival's co-founders. There Moloney spent hours perusing the professor's "matchless library."
"It was like being in a treasure trove," he recalls. "There was sheet music, books on storytelling, stuff on the beginnings of the printing industry. It opened my eyes to everything."
After the tour, Moloney worked as a housing social worker in London. But he continued playing music and started reading up on folklore, and when he ran into Goldstein again in 1973, the professor convinced him to get serious about his interest. Moloney did, coming to Philadelphia to study under him.
At Penn, the focus was on how songs and stories get passed on and find a place in the community.
"Folklore had been considered a rural thing from semi-literate people," Moloney says, "and right about the time I was there, things shifted. We were studying rap, graffiti, social linguists like Erving Goffman, books like Deep Down in the Jungle [by Roger D. Abrahams Gr'61, director of Penn's Center for Folklore and Ethnography], which was about South Philly."
Big thinkers were only a part of his experience; he also tapped into a network of ex-pat and Irish-American musicians. He met a young wunderkind, Seamus Eagan, with whom he would later tour and cut records, and sought out legendary composer Ed Reavy, then in his mid-80s.
"You can't listen to a set of Irish songs being played anywhere from New York to Sydney without hearing a tune written by him," says Moloney, who crafted an oral history of Reavy's 1912 immigration to Powelton Village as part of his doctoral work at Penn. Reavy "wrote music in a style that was old that made it across the world, all from his home in West Philly," he says. "Traditional music always regenerates."
After teaching at Penn and Villanova, and working on research projects for the Library of Congress, Moloney was offered a gig at New York University, whereupon he migrated to Greenwich Village.
Moloney has played on or produced more than 40 albums, been awarded a Heritage Fellowship from the National Endowment for the Arts, and authored a book, Far From the Shamrock Shore, that examines Irish-American immigration through song. A history of Irish music in America has been in the works for two decades.
"As I became more acquainted with the flow of cultures in American environments, I saw more and more connections," he says. "First was Appalachia and the early migrations. I could hear echoes of the mountains where I grew up when I first went to Memphis. Then I read about the history of the banjo, my instrument, and its roots in Africa and its appropriation by whites. I learned about the Irish and Jews collaborating on Tin Pan Alley. These two groups had a lot of similarities in their immigrant experience. They invented a reality about home—I mean, come on: "When Irish Eyes Are Smiling"?—because they are the only immigrants who had no real home to go back to."
—JoAnn Greco