Music and the Mother Tongue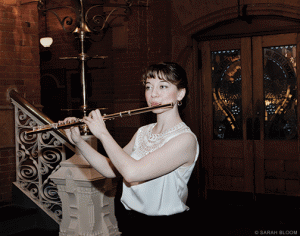 Shortly after Mimi Stillman G'03 Gr'12 was born, her Anglo parents, both foreign-language textbook authors, made Spanish the language of the house. Soon speaking Spanish at home felt so natural to the Stillman children that Mimi's older brother Alex WG'04 wasn't aware that other kids in his neighborhood used a different language—English—until he neared school age. Mimi, a child flute prodigy who became an internationally acclaimed virtuoso, describes growing up bilingual as a gift that added depth and dimension to her life, one that enabled her to encounter Spanish and Latin American cultures in an intimate way.
Last year Stillman launched an innovative new project that combines her love of both Western classical music and Latin culture. Música en tus Manos (Music in Your Hands) brings a broad range of chamber-music styles—everything from Bach to Jelly Roll Morton—to Philadelphia's Latino communities. The project is an outreach initiative of Dolce Suono Ensemble, the Philadelphia-based chamber-music group that Stillman founded in 2005.
"Música en tus Manos," says Stillman, "feels close to home."
The flexible ensemble features Stillman on flute, Costa Rican cellist Gabriel Cabezas, pianist Charles Abramovic, percussionist Gabriel Globus-Hoenich, and occasional guest artists from Dolce Suono. The plan, says Stillman, is to engage audiences not only as listeners but as active participants in performances, informal open-mic events—even "instrument petting zoos" where audiences can try out a range of instruments. The ensemble will offer lessons, coaching, and side-by-side performances.
Música en tus Manos is "designed to bring the highest-quality chamber music to a community that represents 12.6 percent of the city's population, yet has been historically neglected by our cultural institutions," says Stillman. Through the various interactive events, "we hope to integrate our new audiences into the music, offering them a platform to communicate with the musicians of Música, and to explore their own musical talents."
One might pause here to ask: Does the local Latino community actually want classical chamber music? Stillman responds to this impertinent question with good humor. "We're many generations away from people automatically listening to classical music at home and school," she says. "People are missing out on the great works of humanity. I want to change that."
And, in fact, Música's mission has been embraced by the Philadelphia Latino population. Intergenerational concerts and events, well-attended, take place in three centers: Iglesia Evangélica Bautista, a North Philadelphia church whose congregation represents more than a dozen Spanish-speaking communities; Casa Monarca, a Mexican cultural center in South Philadelphia; and the bilingual Pan-American Academy Charter School in Kensington. They've been asked to perform at Philadelphia's Hispanic Choice Awards in October, and this past April theysnagged a coveted Knight Arts Challenge Grant, which will provide $25,000 over two seasons to develop Música en tus Manos'innovative-programming program, assuming Stillman can raise matching funds by the April 2014 deadline.
Her remarkable history gives reason to believe she will succeed. At five, she began studying recorder under the tutelage of her mother, Ronni L. Gordon, an amateur clarinetist, at their home in Brookline, Massachusetts. By six, she knew, categorically, that she was destined to play the flute. At 12, an age when many professional flutists pick up their instruments for the first time, Stillman had already been admitted to the Curtis Institute of Music—the youngest wind player in the conservatory's history. By 17, she'd graduated from Curtis and jumpstarted her solo career by winning the prestigious Young Concert Artists competition (again, the youngest-ever wind player to achieve this honor).
These days, in addition to concertizing and recording, and running Dolce Suono, Stillman is a composer, pedagogue, arts entrepreneur, scholar, and visionary. She serves on the faculty of Curtis' Music Summerfest program and directs the woodwind-studies department at Philadelphia's Settlement Music School precollege program.
Unlike most young conservatory students, who focus their energies almost exclusively on their musical development, Stillman spent her years at Curtis in the sway of intense intellectual curiosity, a quality she credits to her upbringing in a scholarly household. Even while building a name for herself as one of the top young classical flutists in the world, she took so many history electives that fellow students began to wonder if she was actually majoring in history.
"I am a historian," Stillman says firmly. "I don't remember ever feeling the need to choose between studying history versus music. I am always thinking historically about music. My ensemble programming always contextualizes music in a broad historical frame."
At the ripe old age of 19, having built a solid academic foundation at Curtis, she entered Penn's PhD program to study music in a global context. Her professors ranged from Arthur Waldron (the Lauder Professor of International Relations) and Alan Kors (the Henry Charles Lea Professor of European History) to music professors Jay Reise and James Primosch (the Robert Weiss Professor of Music). She describes her Penn experience as "mind-opening."
Her master's thesis, about the influence of Asian music on Claude Debussy, set the foundation for a decade-long exploration of the French composer's works for flute. Having completed the coursework for the PhD, she continues to use her academic skills and research expertise to inform her artistic decisions.
To celebrate Debussy's 150th birthday in August 2012, Stillman initiated a year-long YouTube project featuring a daily recording of the composer's two-and-a-half minute "Syrinx for Solo Flute," one of the seminal works of the solo flute repertoire. (On Day 343, she performed the piece in the Egyptian Gallery of the Penn Museum.) The Syrinx project has gained an international cult following.
And so, with the mindful approach of a scholar and the intensity of an artist, Stillman brings energy and precision to Música en tus Manos. Her eclectic program choices emphasize both Spanish and Latin American composers, such as Arriaga, Ginastera, Piazzolla, and Paquito D'Rivera, along with commissioned works, based on Latin American stories, by the Cuban-born Tania León, who last year received a Grammy nomination for best classical composition. The hope is to put music into everybody's hands.
—Karen Rile C'80