Moscow Noir
Martin Cruz Smith's venerable Russian detective investigates dark crimes and class tensions.
---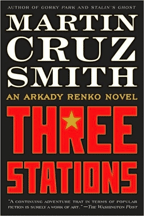 THREE STATIONS: An Arkady Renko Novel
By Martin Cruz Smith C'64
Simon & Schuster, 2010. $25.99.
---
By Lisa Hayden Espenschade | The title of Martin Cruz Smith's latest novel—Three Stations—invites multiple interpretations. Geographically, Three Stations is a crowded Moscow square, also known as Komsomol Square, that hosts three railway stations and much of the action in Smith's book. But Smith also describes metaphorical stations in life by creating snapshots of social classes and populating the novel with homeless children, an oligarch, and the men who investigate crime around Three Stations.

Three Stations is Smith's seventh book starring Arkady Renko, the laconic Moscow criminal investigator who debuted in Gorky Park in 1981. Renko has continued investigating crime in Moscow, Chernobyl, and points beyond, despite an insistence on uncovering inconvenient evidence that irritates his bosses. (Calling a death a suicide doesn't raise crime rates but calling it murder does.) Renko is asked to resign in Three Stations.

Physically and emotionally vulnerable, Renko is an honest man without family photos in his apartment. He's also nearly died more than once, has trouble maintaining relationships, and even after 20 years as an investigator, is "still as embarrassed by an eviscerated body as if he had caught someone undressed." Renko sees corpses on the job and catches people undressed, too: he's often successful at winning women's hearts, at least until he loses them.

Renko's work in Three Stations begins when he frees his partner, Victor, from the drunk tank, and they examine a half-dressed dead women in a squalid workers' trailer near Yaroslavl Station, one of the terminuses at Three Stations. Though the death looks like an overdose, Renko insists on an autopsy, which uncovers evidence of murder. Using an invitation found at the crime scene, Renko hunts for clues at a benefit for a children's shelter. The event is the Nijinsky Luxury Fair, where wealthy attendees flaunt designer labels. "Arkady, on the other hand, looked as if he had been dressed by a mortician," Smith writes.

In a parallel plot line, Maya, a teenage mother and former prostitute, arrives at Three Stations after her infant daughter was stolen on a train. She could only afford a cheap ticket, but is content with "hard class" because "the last thing Maya needed was to be trapped in a compartment under the scrutiny of snobs." At Three Stations, Maya meets Zhenya, a teenage chess hustler with minimal social skills, no fixed address, and a relationship with Renko that seems best characterized by missed cell-phone calls. Zhenya offers to help Maya.

Smith's depiction of class tensions is one of the strengths of Three Stations. Russian class struggles have changed since Gorky Park, so Smith catalogues contradictions surrounding the new rich and poor. In Smith's Moscow, children live in underground tunnels near Three Stations; migrants work undesirable jobs and experience discrimination; there's a "No Lada Zone"—a reference to a Russian car model, which Renko drives—in a neighborhood with a Starbucks; and Sasha Vaksberg, an oligarch and casino owner, is in trouble because of government regulations. Everything is transitory: Zhenya is squatting in Vaksberg's Peter the Great casino at Three Stations.

Newspapers cover Russian poverty, oligarchs, and clashes between money and politics, but Smith's eye for details turns them into readable fiction. He provides a sliding scale for various prostitution services—from $1,000 at expensive clubs to $5 at Three Stations—and sums up Russia's political fickleness in an observation by Renko's friend at the morgue: "Old friend, take it from a man with one foot in the grave, everything is contradictory. Stalin was good then bad then good again."

Three Stations is shorter than other Renko books I've read, and the writing is tauter, as if the 21st century has stretched Renko's nerves. Smith's concision generally works, particularly when he allows characters and objects—jars of caviar or a pipe with a "resinous 'pill'" of opium—to stand on their own without explanation. Smith kills his criminals quickly, too, reconfirming the adage that Moscow doesn't believe in tears. I didn't always comprehend his characters' motives, but I understand that this culture values speed.

Minimizing description showcases dialogue, always my favorite element of the Renko books, thanks to Renko's dry humor. When Vaksberg asks what he does for pleasure, for example, Renko responds, "In the winter I ski at Chamonix. In the summertime I sail in Monte Carlo." Pressed for a serious answer, he says simply, "I read."

At the end of Three Stations a homeless girl asks Renko if he's a magician. If only she knew! Renko's a magician just for staying alive, in the books and in Smith's mind.

In Three Stations, Smith balances current events and imagination, creating his own Moscow, a fictional place that resembles but isn't quite the Moscow where I lived—I've long thought we all have our own Moscows. Still, Three Stations, like the other Renko books I've read, left me feeling that I like Renko, and even Victor, more than the novels themselves. The pages turn quickly because I enjoy detective novels, but it's not Smith's plotlines, which sometimes feel worn or thin, that stay with me. It's the darkly humorous corners of Renko's mind and the darkly atmospheric corners of Smith's Moscow that are vivid and real enough to remember.
---
Lisa Hayden Espenschade C'85 G'89 is a freelance writer, translator, and Russian tutor. She writes a blog, Lizok's Bookshelf, about Russian literature.