Mind Traveler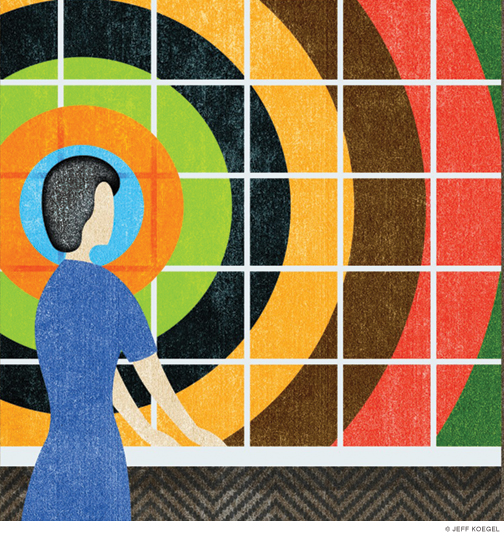 A new essay collection shows that, though homebound at 92, pioneering medical sociologist and bioethicist Renée C. Fox remains "unconstrained by constraints."
---
Ten minutes before a March interview at her Rittenhouse Square apartment, Renée C. Fox calls to cancel. The coronavirus is just starting to dominate the news, and Fox prefers to talk by phone. "I think it would be good for me to limit my contacts," she explains.
Her trepidation is understandable. A pioneering medical sociologist and bioethicist, and the former chair of Penn's Department of Sociology, Fox is 92, so she faces a high risk from COVID-19. In her case, there's an aggravating factor: the new pandemic has triggered old anxieties about another crippling disease.
"It reminds me of the polio epidemics which we had in my youth, to which I succumbed," she says. "I walked around for weeks not feeling well, and finally came down with an almost fatal version of polio, which involved total paralysis and [affected] my ability to swallow and to breathe."
Stricken at 17, Fox recovered with the help of intensive physical therapy. But she still has muscle deficiencies, mainly on the right side of her body. In recent years, Fox has stopped traveling internationally, and even before the pandemic her mobility problems had curtailed her ability to venture from her apartment.
Yet physical limitations haven't tamped down her intellectual restlessness or urge to write. In her new essay collection, Explorations of a Mind-Traveling Sociologist (Anthem Press), Fox applies her ethnographic methods to the routines of her daily life and documents her ongoing engagement with a wide range of people and issues.
Beginning with a survey of her apartment, with its mid-century modern furniture and rich collection of souvenirs, awards, and photographs, Fox turns her gaze progressively outward. She discusses her building's helpful staff, encounters with her own physicians, her cross-cultural research, recent American politics, and her enduring passion for teaching.
One essay, "Plagues," inspired by the lethal Ebola outbreak in West Africa, seems eerily prescient. "The name of the game is not to conquer infectious diseases—it's to get ahead of the next one," Fox says, noting that the essay concludes with a quotation from the final sentence of Albert Camus's novel, The Plague, predicting that the rats will come again.
"Plagues" also touches on her own near-fatal bout with bulbospinal polio and the reluctance of New York hospitals to admit a patient so ill and infectious. She recalls with gratitude the dedication of an African American nurse at Sydenham Hospital in Harlem. "Putting her head beside mine on the pillow, she breathed every breath with me as my breathing and swallowing became more labored," Fox writes. "It was because of her courageous willingness to expose herself to the contagiousness of polio in this way, and her extraordinary devotion to my care, that I survived that night."
A New York City native, Fox would go on to graduate from Smith College and, in 1954, receive a doctorate in sociology from Radcliffe, then Harvard's sister school. "At that time, if you were a woman, you could not get a Harvard degree," Fox recalls. "When I got an honorary degree later in life from Harvard, I was hoping they would ask me to make a little speech, which they didn't." She would have managed an allusion to that long-ago slight, she says.
It was at Harvard that Fox met her mentor, the eminent sociologist Talcott Parsons. Her doctoral research, at the Peter Bent Brigham Hospital in Boston, focused on interactions between physicians and desperately ill patients in the metabolic research ward. The physicians, she writes in an essay titled "Beyond Borders," "were both caring for these patients and conducting audacious, path-making research on them." Her 1959 book, Experiment Perilous: Physicians and Patients Facing the Unknown, is considered an early landmark of medical sociology. "The field did not exist at the time," she says.
Fox taught at Barnard College and Harvard before coming to Penn in 1969—in part, she says, through the intervention of the anthropologist Margaret Mead. "She was a person who watched young people, and I was one of the many young people she had taken note of," Fox says. Albert J. Stunkard, then-chair of Penn's Department of Psychiatry, had invited Mead to join the University's faculty. As Fox recalls, "Mead said, 'I am not coming, but Renée Fox is available—do something about it.' And he did."
From 1972 to 1978, Fox chaired Penn's Department of Sociology, making her "one of the first women to be a chair of a department at Penn," she says. She currently holds the titles of Annenberg Professor Emerita of the Social Sciences, Emerita Senior Fellow of the Center for Bioethics, and Professor Emerita of Sociology in the Department of Sociology and the Schools of Medicine and Nursing.
Over the years, Fox has conducted research in Europe, Asia, and Africa, examining societies through the lens of their medical systems. Inspired by Belgian doctors at Peter Bent Brigham, she focused for a time on the culturally heterogeneous country of Belgium. Her friendship with Willy De Craemer, a Belgian sociologist and Jesuit priest, facilitated her research in the Democratic Republic of the Congo, which had been a Belgian colony until 1960. One of her interests was the "magical religious practices" of mid-1960s Congolese rebels, who believed their rituals would help win battles and protect them from injury. In 1994, Fox published In the Belgian Château: The Spirit and Culture of a European Society in an Age of Change.
At 65, Fox began two decades of research on the humanitarian group Doctors Without Borders, which, in 1999, won the Nobel Peace Prize. She says she values the organization's "cross-cultural outlook and conviction," which she shares, and its "culture of debate" and self-criticism. She detailed her findings in a 2014 book, Doctors Without Borders: Humanitarian Quests, Impossible Dreams of Médecins Sans Frontières. She also has co-authored, with Judith P. Swazey, two books on organ donation, transplants, and dialysis.
Although she is "no longer able to go to the field in a physical sense," Fox says she remains "connected with all of these contexts in which I have done research." Because she also has been "a Teacher with a capital T all my life," she is in frequent contact with generations of her students, dating back to her years at Barnard.
The writer Anne Fadiman describes Fox, in the essay collection's foreword, as someone who has refused "to be constrained by constraints." She adds that the Belgian novelist Jan-Albert Goris has praised Fox as having moed, the Flemish word for courage.
"I can't say that about myself," says Fox, while citing the compliment. "But I think that's not an exaggeration. I did all these things that were very audacious, but I'm not a very brave person, I don't think. Right now, for example, I'm not feeling very serene about the pandemic. But I guess if I'm called upon to do something that was relevant, I would do it."
—Julia M. Klein