A singular first-person sampler.

---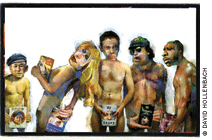 After a recent spate of memoirs by Penn alumni crossed the Gazette's transom, we decided to take a look, via excerpts and reviews, at a modest cross-section, encompassing a broad range of styles and subject matter.
Starting off, and bringing it all together, is an interview with Ben Yagoda, author of Memoir: A History—which is exactly what it sounds like, yet somehow more. The memoirs themselves range from a life spent with migraines, to the life journey of a museum curator, to the cultural odyssey of a Turkish-born Jew who came to the United States as a young man, to Michael Rosen's What Else But Home: Seven Boys and an American Journey Between the Projects and the Penthouse, whose subtitle gives a pretty good hint of the content. We're also including some striking images from the "Remembering" chapter of The Art of Caring: A Look at Life through Photography, compiled by Cynthia Goodman.