Meeting King's Call, with Song—and More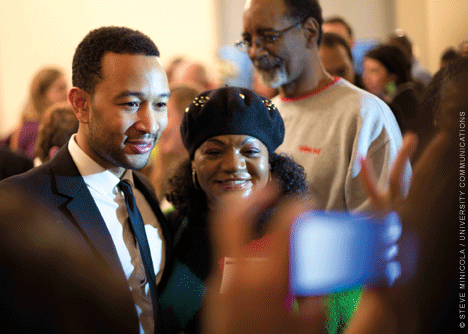 Before nine-time Grammy Award-winner John Legend C'99 existed, a short, shy, and "little bit country" teenager named John Stephens stepped onto an airplane for the first time.
Very bright and fiercely ambitious, Stephens was something of a child prodigy growing up in rural Springfield, Ohio. He was always at the top of his class, skipped two grades, and began the college application process when a lot of kids his age were just starting high school. With the help of a guidance counselor, his first-ever airplane flight was to Philadelphia so he could visit Penn. It was worth the trip. Despite initially feeling like "a fish out of water," he decided to enroll. Today he says that the classes he took, the activities he pursued, and the people he met helped launch him on his remarkable journey to worldwide fame and musical superstardom.
But Stephens, whose stage name is Legend, knows he's far more fortunate than most. And as the featured speaker at Penn's 12th annual Dr. Martin Luther King Jr. Lecture in Social Justice on January 16, the proud Penn graduate spoke forcefully about his mission to help other kids get the same kind of opportunities he had.
"If you're living a life that means anything, it means you are fighting for social justice," Legend said to a packed crowd at Irvine Auditorium. "It means you care about equality. It means you care about poverty. It means you care about helping people that don't have opportunities."
The event at Irvine—which was co-sponsored by the Office of the President, the Center for Africana Studies, and the Annenberg School for Communication, and was part of the University's annual Dr. Martin Luther King Jr. Symposium for Social Change—honors people who have committed themselves to social justice. And Legend, who made Time magazine's list of the 100 most influential people in the world in 2009, was an easy choice to speak at this year's lecture, where he fielded questions from Camille Charles, the director of the Center for Africana Studies, as well as a few from the audience.
At a small reception before the Q&A session, Legend was also awarded with an honorary citation by City Councilman Kenyatta Johnson G'00 for his philanthropy. Later, he received a warm introduction from Penn President Amy Gutmann, who relayed a story about a recent state dinner to which she was invited by President Barack Obama. Legend performed at that dinner, and Gutmann made sure to remind Obama that Legend is a Penn graduate—to which she remembered the president replying, "He tells me that all the time."
"That just warmed my heart," said Gutmann, who later added that "this event should be a signal, a sign of how important it is to continue meeting Dr. King's call with poetry, with song, and yes, also with soul."
While Gutmann pointed out that Legend's soulful music and poetry can "galvanize people like prose cannot," and Legend himself noted that his chart-topping songs sometimes include "socially and politically relevant topics," most of the discussion centered on the work he does away from the studio.
Around the same time his music career was getting started, Legend began working for Management Leadership for Tomorrow, a career-development institution for minorities. Later, he launched the Show Me Campaign, a nonprofit that uses education to break the cycle of poverty in both the United States and Africa. And today, he sits on the boards of the Education Equality Project, Teach for America, and the Harlem Village Academies, among other groups designed to improve educational opportunities for mostly low-income and minority students.
Why does he do so much humanitarian work on top of his music? For Legend, it all goes back to the lessons he learned growing up, when he watched his parents welcome foster kids into their home, even though they never had much money.
"We were always raised to give—whether volunteering at church, volunteering at school, taking in families," he said. "That was the way I was brought up. So if you have any kind of resources, you're supposed to give to other people. That's a fundamental part of being alive, as far as I'm concerned."
Legend's philanthropic vision has always been clear to him. When he was 14, he wrote an essay for a national competition in which he said he wanted to have a music career and then use that opportunity as a successful musician to "give back to the community and uplift my people." Once he became famous, he never strayed from that ideal, and he always believed that the best way to accomplish his goals was through education reform, which he calls the "civil rights issue of our day." The basic premise behind his beliefs is that everyone deserves a quality education no matter their background. Or, as he put it mor
"For too long, we've accepted too much failure in our schools," Legend added. "It's dramatic how bad it's been for such long time … We don't treat poor people very well in this country."
When asked about some of his specific beliefs on education, Legend spoke primarily about standardized testing and teachers unions. On the former, he said that tests can be important measures to assess progress but that "anybody who runs a school, and the only thing they think about are standardized tests, is doing their kids a disservice." As for teachers unions, he lamented that unions sometimes protect bad teachers from getting fired and instead often send them to the poorer districts, thus making already bad schools worse. What we should all be thinking about the most, he said, is making sure we have the best possible teachers at every school because "people matter" and teachers are not "interchangeable like assembly workers."
"Do I hate unions? No," he said. "Do I want unions to fight to make sure teachers are treated fairly and paid well and treated with respect? Absolutely. But we cannot protect adults at the expense of our kids."
Legend, after all, remembers all of the great teachers who helped him become the man that he is today, especially at Penn, where he majored in English with a concentration in African-American literature and culture. That's part of the reason he still gets nostalgic every time he returns to his alma mater and walks down the same stretch of Locust Walk where he used to sell tickets for his a capella group's shows.
"I feel a sense of having been through an interesting journey since I left Penn," a smiling Legend said shortly before going on stage at Irvine Auditorium. "And coming back here makes me remember what that journey's been like."
—Dave Zeitlin C'03