Longtime Financial Aid Head Schilling Says Farewell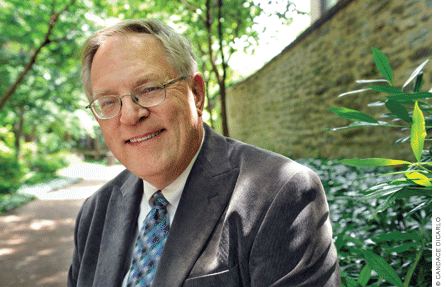 "It's great to be paid for helping students be able to go to Penn," says William B. Schilling C'66 L'69, who retired as director of student financial aid at the end of June after a 40-plus-year career of doing just that. "There are some terrific students who've gone through here who never would have been able to make that decision without the aid. So it is very rewarding to be a part of that."

As an aid recipient himself, Schilling recalls filling out the forms with his parents. "Tuition was $1,550, I think, when I was a freshman," he says. "And it went up every other year, not every year." His first financial-aid related job was in that era's version of the work-study program. "I started in the linen and laundry agency," he says. "And then midway through my sophomore year they moved me to the financial aid office."

Except for his years at Penn's Law School, he never left, taking a job as a student loan officer in 1970 and rising to director in 1980.

The fact that "each class gets better" has been a constant, he says, but the main constant has been change. Tuition and fees—what Schilling calls Penn's "sticker price"—have certainly risen. By the time he was named director of financial aid, tuition and fees had risen to $6,000 for the 1980-81 academic year, and stood at $42,098 for the 2011-2012 academic year that ended in June.

Technology has made a big difference, too. While the financial-aid process is pretty much all electronic now, Schilling remembers the days when "a secretary in the financial aid office manually typed up all of the freshmen aid notices, which was probably in the neighborhood of 1,500 to 2,000," and the offices involved in registration would collectively decamp to Hutchinson Gym at the start of school year. "Students would have to come in with their vouchers and this and that. And it was awful hot in there," he says. 

Throughout Schilling's tenure Penn has held fast to its need-blind admissions policy, though it has been touch-and-go at times. He recalls a period in the early 1990s when abandoning the policy was considered but rejected by Penn's leadership. 

The biggest development over the last 15 years has been the "growth of endowment for undergraduate aid, which has certainly made it possible to have a more generous and robust aid program," he says.

As of the late 1990s, only about 4.5 percent of aid came from endowment sources, with the rest deriving from discounted tuition revenues. Former President Judith Rodin CW'66 Hon'04 and Trustee Chair P. Roy Vagelos C'50 Hon'99 launched a concerted effort to raise endowment funds for undergraduate aid, which was expanded and accelerated under President Gutmann's "commitment to affordability," says Schilling. Currently, with a bit more than 20 percent of aid funded by endowment sources, Penn is still a long way from, say, Princeton, which covers almost 90 percent of aid from its endowment, "but it's a much larger program," says Schilling. (Spending on financial aid has grown 129 percent since 2004, and is budgeted at $181 million for the 2012-2013 academic year.)

At Gutmann's initiative, and like several peers, the University has made the move to a no-loan financial-aid policy, in which all aid offered by the University comes in the form of grants. 

The financial aid office's website offers a side-by-side comparison of costs at Penn versus a generic public university. While Penn's "sticker price" is more than twice as high, after factoring in aid and work-study jobs the net price is the same—better, actually, because the student has no loans to pay off.

"Sometimes people say that what financial aid programs do is in this black box. But the way I think of it is that what we're trying to do is set the right net price for each individual student," Schilling says. "And the right net price is the [one] that enables the students that admissions says they want here to be able to come, and, once here, to be able to be successful and go through to graduation."

As scholarship aid has become an increasingly popular choice for donors, it has created a different, good kind of challenge for the office. Rather than send out a generic award letter to aid recipients, Penn matches up the student and his or her donor in its mailings. 

"We feel strongly that to strengthen that relationship, the named scholarship should be in the first notice that the student gets," he says. "That was easier to do when we had 100 or 200 named scholarships. Now we have well over 1,000 that the staff is trying to match. But I think it's very important.

 "Donors really get a good feeling when they see the students," he adds. "And the students, of course, are great."—J.P.