Live Wire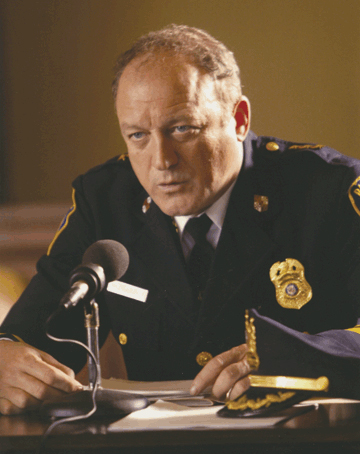 In early 2001, John Doman C'66 walked into the New York offices of the casting director for a new HBO show called The Wire. He knew little about it beyond what he had gleaned from the script of the pilot. The casting director asked him to read for the role of Major Rawls, a grizzled, trash-talking police detective who runs the city's homicide unit and serves as a foil for one of the stars of the show, Detective Jimmy McNulty (Dominic West).
Doman's videotaped reading impressed the producers enough that they offered him a contract for a regular role. Soon after, Doman went to Baltimore to film the pilot and awaited word from HBO about The Wire's future.
Five years later, after garnering several awards, including a Peabody, and abundant critical acclaim, Doman still can't believe it.
"I was hoping we'd get three seasons in the beginning," he says. "Everybody kind of looked at me like, 'Yeah, well, good luck.' And we got five. Fortunately, HBO has the luxury of letting a show breathe for a while."
Despite existing in the shadows of The Sopranos and Entourage and receiving single-year extensions after each season, The Wire has not only survived but thrived. Created by David Simon, the show takes place in Baltimore and involves the daily lives of police officers, drug dealers, city councilmen, dock workers, middle-school students, and hundreds of others who inhabit some of the bleakest neighborhoods in America. What makes the show stand out is its hyper-realistic portrayal of hardscrabble urban life and its indictment of local government: the police, the courts, City Council, even the public-school system.
The role of Major/Deputy Commissioner Rawls is Doman's proudest acting achievement, and rightly so. It has also been a long time coming. Originally from Northeast Philadelphia, Doman was recruited to Penn as a football player; he played alongside Jim Riepe W'65 WG'67, chairman of Penn's board of trustees, and Bill Novelli C'63 ASC'64, executive director of the AARP ["Gray is Good," Sept|Oct 2005]. After serving in the Marine Corps in Vietnam and earning his MBA from Penn State, Doman moved to New York in 1971 to work in advertising. Watching movies like The Graduate and Midnight Cowboymade an indelible impression on him, and he resolved to get into acting … eventually.
For several years, Doman worked in advertising during the day, took acting classes at night, and performed in Off-Off-Broadway productions on the weekends. He stood out from other actors because of his age and commanding manner, and was regularly cast as an authority figure, often playing detectives, lawyers, and military officials. Being typecast didn't bother Doman, who was just happy to be working.
"If you want to work fairly regularly, you have to get typecast," he says. "They have to see you as something. And then, the trick is to break out of it—to expand your range."
Doman appeared in scores of television episodes as a guest star. He worked on NYPD Blue, The Practice, CSI: Las Vegas, Law & Order, ER, and Oz, and has had roles in the films Die Hard With a Vengeance and Mystic River.
Working on The Wire has been a significantly different experience, mostly because Doman is under contract and on the set regularly during shooting. He developed close relationships with the crew and other actors playing police officers. The cast is large, sometimes as many as 70 actors in a single episode, and many of the actors are Baltimore residents who have never acted in anything before.
"Yeah, it's a really good group of people, although I don't know half the cast," he says. "I only know the guys who are in my part of the story—Landsman and McNulty and Bunk. The cops' side of the story. I never get to see the drug dealers, the kids, or those people. I'm never there at the same time. We get to see each other at the party. I've never even met Wood Harris, who plays [drug dealer] Avon Barksdale."
To research his role, Doman accompanied Baltimore detectives for ride-alongs during their shifts. He observed many crime scenes where victims had been shot or stabbed, and followed the police to talk with witnesses.
"The thing that struck me the most was the attitude of the cops," he says. "I mean, it's like, 'Another day at the office.' They're so blasé and cool. Guy's been lying there, he's been shot 12 times, bleeding, and they're like, 'Alright, we want to talk with this guy.'"
Although The Wire has brought production jobs and recognition to Baltimore, city officials have been less than thrilled with the kind of publicity the show offers.
"After the first season," Doman recalls, "the Baltimore mayor called Dave Simon into his office and said that he was going to shut him down because he didn't like the way Baltimore was being portrayed. And Dave said, 'Fine, you can shut us down, but we've already established this as Baltimore. We'll just move up to Philadelphia and shoot and still call it Baltimore.'"
The mayor's argument wasn't helped by the fact that one time an extra really did get shot in the city.
"He stumbled onto the set," says Doman. "He got shot in one of the row houses, stumbling out. Collapsed."
With its novelistic storylines, multiple characters, and gritty subject matter, The Wire can be challenging to watch. Doman thinks he knows why the show has not had more viewers and won more awards.
"My latest theory is that you look at something like 24, which is a big hot show, and it's all fantasy," he says. "It's stuff that's not really happening. It's like, 'What if?' While The Wire is what's really happening. And I'm not sure people want to deal with it. A certain segment of the audience loves it, but I think a lot of people who sit down in front of a television want to be totally entertained and taken into another realm."
That "certain segment" of fans is happy to pass on its appreciation to Doman, who has been filming episodes for the fifth and final season this summer. (HBO will debut the new season this month.)
"It's wonderful," he says. "It's nice to know that somebody is watching, you know? It would be terrible if people never even noticed. And people are nice: 'I love the show, man; how's it going? When are you coming back? It's my favorite show.'"
—Aaron Short C'03