Just Kids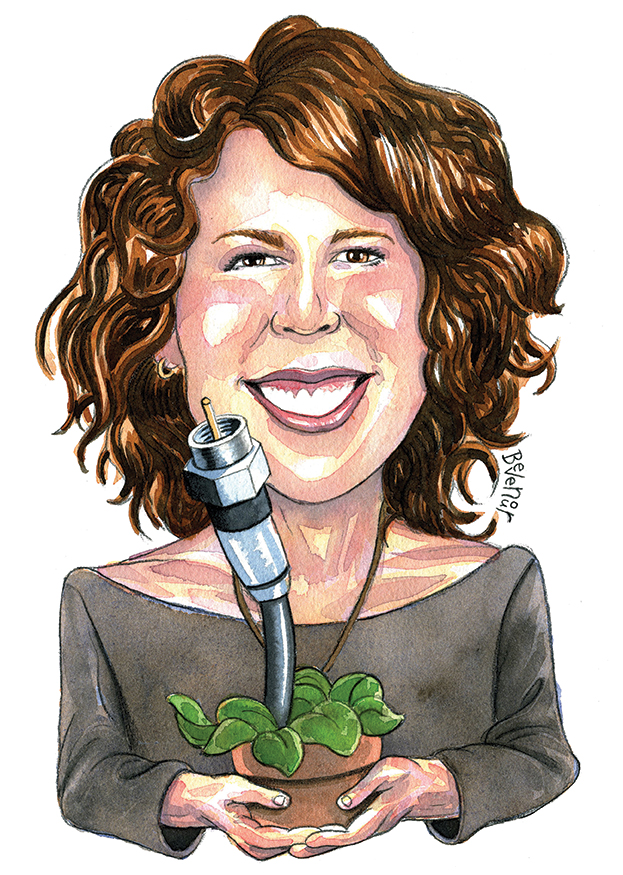 Class of '86 | As a child, whenever people asked what she wanted to do when she grew up, Amy Friedman C'86 GEd'86 would answer: "I want to be a writer on Sesame Street."
"My whole life I knew that," says Friedman, now a 52-year-old senior vice president of programming and development for Sprout, a 24-hour pre-school channel from NBC Universal. "I just knew there was something special happening there."
During high school in Moorestown, New Jersey, she caught the theater bug, whose symptoms grew more serious after an "unfortunate encounter with a volleyball stanchion" ended her three-season athletic career. That theatrical flair blossomed at Penn when she joined Bloomers, then a relatively new, all-female addition to the tradition of Ivy League comedy troupes. Her official major was American civilization, though she took so many graduate-education courses that she ended up getting her master's degree in a new concentration: Children's Literature, Culture and the Imagination.
Friedman credits the Bloomers and Mask & Wig "mafia" with helping to launch her long career in writing and programming for kids. But things didn't start off smoothly. After a post-graduate leadership program in Israel, an executive from the children's show for which she had briefly acted and written told her about an opening for an administrative job in New York for Israeli Sesame Street.
Friedman called the woman in question, and gave a terrific spiel.
"I'm fluent in Hebrew; I have a master's in education; I've always wanted to write for Sesame Street,"she recalls saying. "We talk for two hours—it is a complete and total love fest. Then, at the end, she asks, 'How fast do you type?'"
Despite Friedman's assurances, her woulda-been shoulda-been boss backed off, knowing that ambitious, creative, smart people seldom stick around in administrative purgatory. When Friedman decided to force a face-to-face meeting, she got kicked out of the building.
As she stood sobbing outside, who should appear but a former Bloomer?
"I just ruined my life," Friedman wailed to her fellow alumna, Jackie Green C'81. "They think I'm crazy."
Green had a suggestion: "There's this other thing. It's new—it's called Nickelodeon. A Wigger just got a job there. You should call him."
Friedman made the call, landed a job, and stayed for 23 years. Along the way, she racked up a Clio (for TV advertising), three CableACES (an early cable counterpart to network TV's Emmys), and a Beacon from the Cable Television Public Affairs Association.
She's always been a "kid person," she says. "Even today, more than a media person, I'd say I'm a kids' media person. My choice was teacher or kids' media, not, like, CBS or whatever."
At Nickelodeon, neither of her fancy Ivy League degrees mattered—her first gig involved mixing slime for Double Dare, a children's game show that frequently involved messy stunts.
"I hated it—I was going to quit," she says. Then her mom told her: "You stay and you mix the best damn slime. Trust me—they will know that you are smart and you will succeed."
Mom was right; her daughter was soon promoted to talent coordinator. Auditioning kids for the game show taught her what, and who, worked best on television. She began directing promos—the 30-second spots that announce what's coming next on a station's lineup.
"They were like Bloomers sketches," she says. "We were a total comedy factory. Cable was being born and no one really knew what they were doing, so you could do anything you wanted."
Next, Friedman was invited to run a new Nickelodeon incubator called the Creative Lab, where she created three-minute films that served as launching pads for eventual series, the best-known of which was CatDog. After a few more years, the network tapped Friedman to lead another new effort, Noggin, which produced educational programming, including the Beacon-winning A Walk In Your Shoes, a reality series (for children) before the term was even a thing.
Moving further away from the creative end of the business was, for Friedman, the right thing.
"It was like, 'Oh, yes, I'm a pretty good writer-director, but there's always going to be somebody way better than me,'" she says. "I wanted to be the one who allows those people to come in—I wanted to be a midwife."
But when she got married (to psychologist David Appelbaum) and had kids, she began wondering how she could have a "big job and a big home life," she says. Taking Fridays off worked for eight years, but one day, as her daughters—Emily, now 13, and Carly, 12—played in the garden, Friedman realized she wanted more. She left Nickelodeon, spent the summer relaxing, and then launched into a five-year stint as a consultant, serving clients like Scholastic and Viacom.
This past spring, Friedman returned to the corner office. She has been charged with propelling Sprout—which launched in 2005 and is now in more than 58 million homes—into an era of original programming.
"I'll be setting the strategic direction, picking the shows, inviting creators to come and do great work," she says. Sprout's tagline is "Free to Grow," and Friedman is on the lookout for new content that deals with the "four c's": compassion, curiosity, courage, and challenge.
Sprout's original programming includes Floogals, which features a trio of animated aliens who interact with the live-action world (Earth) into which they've crash-landed, and Sunny Side Up, a live-action morning show for pre-schoolers. Friedman is particularly excited about a new entry for this season: Dot, an original animated series about the adventures of a girl who uses technology to fuel her own curiosity. Aimed at four-to-seven-year-olds, the show is based on a popular children's book by Randi Zuckerberg (the sister of Facebook's creator, Mark).
As she pores over ethnographic and quantitative studies on how kids play and live, Friedman knows that, really, not much has changed over the years.
"Kids have remained the same in their souls," she says. "The same things make them laugh; they still love their families; they still have to learn to navigate their 'firsts.' What has changed is the way they get their content. Some of it is really short; a lot of it is interactive; and besides the cable and broadcast channels like us, there's YouTube, and there are games.
"Television is the best way to deliver the story, the world, the characters," she continues. "But then you want to come off of that big screen and interact and play the game or go to the concert."
With Sprout, Friedman says, she's aiming to "make her mark"—to have a hand in programs that make it into the "canon" of kids' TV, along with shows like Dora the Explorer and Sesame Street. "I'm hoping this latest chapter will provide the opportunity to do something really amazing in a very crowded world."
—JoAnn Greco