Is Penn men's soccer poised for a rebound?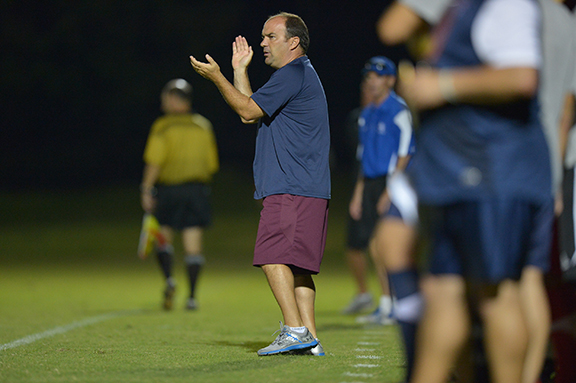 Last year at this time, Penn men's soccer coach Rudy Fuller was preparing for big things. The Quakers were coming off a solid 8-7-2 campaign in 2011, which followed a fantastic 2010 season when Penn won a thrilling home game in the NCAA tournament. And all signs pointed to the Quakers continuing to grow into a powerhouse in 2012.
But Fuller's program took a big step backwards last year, finishing with a very disappointing 3-13 record. For Fuller, it stung then … and it still stings today, even as Penn prepares to kick off a new season with a game against Stony Brook tonight at Penn Park.
"Last season was very tough," Fuller said in an interview with the Gazette. "It was very unexpected. You go into a season expecting to challenge for trophies and it goes the complete opposite."
At the very least, Fuller can pinpoint the problems. The combination of a handful of season-ending injuries with only a couple of seniors on the roster led to an inexperienced team losing nine one-goal games.
But if there was any silver lining, it was this: the juniors that were thrust into leadership roles before they were ready last season now make up the backbone of a suddenly far more seasoned squad.
"The juniors, now seniors, were fantastic last spring in terms of setting a tone and holding the group to certain standards," Fuller said. "Now we feel really good in two areas: our depth and our leadership."
Which Penn players can we expect big things from in '13?
Well, there's senior Stephen Baker, who's scored 19 goals in his first three seasons and who Fuller says has been "an influential guy since he stepped foot on campus." There's junior Duke Lacroix, who's also proven to be a dynamic scorer and is a player that Fuller thinks has a big future in front of him. ("He's very determined to be a pro and it shows in his approach and in his development over his first couple of years," the Penn coach said.) And there's senior Jonny Dolezal, a returning captain and a stalwart of the backline. Fuller also pointed to midfielders Lou Schott and Austin Kinn as key players.
"I think we're pleased with where we are right now," Fuller said. "I like our returning group a lot."
Those returning players will certainly be challenged with a daunting schedule that includes a visit from 2012 national finalist Georgetown on Sept. 19. And even though there's been a lot of turnover in the league, the Ivy schedule will be challenging as always.
But for Fuller, that's all part of his plan.
"We put together a schedule two or three years in advance and we put this schedule together for this team," Fuller said. "There was definitely a major hiccup last fall that was unexpected. We expected to have a very good year last year and challenge for the Ivy title. That didn't happen. But we put together a harder schedule based on the personnel we knew were going to have in our junior and senior class."
Can the upperclassmen lead Penn to some big wins over national powers? Can the Quakers challenge for an Ivy title and return to the NCAA tournament? Will they show that last season was nothing more than a blip?
Fuller is certainly optimistic.
"Last years shows you how fine the line is between success and failure," the Penn coach said. "It's a big incentive for our guys to rebound from that season and turn one-goal results in our favor. And I think we have a very determined group right now."
—Dave Zeitlin C'03