Hitting for The Cycle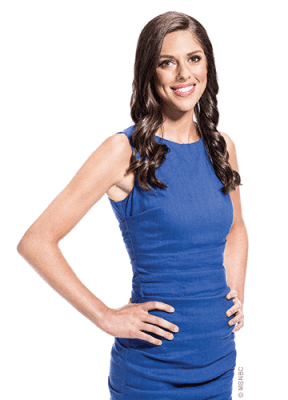 Class of '08 | Abby Huntsman C'08 made quite an impression on her colleagues during her first day co-hosting The Cycle, MSNBC's ensemble news program. As Touré, one of her three co-hosts, later recalled: "Abby seemed to start big. We're all sitting there, having a good time, and then Abby reaches out and punches one of the boys in the face."
"I came in swinging," Huntsman admits cheerfully. "I was making fun of the boys. There was an unusual comfort level from the start."
The most recent addition to the show and the only self-identified conservative, Huntsman did indeed start big—even though she was, by her own admission, incredibly nervous. She'd never read a teleprompter before, and hadn't had a chance to practice on-air with her three co-hosts. On a deeper level, she also worried that people would see her only as the daughter of Jon M. Huntsman Jr. C'87 Hon'10, a 2012 Republican presidential candidate and former US Ambassador to China.
"I didn't want people to think I was just another politician's child getting a show," she says. "There was the pressure of proving I could do it."
The Cycle, which covers politics and current events in a round-table format, is a Millennial's Morning Joe, with a cocktail-party feel. Huntsman and co-host Krystal Ball, dressed in stylish, jewel-toned dresses, discuss the day's happenings with their male counterparts, Touré and The Nation's Ari Melber. As they take turns sparking discussions on topics ranging from Congressional gridlock to school shootings to Snapchat, they also poke fun at each other—and at Washington.
Though Huntsman sometimes finds herself in the ideological minority, The Cycle rejects the television trope of pairing Democrats and Republicans against each other, and Huntsman herself rejects the role of "token conservative." That's not to say there isn't a fair share of squabble.
"We disagree. We drive each other nuts," she says. "But we love each other."
Having grown up in a large, high-profile political family, Huntsman is no stranger to heated discussions. Born in Philadelphia when her father was finishing his bachelor's degree in international studies at Penn, Huntsman lived in Utah, Virginia, Singapore, and Taiwan before the age of 9, as her family followed her father's political career around the world.
"I have years and years of experience sitting at dinner tables with important guests," she says, which helped her hone her debating skills. It also helped sharpen some other performance abilities: she performed at home for the likes of Elton John and MC Hammer before she was old enough to know who they were.
"I would sing Les Miserables' 'Castle on a Cloud' for guests who came to visit the embassy," she explains, referring to her time in Singapore, where her father was the US Ambassador under George H.W. Bush.
She loved acting and drama, too—all kinds of drama. "I ran away from home a number of times," she says. "I was a very serious person."
Huntsman always dreamed of attending Penn. When she was a baby, her father often dressed her in Penn gear.
"Penn represents a really special connection I have with my dad," Huntsman says, noting that their most striking similarity is "looking like twins." Another is that they've both "always pushed the envelope, always done things a bit differently."
Penn, however, was not the first stop for Huntsman, who has grown accustomed to a life filled with many stops, typically around the world. She spent her freshman year at the University of Utah, planning on transferring to Penn after her father's campaign for governor. She began her sophomore year at Penn in the Annenberg School for Communication's undergraduate program, but soon changed her major to political science. She also immersed herself in campus political activities, joining the College Republicans and Penn Red, a right-leaning program on UTV, Penn's TV station, which she chaired her senior year.
Penn Red, her first experience in TV broadcasting, "was less about being a die-hard Republican than getting more people involved in politics," Huntsman says. One of her proudest accomplishments was bringing John McCain to campus just before he announced his candidacy in 2008.
"She'd drag me to all the College Republican events," says Liddy Huntsman C'11, her youngest sister, who was a freshman at Penn when Abby was a senior. "We don't look anything alike. People would always be like, 'Who's that girl following Abby around everywhere?'"
Politics may have seemed like the natural next step, yet after graduating in 2008, Huntsman took a job as a booker at Good Morning America. There she found herself struggling with the "horrendous" hours and doing "whatever it takes to get the guest"; by the time she left to work at Burson-Marsteller, the New York-based public-relations and communications firm, she wasn't even sure if she wanted to go back into the TV news business.
In 2012, when her father announced his bid for the presidency, the Huntsman sisters—Abby, Liddy, and older sister Mary Anne—joined the campaign, starting the Jon2012girls Twitter handle and producing a viral spoof of a Herman Cain promo. Liddy, the self-proclaimed "wild child" (who, by the way, claims to have a blackmail file on Abby), spearheaded the girls' social-media presence, which added a refreshingly youthful and irreverent perspective to the campaign. ["Primary Lessons," Sep|Oct 2012.]
"We represent many in our generation who find themselves fiscally conservative, but more liberal on social issues," says Liddy. "The country has changed, and our generation sees that first hand."
As she managed her father's media appearances, Abby found herself again working as a booker. During and after the campaign, however, she began doing political commentary, appearing on Brian Williams' Rock Center and ABC's This Week with George Stephanopoulos. Later in 2012, she joined the team at then-brand-new HuffPost Live, where she produced and hosted online political segments.
"HuffPost Media was like a playground for me," Huntsman says. "It gave me the opportunity to see if broadcasting was what I really wanted to do. Wolf Blitzer gave me the most valuable advice: Do not walk before you can crawl."
Her work at HuffPost Live caught the attention of Steven Friedman, executive producer of The Cycle, who decided that Huntsman was ready to walk. She joined the team last June, replacing political commentator S.E. Cupp (now a panelist on CNN's Crossfire), and immediately impressed her fellow co-hosts with her poise, sense of humor, passion—even vocals. (As Touré put it: "If I have three big takeaways, it's that Ari is dorky, Krystal is hysterical, and Abby, you have an amazing singing voice.")
Yet it's Huntsman's "amazing earnestness," to use Ball's phrasing, that makes her not just watchable on The Cycle but also someone you'd enjoy having at your dinner table.
If you do find yourself sitting next to her, though, be prepared for a well-timed sock in the arm.
—Maria Yagoda