Gut-wrench and Glory in the Postseason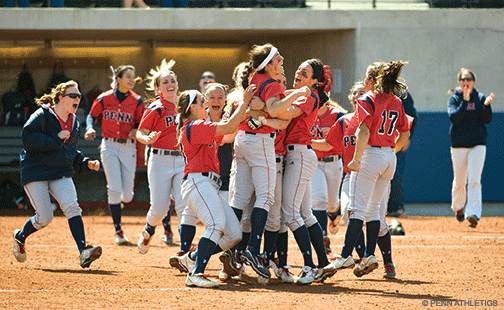 By Dave Zeitlin | It was almost midnight on May 18 when the Best Western in Bryan, Texas, transformed from a sleepy hotel into a mosh pit of excitement.
Crowding around the lobby TV, members of the Penn softball team and their parents erupted with cheers when they saw that junior first baseman Georgia Guttadauro had made SportsCenter's "Top 10 Plays of the Day" on ESPN.
"Literally everyone screamed in the hotel lobby," recalled Brooke Coloma W'13, one of the team's senior leaders. "It was as if we had won the World Series."
The Quakers didn't win the Women's College World Series—although they came closer than any other Penn team by capturing the 2013 Ivy League championship and earning the program's first-ever NCAA tournament berth. And even though Penn was quickly eliminated from the postseason following two consecutive NCAA tourney losses, the players on the team were still thrilled to play in front of a national television audience and get the kind of exposure the program had never before gotten.
They were even more thrilled to see a teammate on SportsCenter the night before leaving Texas (where their playoff games were held) and returning to Philly. Some people even recognized them in the airport before their flight took off.
"I couldn't believe I was actually on TV," said Guttadauro, who was honored with the No. 2 play of the day for a diving catch in foul territory. "Then to have that support from teammates and everyone being so happy for me, it was really special. It's something I'll never forget."
Guttadauro admitted that seeing herself in the same ESPN segment as professional athletes made the loss to perennial softball powerhouse Arizona just a few hours earlier "a little more bearable." But the season-ending defeat was still very difficult to deal with because of how it transpired. Leading Arizona until the final inning thanks to a two-run home run off of Guttadauro's bat, Penn allowed the Wildcats to tie the game in the seventh and then win it in the eighth.
"Arizona has won a gazillion national titles, so to be on the field with them, to compete with them, to be one out away from beating them—it was heartbreaking," said Penn softball coach Leslie King. "We were all very torn up afterwards. But upon reflection and giving it some time, we're also very, very proud to have been on that stage."
Being so close to beating a storied program like Arizona—which has won eight national championships, second only to UCLA—was especially remarkable when you consider how overmatched the Quakers looked in their first NCAA tournament game just one day earlier.
Facing host Texas A&M, Penn surrendered five runs in each of the first two innings en route to a 12-0 setback. Afterwards, Coloma revealed that some players were daunted by what she called the "rowdiest fans we had ever seen" as well as the only pitcher they've ever faced who threw the ball faster than 60 miles per hour.
"I think we were nervous," King admitted. "But we learned from it. We learned from it quickly and we came back [against Arizona] and played a lot more like ourselves."
Though the game against Arizona was certainly more gut-wrenching than the one against Texas A&M, Coloma preferred ending her Penn career that way: fighting until the last out. For her and her six other senior classmates, including fellow All-Ivy selections Stephanie Caso C'13, Jessica Melendez C'13, and Samantha Erosa C'13, it was much more representative of the journey they'd made together, from Ivy League also-rans to Ivy League champs.
"I think at the end of the tournament like that, you have to focus on the positives," said Coloma, who finished her career in the top five all-time at Penn in at-bats, hits, runs scored, home runs, stolen bases, and RBIs. "I was just happy I got to end my career playing at another level of softball, and getting to face good pitching, and getting to play in a really awesome tournament on national television. It was pointless for the seniors to dwell on the loss."
Instead, when she remembers her college softball career, she'll think about the game at Penn Park on May 5 when the Quakers rallied from a 2-0 deficit and defeated Dartmouth in the third and deciding game of the Ivy League Championship Series. The victory, spurred by a game-winning home run from Kayla Dahlerbruch, gave Penn just its second Ivy title ever, and first since 1981.
And remarkably, it came about one hour after the Penn women's lacrosse team won an Ivy League title of its own right next door at Franklin Field, marking the first time two Penn women's teams earned NCAA tournament bids in the same day. (Playing in its seventh straight NCAA tournament, the women's lacrosse team lost in the first round to the University of Virginia, 12-6.)
"It was neat to be able to share that with the lacrosse team," King said. "They've had such a great history, and to kind of ride along on their victory and to win as well, it was a great day for Penn athletics and for Penn women's sports in particular. That was cool."
Now for King, the goal is to try to maintain the same level of success the women's lacrosse team has enjoyed under head coach Karin Brower Corbett. King will need to replace a lot of talented seniors but the program has a solid group of returners, led by star pitcher Alexis Borden, a rising junior. And on top of the beauty of Penn Park, the head coach now has something else to add to her recruiting pitch: the chance to play on national television … and maybe even make SportsCenter.
"I can't tell you how many tweets, Facebook messages, and emails I got," King said. "From a recruiting standpoint, it certainly puts us at the forefront of Ivy League teams."
---
Dave Zeitlin C'03 writes frequently for the Gazette.