Graduation, Gangnam Style
On a clear and breezy spring morning, the Class of 2014 along with other graduating Penn students and faculty members marched onto Franklin Field on schedule and as planned. Almost, that is.
Much to the astonishment of blogs and tabloids like the UK's Daily Mail, Chrissy Teigen, the wife of guest speaker John Legend C'99, arrived barefoot (gasp!) to Penn's 258th Commencement. Apparently, the Sports Illustratedswimsuit model had forgotten her shoes.
Tabloid attention aside, this year's Commencement struck a decidedly lighter tone than last year's, which featured Vice President Joe Biden and his extensive Secret Service entourage. Legend began his address with a boyish grin and warned, with a touch of hoarseness, "As a musician, this is about 10 hours before I normally go to work, so I'm gonna need a nap soon."
Legend was on campus a little over a year ago for a concert celebrating the University's Making History fundraising campaign. Back in 2009, he was also the guest speaker for the College of Arts and Sciences graduation ceremony. Given these recent appearances, the selection of Legend to deliver this year's Commencement address came as a surprise to some. (Provost Vincent Price informed the audience, with mock seriousness, that it was because stormy weather had cut Legend's concert short last year.)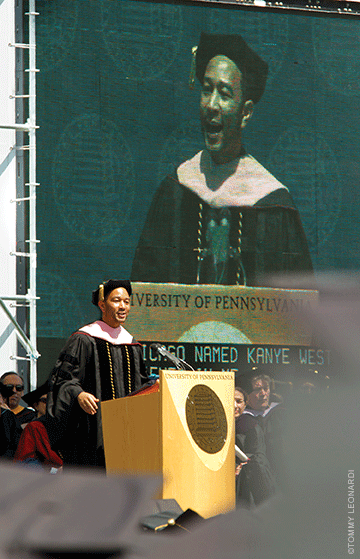 Ever the musician, Legend prefaced his speech by ad-libbing lyrics to the melody of his hit song "All of Me:" " All of you / are so over me / tired of hearing that I went to Penn / why'd they bring him back again?"
Legend was not the only speaker to utilize music to conclude this "Year of Sound," the chosen academic theme for this year.
"Every Penn Commencement has included music," President Amy Gutmann remarked in her own speech. "And for good reason: music marks the defining moments of our lives. We connect certain songs to our happiest memories, to our heartbreaks, and to the history of our time."
Gutmann interspersed her address with audio clips ranging from Aretha Franklin's "Respect" (to mark Gutmann's coming-of-age in the 1960s) to Katy Perry's "Firework" (a song that "reminds us how exhilarating it is stand up for who you really are"). But for many, the highlight of her speech was the inclusion of Psy's "Gangnam Style," during which Gutmann proceeded to perform the song's signature dance with many graduates jumping in to follow her lead.
"Not everything you and I learn at Penn is edifying," Gutmann quipped.
On a more serious note, Gutmann emphasized "freedom, community, and courage," and lauded the late Nelson Mandela as an example for graduates to follow.
"To succeed at the truly big things like freedom and community, it takes something extra," Gutmann said. "It takes courage … speaking your mind with integrity, all the more so in those moments when others stay silent."
Legend followed up Gutmann's speech by stressing the need for embracing love in all aspects of life.
"The reason I'm here, the reason I've had such a wonderful journey so far, is that I found love," Legend said. A winner of nine Grammy awards, Legend added that "the key to success, the key to happiness, is opening your heart and mind to love: spending your time doing things you love, and with people you love."
Legend (or John Stephens, before he became the singing Legend) recounted much of his life story, and described how his parents' difficult divorce affected him deeply at a young age.
"I coped by being stoic and seemingly unaffected," Legend reflected. After college, he confessed, he initially "followed the path that the Penn graduate was supposed to take," as a management consultant at Boston Consulting Group. Not loving that job, he decided to commit full-time to music. After numerous rejections from label representatives, Legend finally caught his break after meeting Kanye West through a mutual friend, his former Penn roommate DeVon Harris W'99.
"Cool detachment only gets you so far," Legend said. "Passion gets you a lot further. It makes you a better entrepreneur, a better leader, a better philanthropist, a better friend, a better lover."
But Legend urged graduates to not only learn to love in their work and personal lives, but also challenged them to go "all in" and "love people we don't know, to see the value in every single person's life."
"It means we let go of fear and see each other's humanity. It means we don't see Trayvon Martin as a walking stereotype, a weaponized human," Legend added.
"So love your self, love your work, love the people around you. Dare to love those who are different from you, no matter where they're from, what they look like, and who they love. Pursue this life of love with focus and passion and ambition and courage."
The message resonated—even if, much to the audience's dismay after a ceremony keyed to the joys of music, Legend never did get to finish his set from last year's celebration.
—Matt Fernandez C'14