Gardens of Earthy Delights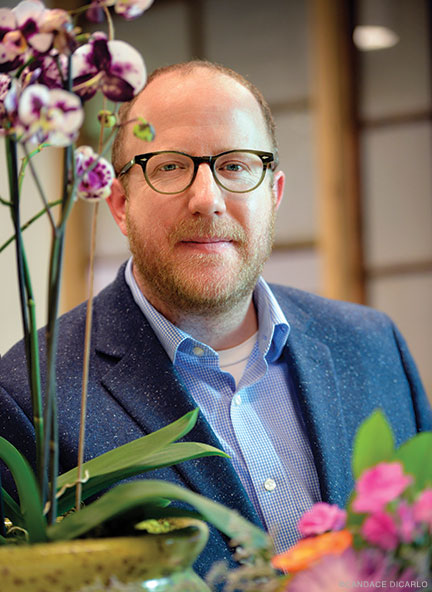 Class of '11 | "Working together to create beauty builds community, offers rest and renewal, and encourages pride of place," Matthew Rader WG'11 is saying. "I'm excited for the chance to create a healthier, more sustainable, and more beautiful city."
As the new president of the Pennsylvania Horticultural Society (PHS), Rader is in a good place to do just that. Besides its signature event—the Philadelphia Flower Show, which runs from March 5-13 this year at the Pennsylvania Convention Center—the 189-year-old Society runs a cornucopia of programs. Whether it's increasing accessibility to fresh produce (City Harvest), restoring the region's tree canopy (Plant One Million), or supporting storm-water management (Rain Check), he notes, everything goes back to the PHS's core mission of connecting people to horticulture.
A commited urbanistwhose closest green patch is Washington Square, Rader shares a loft apartment on East Market Street with his partner, music educator Michael Smith. On the credenza in his sun-drenched office, though, is an EarthBox, a self-watering container gardening system. "This is an experiment," he says with a laugh. "My goal is to start an indoor culinary garden for herbs and greens."
That aim dovetails with some of the recent changes to the Flower Show, which is both a major fundraising event for the Society and a tourism engine that draws about 250,000 visitors to the city each year. By launching new exhibits for urban entranceways, windowsills, and the like, the Flower Show is finally acknowledging that the gardening opportunities of many visitors are limited to their apartment balconies or the concrete patches behind their rowhouses.
Rader, who visited the Flower Show as a child and on an early date with Smith, will be eyeing its lushly landscaped tableaux with fresh eyes and motives. "My top goal is to get to know as many of the volunteers, exhibitors, and sponsors as I possibly can," he says. "I'm excited to see it from the inside."
This year's theme, a celebration of the 100th anniversary of the National Park Service, resonates with Rader's personal history.
Having grown up in the small south-central Pennsylvania town of Mercersburg, Rader snagged a fellowship at England's Stowe School, noted for its masterful gardens and listed estate. From there it was only a short hop, metaphorically speaking, to the University of Virginia, where he studied architecture and worked as a tour guide at nearby Monticello, a National Historic Landmark. Rader also spent a college summer at Yellowstone National Park, working in the kitchen of the Old Faithful Inn.
From college he set off on the meandering but logical path that led him to Philadelphia and, eventually, the PHS. His first position, at the Fairmount Park Historic Preservation Trust, helped him get to know the city's diverse communities through their shared love of green space. Now, 10 years later, he'll be working with similar populations at the PHS. "Like the parks, we cut across a spectrum of socio-economic groups," he says.
The 37-year-old Rader will undoubtedly be evaluating the proceedings from a business perspective, using skills he honed earlier in his career as executive director for the East Passyunk Business Improvement District. That job, he says, got him interested in the workings of neighborhoods. At his next gig, as manager for advisory services at the Washington-based Urban Land Institute (ULI), he guided volunteer teams of experts in addressing the problems of client cities. That proved to be a "crash course in mashing together all the sectors that are a part of solving urban problems," he says, and helped him understand that "more than design or planning, the way I really wanted to contribute to making cities better places was to lead and create consensus and move things forward."
That realization would bring him back to Philadelphia—to Wharton, where the presence of Penn Design and a specialty in real-estate management beckoned. There Rader dreamed up revenue-generating schemes during an internship at the National Trust for Historic Preservation, and upon graduating, he secured a spot at the Philly offices of McKinsey & Co., the management-consulting firm.
The Wharton experience and the four years at McKinsey are likely to be felt in the Rader-run PHS. His predecessor, Drew Becher, was an organizer, too, one whose big dreams and oversized visions were intended to act as a corrective to the 25-year tenure of Jane Pepper, under whose guidance the organization had resembled a genteel, if huge, garden club. Becher, who served from 2010 to 2015, steered it into the modern era—pop-up beer gardens! Disney as corporate sponsor!—with a vengeance.
Looking ahead, it's too early to know exactly how Rader's unique blend of business bonafides, salesmanship savvy, and conservation cred will shape the PHS. Looking back, though, his career trajectory seems almost pre-destined.
It's all developed from a "wonderful set of coincidences," he says. "I grew up in a place with amazing landscapes and 18th-century stone buildings, and everything—from where I studied to the jobs I took—seems to have flowed from there."

—JoAnn Greco