First-year Bioengineering Prof Nabs "Genius Grant"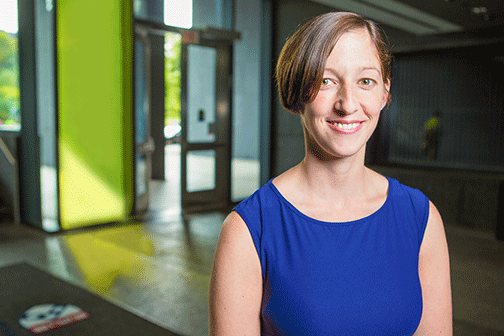 Danielle Bassett, the Skirkanich Assistant Professor of Innovation in the School of Engineering and Applied Science, has been named a 2014 MacArthur Fellow. As one of 21 recipients of this year's "genius grant," she will receive $625,000 over a five-year period to conduct self-directed research unlimited by specific obligations or reporting requirements.
The 32-year-old bioengineering professor, who joined Penn's faculty in 2013, specializes in network science and complex systems theory. She focuses on analyzing the brain's communication pathways, but her work also touches upon social systems, cell biology, and materials science. Most recently, she and her colleagues used brain-imaging data to show that a person's cognitive abilities can be predicted by the flexibility of connections within their brain.
Bassett and her colleagues have described some of the dynamics by which brain networks reconfigure in the midst of ordinary cognitive functioning and also during the progression of diseases like schizophrenia. Understanding these dynamic changes could aid in developing disease diagnostics, brain injury rehabilitation, or treating psychiatric disorders.
Bassett says she first became fascinated by the brain in middle school, while thinking about philosophy and then "realizing that there's a whole science of neuroscience behind that."