Fine '09 Meets Online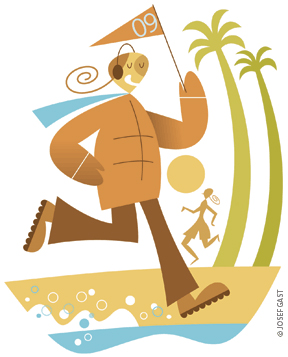 California native Erika Palmer didn't know how East Coasters combat bitter winter weather. She only owned a few hooded sweatshirts, had never seen a pair of winter boots, and wasn't sure where in San Diego she could buy long-sleeved shirts, let alone a parka.
The incoming College freshman logged on to Penn's online orientation network, Pennster, where users taught her the differences between zip-up boots and galoshes, and imparted other nuggets of winter wisdom, including the art of layered clothing.
Wharton freshman Jonathan Hefter's year couldn't start soon enough. The last thing he wanted to do was wait until school began to get to know his classmates.
Hefter created an account on thefacebook—an Internet directory that allows college students to network at their own and other campuses—and founded a group for other freshmen who were eager to jumpstart their Penn experience.
Thanks to new online communities like Pennster and thefacebook, freshman orientation started long before September 1, as many students found ways to soothe their jitters, get answers to questions, and start making new friends—all before ever setting foot on campus.
When four Harvard students created thefacebook.com, the site only hosted Ivy League and other top-ranked institutions. A year and a half after its inception, the network has expanded to include nearly 1,000 colleges and universities.
Once they received their Penn-issued e-mail addresses, incoming freshmen could register on the Penn section of thefacebook and create their member profiles, list friends, search for users with similar interests, and join groups like "Still In Love With Bill Clinton (but not in that way!)" or "Guys and Gals for Gutmann."
There were also new groups created exclusively by freshmen for freshmen, including the '09 Long Islanders, The Fine '09, and Hefter's own Jumpstart '09.
"I'm very excited about Wharton," said Hefter, who used his facebook group to organize regional events for freshmen in various geographic areas over the summer. In July, he hosted an event for New York '09ers that featured pizza and singing at a local karaoke bar. "I didn't want to wait until the fall to start meeting the people who I'm going to be with the next four years," he said.
The developers of Pennster—the name is a play on the popular online social network Friendster—had a similar goal in mind last year when they created the Virtual Student Orientation Network exclusively for Penn freshmen.
"Other schools were doing different types of stuff with technology, so instead of being behind the curve, we wanted to try to develop something on our own," said Troy Majnerick, Penn's New Student Orientation coordinator and one of the masterminds behind Pennster. "There are some people who excel virtually compared to in person, and this way they can start to build relationships and feel comfortable."
Incoming freshmen who used Pennster could view a list of their future hall mates, attend real-time chat sessions with members of Penn's housing faculty, and post questions and comments on discussion forums. They were also able to send each other private messages, ask their resident advisers and house deans questions, and find out which banks and cell phone providers are best.
International College student Temitope Maiyegun hadn't been to campus before orientation, but she used Pennster and thefacebook to contact her roommate and hall mates over the summer. "Pennster has reduced some of the anxiety I had about coming to Penn," she wrote in July from Vienna, Austria. "It's given me an opportunity to meet a whole bunch of people from the freshman class, and makes me feel at ease that I'll know a couple of people when I get down there in the fall."
Last year, 87 percent of the incoming class logged on to Pennster, and Majnerick cited similar numbers for this year's crop of freshmen. Most days, there were approximately 300 new posts on the message boards—which covered topics ranging from views on Affirmative Action to the Michael Jackson trial to must-have Penn professors.
"There are so many people posting on it that if you miss a few days and want to catch up with the conversation, you have to read back a bunch of pages," said Palmer, who posted over 250 times in the first month she used the site.
But these virtual get-to-know-you's can't last forever. While students have the option to keep using thefacebook through their time at Penn, Pennster has been shut down until the Class of 2010 logs on next June.
Most of these '09ers were just fine with that. As Palmer explained, while communities like Pennster and thefacebook "really eased some of the fears I had … meeting people in real life on campus is much better than the online version."
—Molly Petrilla C'06