Exit Laughing
How many of us can say that the last words we heard from a sick friend made us roar with laughter?
---
By Budd Mishkin | On Saturday, October 16, 2010, about two dozen 50-year-olds gathered at the Mask and Wig Clubhouse on South Quince Street in Philadelphia. We were all former Mask and Wiggers, middle-aged men who'd last performed at the Clubhouse when another actor, Ronald Reagan, was enjoying his first years in the White House. We were there to sing some songs, do some bits, and tell some stories—a few of them even true—in a show for an old friend watching at home in Seattle. For many of us, it was the most meaningful and bittersweet show of our lives, because the evening's honoree, Paul S. Miller C'83, was dying.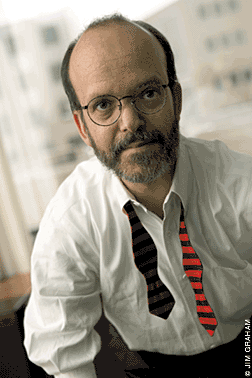 Paul Miller ["Signature Style," Sept|Oct 2004] was a tireless fighter for just causes. He was born with a form of dwarfism called achondroplasia. After graduating from Penn and Harvard Law School, Paul helped pass the 1990 Americans with Disabilities Act barring discrimination on the basis of disability, then worked to see the legislation implemented. President Clinton named Paul a commissioner of the US Equal Employment Opportunity Commission, on which he served from 1994 to 2004. He became a professor at the University of Washington Law School, and later returned to Washington to work in the first year of the Obama administration. This was clearly a serious man, and yet the final line on his CV noted the 1981 University of Pennsylvania Mask and Wig Club's production of Ring Job, starring Paul Miller as Don Baklava.

This chapter in Paul Miller's improbable story began in early 1981, when the Mask and Wig Club was coming off a couple of shows that lacked but one element: actual comedy. To remedy this deficit, Wigger Jeff Younger C'81, known to his friends as "Psycho," created a show about two rival crime families trying to get their hands on a nuclear missile hidden in plain view as the center-tent-pole of a circus. Jeff called the rival families the Tortonis and the Baklavas and the show Ring Job.

One day while Jeff was casting Ring Job, he saw Paul Miller eating at the Christian Association on Locust Walk. He didn't know Paul, but recognized him from campus, years later recalling that Paul was almost invariably chatting up young women. Jeff got right to the point. "How'd you like to be in a show?" And Paul Miller, a man who would one day advise presidents, fell victim to the allure of big-time show business. "Sure," he responded. The legend of Don Baklava was born.

You've heard of A Chorus Line? You've heard of My Fair Lady? We hadn't. But Ring Job was funny—and tremendous fun to write, rehearse, and stage. While many of us played for laughs in the most unsubtle of ways, no one was funnier on stage than Paul Miller. The Daily Pennsylvanian even took note: "Especially notable is Paul Miller as the vicious and vengeful Don Baklava, one of the larger roles. Though the part was obviously written for him, Miller has great timing and a strong voice, making him one of the show's big assets."

After Ring Job, we graduated, becoming doctors and lawyers, teachers and TV producers, finance guys and reporters. And then there was Paul Miller, who helped create legislation and policy that would have an impact across the nation and improve the lives of literally millions of Americans.

But the happy memory of Ring Job never faded. In 2006, despite the protests of theater lovers everywhere, we decided to stage the show again at our 25th reunion. Ring Job 25 was two days of utter bliss, rehearsals filled with laughter and occasionally the right lines. The years seemed to have weathered many of the sharp edges of our personalities that existed in college. For 48 hours we allowed ourselves to block out the outside world and talk honestly about our lives since graduation: families and careers, loves gained and friends lost, all of the peaks and valleys. But one thing hadn't changed since 1981. No one was funnier on stage than Paul Miller.

After the show, Paul, my wife Peri, and I went out for coffee and drinks. My questions naturally focused on Paul's years in the White House. And he also talked candidly about his battle with cancer, which had hit his family in the past. Despite his health problems, playing Don Baklava again that night produced a smile on Paul's face that could not be erased.

Which brings us to the night of October 16, 2010. I'd gotten word in September that Paul's condition had worsened and he was coming home from the hospital for hospice care. By phone and email, the word spread. Quickly, the idea of doing a show for Paul coalesced. Led by John Joseph C'83 L'86 in Philadelphia and Peter Schankowitz C'83 in Los Angeles, a night at the Clubhouse was arranged, complete with a hookup that would transmit the show live to Paul's computer at home in Seattle.

And so on a beautiful autumn night, we gathered at the Clubhouse in Philadelphia while four of the West coast Mask and Wiggers flew up to be with Paul at his home. We sang Mask and Wig songs we'd sung hundreds of times, like "Tuition!" and "The Penn Commandments," along with "The Red and the Blue" and "Drink a Highball."

We quickly understood that we were part of a special night. Those who were with Paul at his home noted that his body was giving out before their eyes, but his affection for all of us, his belly laugh, and his spirit were alive. We came together that night for Paul, for ourselves, and for the idea that doing a show together sometimes bonds you through the years and the miles, a feeling that extends far beyond the simple notion of happy memories at a sad time.

As the evening was winding down and Paul's energy started to flag, the cameras turned to the walls of the Clubhouse. It is Mask and Wig tradition that a Club member is honored by putting his caricature on the wall, along with a mug to hang beside it. This process usually takes years, but we'd arranged to have it done in time for Paul's show.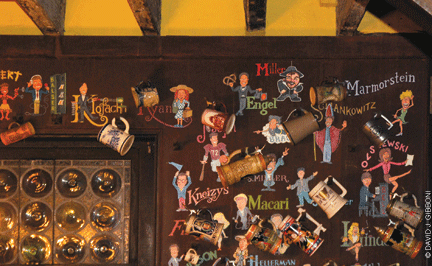 As the camera panned high on the wall to show Paul his caricature and mug, we looked to see his reaction. He was moved. We all were. And then, this man who had confronted discrimination as a dwarf and fought it with passion and humor uttered the line of the night. When Paul saw the location of his spot on the wall, he said, "Great. You put my f**kin' mug in a place where I can't reach it."

It was a parting gift to all of us, and it brought down the house.
---
Paul Miller died three days later. His wife Jennifer told us that the night meant a lot to him. He leaves behind Jennifer, two beautiful daughters, millions he touched, and a band of Wiggers who will never forget him.  Paul fought for many important causes in his all-too-brief life. But on that October night, as he had so many years ago, he left us laughing.

---
Budd Mishkin C'81 is the host of One on 1 with Budd Mishkin on NY1 News.