Dogfish Head Gets a New Head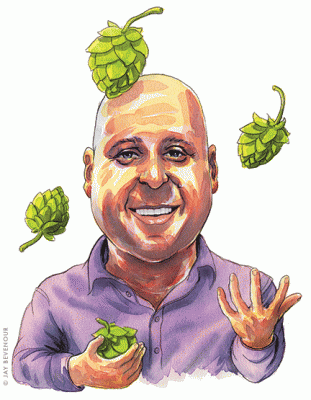 Class of '96 | There's no such thing as a typical day for Nick Benz EAS'96.
"You come in thinking you have a structure to the day, but when you get into it, you're ad-libbing your way through it," he says.
Not that he's complaining. Benz, who took over as CEO of the Dogfish Head Craft Brewery last October, ad-libs pretty well. One measure of that can be found in the words that his employees use to describe him: funny, brilliant, deranged. Granted, that last adjective was probably said in jest, but the blunt, gregarious Benz has clearly made an impression on his coworkers. He greets everyone by name, whether he's in the office or the brewery, though he admits that's getting increasingly difficult at the growing company.
Based in Milton, Delaware, Dogfish Head (www.dogfish.com) is celebrating its 20th anniversary this year, and its highly regarded beers—which range from an IPA brewed with Syrah grape-must to the archaeology-inspired Midas Touch ["Man, the Drinker," Jan|Feb 2010]—are sold in 25 states. During that time it has grown from a tiny beach-resort brewpub to the 13th largest craft brewery in the US. Having recently completed a $52 million expansion of its brewing facilities, Dogfish Head is on track to brew 253,000 barrels this year, and Benz says that carefully planned "low double-digit growth" will bring the company to its eventual goal of 600,000 barrels.
Having been the company's chief financial officer and then chief operating officer before becoming CEO last fall, Benz took on the head role at a pivotal time for both Dogfish Head and the industry. The brewery is leaving the "early survival mode" of entrepreneurship for more stable ground, he explains, while craft brewing is no longer a "Field of Dreams industry where, no matter what we brewed, it sold because that's all that was out there."
Benz rounds out the triumvirate that guides Dogfish Head. Founder and president Sam Calagione started the company in 1995 with his wife, Mariah Calagione, who's served as vice president since 1997 and oversees marketing. Dogfish Head has 225 employees, and Benz makes sure that the people, equipment, and funds are in place to implement the Calagiones' ideas.
He's also the one who puts the brakes on those that aren't practical. "There's absolutely no shortage of crazy ideas," Benz says—admitting that he's responsible for thwarting the president's dream of building a yurt to serve some business-related purpose.
His biggest operational challenges are managing change and maintaining the company's easy-going and self-proclaimed "off-centered" culture. "You can either have a whole crap-load of rules and be selective about the ones you're going to enforce, or you can have very few rules and hold steadfast to them," he says. "Our coworker manual is super-thin."
Fostering "proactive communication" is also high on Benz's list of priorities. In a manufacturing organization, every decision affects somebody "upstream or downstream of you," he notes. Coworkers are strongly encouraged to discuss their decisions with everyone involved to make sure it's the right move.
Change-management also includes interacting with the community. During the facility expansion, Benz addressed concerns raised by residents and officials in Milton.
Ironically, Benz, a native of Hazleton, Pennsylvania, started off his career looking for structure. He initially planned to study architecture at Penn, but quickly changed his mind.
"Sometime during freshman year I realized architecture was a little too artsy-fartsy for me, and I needed more structure," he explains with a laugh. Mechanical engineering proved a better fit. (Penn provided more than just an engineering education to Benz: He is married to the Belgian-born Francoise Lemaire Benz C'97 GEd'98, whose father, Jean Lemaire, is the Harry J. Loman Professor of Insurance and Risk Management at Wharton. The Benzes have three children, ages 9 to 4.)
After graduating from Penn, Benz worked as a mechanical engineer at Air Products in Allentown and London before heading to Carnegie Mellon University to earn his MBA. There his classmate and friend Christa Calagione Donnellan introduced him to her brother Sam, who brought Dogfish Head beer to a Friday night gathering of CMU grad students. It was a life-changing event. When he graduated in 2003, Benz did a few months' consulting work for Dogfish Head, then joined the company full-time as CFO.
Dogfish Head's 20th anniversary next month will bring the community to the brewery's doors. The company will create a special anniversary beer to join its lineup of year-round, seasonal, and collaborative beers, as well as those available only at its brewpub in nearby Rehoboth Beach.
Also on tap for 2015 is crafting a business strategy for the company.
"We don't actually have a strategy in the traditional sense," says Benz. "We've been working together closely for so long that we know the general direction that we're aiming for, but we've never engaged our entire management team in a conversation about it." The strategy will focus on staying competitive in the increasingly competitive craft beer industry.
"We don't want to just survive, we want to be strong," Benz asserts. But that doesn't mean the good times will fall by the wayside. "If we're not having fun doing what we're doing, there's really no point in being here."
—Samantha Drake GGS'06