Common Bonds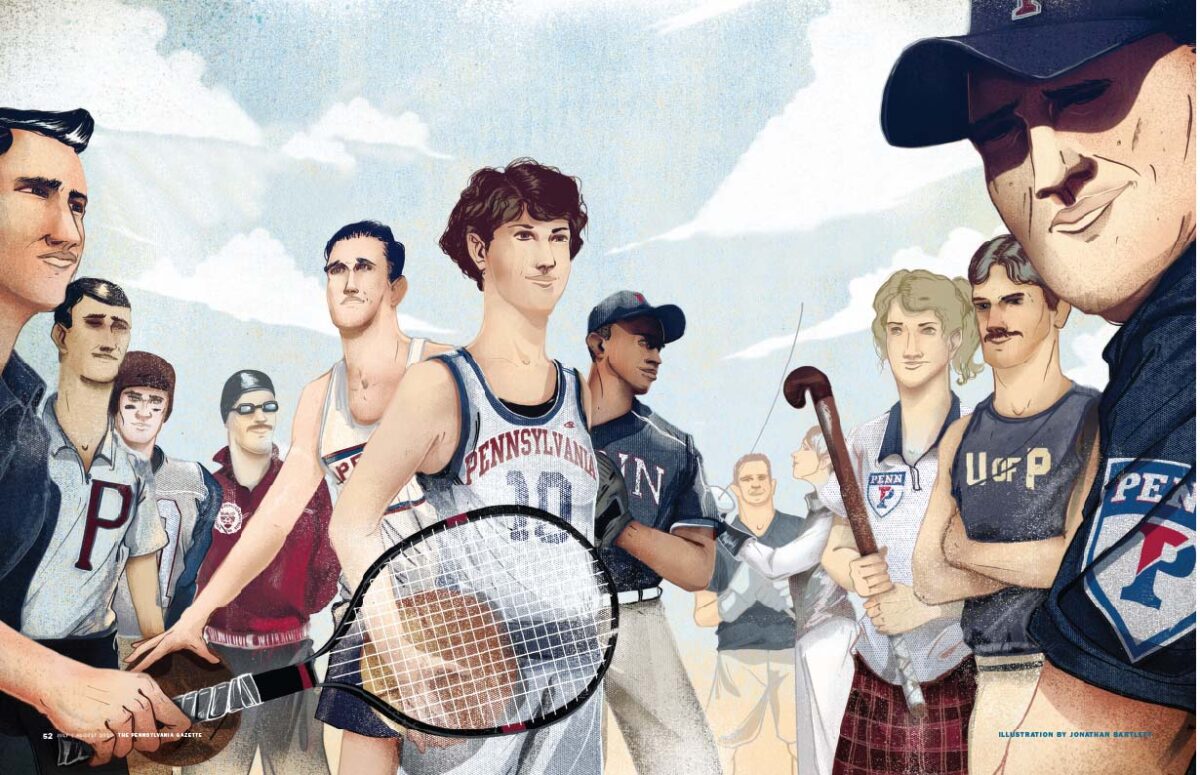 A dinner celebrating the newest class of Penn Athletic Hall of Famers featured laughter, tears, and a demonstration of the true meaning of the word teammate.
By Dave Zeitlin | Illustration by Jonathan Bartlett
---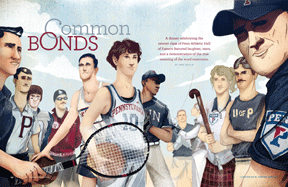 ---
Patricia "PK" Kennedy C'87 didn't know everyone inside the banquet room at the Inn at Penn when she rose to the dais, took out her notes and, with borrowed eyeglasses and homemade courage, gave a lip-quivering speech that alternated between laughter and tears.
But none of the people she spoke to were strangers, either. As Kennedy—a former two-sport star and one of the dozen men and women honored at the Penn Athletics Hall of Fame induction ceremony on May 8—acknowledged throughout the evening, playing sports at Penn was less about wins and losses and more about common bonds. It was a means to an end, except there was no end. From sport to sport and generation to generation, Quakers young and old are linked forever, united by shared experiences, reminded always of the school's rich history every Friday night at the Palestra or sun-splashed Saturday afternoon at Franklin Field.
And so, as one of the two featured speakers representing Penn's seventh class of Hall of Fame inductees, Kennedy did not mind telling a room full of Quakers how her kilt once fell off while running toward the goal, or about the time she accidentally yelled "Go Lafayette!" during a game, or managed to get herself stuck inside the locker room when the combination was on the outside of the door.
Then, when the laughter subsided, she reminded everyone of the importance of the word teammate.
"At the heart of all of it we loved what we did together, and Franklin Field was the end of the rainbow," Kennedy said. "Which is why when I was diagnosed with multiple sclerosis in March of 2006…"
Long pause. Deep breath.
"… and my world and my body started to fall apart, I was not surprised that it was my teammates throughout my life who made me realize who I was. When I started losing the ability to walk not long after that, it was my teammates who told me we would not go lightly. And despite our shared shock and fear over what the future would hold, we would fight together."
Together. It was a word that came up a lot throughout the evening as the courageous Kennedy and her fellow inductees were ushered into an elite fraternity of Red and Blue legends. Perhaps most noteworthy, the members of the group represented three centuries—a feat, athletic director Steve Bilsky W'71 boasted, few universities could match.
---
The class included a high-jump champion whose exploits predated Franklin Field (William Byrd Page C1887 ME1888) and two other posthumous inductees: basketball sharpshooter Francis Crossin C'47 and Walter Hynoski W'55, who starred on both the gridiron and the baseball diamond. It included another two-sport athlete in Kennedy, who played both field hockey and lacrosse during her time at Penn, as well as a swimmer (Bob Atkinson C'73), a fencer (Gail Rossman Kedoin C'88), and the only tennis All-American in school history (John Adams W'72). It included a men's lacrosse player (W. Kelso Morrill III W'85) who helped the Quakers become a national powerhouse in the mid-'80s, as well as one of the greatest women's basketball players who ever called the Palestra home (Dionne E. Anthon W'92 L'05). And it included two men synonymous with Penn baseball: longtime coach Bob Seddon and favorite son Doug Glanville EAS'93, who played nine seasons in the major leagues, mostly with the Phillies, and has since been a New York Times columnist, ESPN.com analyst, and author of a new book (see "Desperately Seeking Blank, p.40).
Together, these 11 men and women joined a Hall of Fame that welcomed its inaugural class in 1996 and continues to grow in stature every year. But perhaps the loudest cheers were saved for E. Craig Sweeten W'37, who has devoted his entire professional life (and a good chunk of his retirement) to his alma mater and received the Hall of Fame's first-ever "special honorary award."
Sweeten played soccer for the Quakers from 1934-36, but really made his mark after graduation, working for the University, mostly in alumni relations and development, until his retirement in 1980. (Sweeten Alumni House is named for him.) "I went to work here two days after I graduated and I never left, except for the war years," he said. "It's my life, really."
Sweeten, now 96, lives in Florida. Traveling for him is difficult, and he wasn't entirely sure if he could make the ceremony. But thoughts of not coming were only fleeting, he said. "It was an opportunity that I didn't want to miss." The Class of 1937 president, Sweeten last returned to campus in 2007 for his 70th reunion and hopes to be back again for his 75th in two years. "You never come back without seeing new construction," he said. "Sometimes, you can do without that. But it's nice to be back, and I hope I can continue to come back from time to time."
Bob Atkinson, an All-American swimmer who held eight program records when he graduated in 1973, hasn't been back on campus in 15 years—but he has a good excuse. For the past 27 years, he's been enjoying island life as an orthopedic surgeon living in Honolulu. Putting his athletic pedigree to good use, Atkinson has competed in ocean relay races in Hawaii, one time swimming nine miles from the island of Lanai to the island of Maui with three other teammates. (His old Penn coaches would be proud; Atkinson's team won that race.)
"I miss the Philadelphia environment, the Penn environment," the swimmer said. "I always take great pride in having attended Penn. I really saw it as a springboard to a successful career."
And even though he's far removed from campus, Atkinson still cherishes the time he spent at Penn—from always feeling like the underdog when racing against Yale and Princeton to political science classes with the legendary instructor C.J. Burnett Ed'33 L'36 G'41 to sipping hot buttered rum ("without the alcohol," he said) at the Christian Association while listening to folk music between practices. "It was a really fun time," he said. "The personal accomplishments were terrific, but in the end it was really all about the teammates and the memories."
Some members of the induction class have remained more closely tied to the University. W. Kelso Morrill, who became an assistant coach to the men's lacrosse team as a graduate student, saw four lacrosse games this past season and played in the alumni game just a couple of weeks prior to the Hall of Fame ceremony. Most of his best friends are also his former teammates—men he believes should have been honored before him. "My kids think of them as their uncles," he said. "It's a very tight group."
It's also a group that met unprecedented success. From 1983-85, Morrill's last three years as an undergrad, the Quakers went 15-3 in Ivy League competition and advanced to the NCAA tournament in all three campaigns. "We were all about unselfish team play," said Morrill, who was Penn's all-time leader in goals upon graduation. "There were U.S. team members, there were All-Americans, there were All-Ivy players. It kind of makes you wonder why they picked me because any one of those guys could have been up there tonight."
Tennis standout John Adams led Penn to a 1970 Eastern Intercollegiate Tennis Association championship, before capturing individual EITA singles and doubles titles as a senior in 1972.
Dionne Anthon never got to experience the joy of hoisting a championship trophy at Penn. But—besides being only the second women's player in Ivy League history to reach 1,200 points, 600 rebounds, and 250 assists in a career—she can take solace in the fact that she got to spend much of her time in college basketball's most historic gymnasium. "All of the little things made it great," said Anthon, who returned to Penn to get her law degree and now teaches at Widener University's law school in Harrisburg. "The teammates, the camaraderie we had playing. Playing at the Palestra is something you almost take for granted because, well, we got to practice at the Palestra. But it's such a historic gym."
Gail Rossman Kedoin led the Quakers to what remains the women's fencing program's only national championship. She is now giving back to the sport as a high-school fencing coach—and will surely teach her pupils a lot about inspiration and humility. "There are incredible athletes up there who have come before me," she said, "and there are plenty more to come."
---
In the case of posthumous inductees Franklin Crossin and Walter Hynoski, their children were on hand to accept their fathers' honors and share some memories.

Don Crossin was only 18 when his father died in 1981, so he didn't get much of a chance to hear the former Penn hoops star talk about his sweet shooting stroke (he got the nickname "Chink" because of the sound the chain-link nets then used made when his shots dropped through), how his basketball career was interrupted for two years by Navy service during World War II, or how he was drafted by the Philadelphia Warriors in the 1947 Basketball Association of America draft. But all it took was a quick glance at his hand to realize how much Frank "Chink" Crossin loved his Quakers. "He didn't even wear a wedding band," said Don, the youngest of Crossin's five children. "But he always wore his Penn ring."

Hynoski's children knew all about their father's successes. Legendary Penn State coach Joe Paterno made sure to remind them. "In 1953, Penn played Penn State and beat them, 13-7," explained Penn State alum Mike Hynoski, one of Walt's four sons. "Joe Paterno was an assistant coach on that [PSU] team, so one time Joe sent an autographed picture to my son that said, 'Don't be too nice to your grandfather. He beat Penn State.'"

These days, Penn beating Penn State in football would be roughly equivalent to a tortoise outrunning a cheetah. But back in the 1950s—when Hynoski did it all as a runner, passer, and punter—the Quakers consistently welcomed the toughest teams in the land while playing in front of 70,000 fans. "He always spoke with reverence of Franklin Field," said his oldest son, Jeff Hynoski, "and playing against the nation's best."

After graduating, Hynoski turned down a professional contract with the NFL's Green Bay Packers to finish his ROTC obligation in the United States Air Force, where he ended up playing some competitive football overseas. He died last October at the age of 75, just one year after being inducted into the Pennsylvania Sports Hall of Fame. His sons said they wish he were alive for this induction instead. "Quite frankly, we were talking about this, and we feel like this is the one he would rather have been to," Mike said. "Right, he loved this University," chimed in Jeff. "He loved everything about it."

Bob Seddon was the only one of this group of inductees who didn't go to Penn, but everyone still felt the love when the venerable coach came to the microphone as the other featured speaker besides Kennedy. Seddon, who had no college coaching experience when he was hired, but ended up directing the soccer team from 1968-86 and the baseball squad from 1972-2005, was especially grateful to longtime baseball assistant Bill Wagner. "I get choked up," Seddon said, "just when I mention his name."

Seddon, who boasts more wins than any Ivy baseball coach in history, recalled some fond memories (the no-hitters, the new baseball stadium, the NCAA tournaments, the huge crowds for soccer back when soccer was big) and some not-so-fond ones (like the time Glanville and the Quakers managed to blow a 16-0 lead in a playoff game). But mainly the man best known as "9" thanked the players, coaches, and school administrators who gave a "non-Ivy graduate the opportunity to stand here in front of everybody."

Seddon later remarked how difficult it was following Kennedy as a speaker, which was ironic because it was Kennedy's speech that showed following in the wake of others is what makes Penn great. "All you had to do was look up at the big Pennsylvania clock, the flags above the scoreboard, the huge ring of stands, the dramatic Philadelphia skyline," she said, "and you remembered how many people came before you and blazed that trail for you."

And as the former field hockey and lacrosse player showed, having your teammates ride shotgun makes for a smooth and wonderful ride through life—even when the world delivers an unavoidable pothole. "Even though our days of being the fastest are probably behind us," she said, "the bonds we formed and the genuine love and friendship we shared will always be a part of us. So let us celebrate our very good fortune and be grateful for the chances we had to shine, thanks to those very special people beside us in the trenches."
---
Dave Zeitlin C'03 writes the Gazette's sports blog.