Behind the Baton at the PSO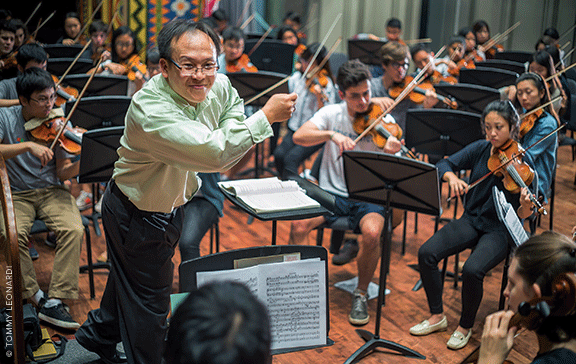 Whether he's conducting Ben Folds with the Pittsburgh Symphony or leading a hundred Penn students through Beethoven, Thomas Hong follows a simple mantra: "Don't screw up."
It started as an inside joke with a colleague—she'd say it when he was on his way to the stage—but the admonition still pops into his head many years later, even now as director of the Penn Symphony Orchestra.
"I'm the one who people look at to set the right example and make good choices," Hong says. "That's why I chose to become a conductor. It's okay if others do something a little funny, but I have to be the one they can rely on. Mistakes happen. That doesn't necessarily mean it's never me. I just try my best to not be caught."
Though he's conducted the Dallas, Pittsburgh, and Seattle symphony orchestras, and the Orchestre National de France, Hong's path to the podium was not exactly the traditional one. Having moved from Korea to the US when he was six, he didn't start piano lessons until he was 14, and it wasn't until college—relatively late for a classical musician—that he "really caught the bug and the passion" for music. He didn't discover conducting until after finishing his bachelor's degree in music—"again, late bloomer"—but he's been at it ever since. Last fall he became the PSO's interim director, a position that turned permanent this past summer.
"They won me in such a big way," he says of the student musicians, whom he led through Tchaikovsky, Copeland, Brahms, and Bernstein pieces in concerts last year.
Hong talked with Gazette contributor Molly Petrilla C'06 about his goals for the PSO, why the group is learning to be "more like jazz musicians," and what makes for a good conducting day.
---
The Penn Symphony Orchestra is somewhat unique in that there's no music performance major here.
I think that's a tremendous advantage in many ways. Even though it's a non-major orchestra, they're highly skilled on their instruments, and their hunger, dedication, and focus is, I would dare say, sometimes better than a conservatory setting. That's what makes the ensemble so good. We're able to take it to the next level.
How do you see the PSO fitting into students' lives, knowing that most of them won't be pursuing positions in professional orchestras?
We want this to sort of counterbalance their academic load—the necessary challenges of taking all those classes and seeking to distinguish themselves academically and positioning themselves to be marketable when they graduate. We want to provide a safe haven where they can spread their wings a little bit and be less under pressure.
What are some of your broader goals for the group?
Many students came from the best youth orchestras and were the concertmaster or first chair in their groups. But in youth orchestras, they don't actually watch the conductor. They learn by rote. You train them to sound really great by the concert, but it's not an interactive process. What we're learning with the Penn Symphony is to be more extemporaneous and have a semblance of spontaneity in our performances. In our own way, we're learning to be more like jazz musicians.
I also encourage them to make music right away. Who cares if you can't play all the notes yet? That's something to work on in your spare time. Come in to rehearsal and try to make music right away, try to interact, try to listen.
Your first concert of the year is on October 23. What are you playing?
Our main piece is Rachmaninoff's Second Symphony. It's perfect for a big orchestra like this—our string section alone is almost 70. It's also very popular, very well known to the ears.
How do you approach a piece like that—one that people have probably heard before?
The challenge of doing a tune that everyone knows and loves is that you have to do it well. They're going to know if it doesn't have the ambiance or freshness. For the conductor, our main goal is to study. It's to analyze the score and delve deeper, whether that be ensemble interpretation or historical significance.
When you're doing that study, do you listen to various recordings to see how other groups have performed it?
That's one aspect, but recordings should never be a substitute for score study. You can't base your knowledge on someone else's interpretation. You have to go to the source and earnestly study the text. I study the harmonies and structure, analyze the music, learn it on the piano, see what instruments play what.
What's the most stressful moment you've had while conducting?
It was a performance with the Pittsburgh Symphony, outdoors in the summer, thousands of people in the audience, and there was huge, loud feedback from the amplification system. What do you do? I stopped the orchestra, then had to start them back up again. Those moments are why you're there, though. You have to be the one to right the ship.
What makes for a really good day as a conductor?
As a young conductor, your ambition is to conduct great professional orchestras in concerts with a packed house. I think about my performances with Ben Folds. Performing with him, I could literally feel the cheer of the crowd push me forward on my podium.
Now a good day is just human interaction. It's sharing music and watching students grow. Before it was about gaining the experience. Now a good day is when I'm able to give that experience back to others and help them enjoy music.
Is there a genre or singer you listen to that might surprise people?
The truth is, I don't listen to music during my off time. I do anything but music. I'm a Netflix junkie and right now I'm revisiting the old kung fu movies.
On a more serious note, do you worry about the future of orchestras and classical music?
That's a very real concern and one that we all want to minimize. It actually ties into my goal in working at Penn. My students will be the ones who come to concerts and support our orchestras and send their children to music schools or music camps. That's very much in the front of my mind as a conductor.