Before Taking Off, Take In the Sky
A new installation at Philadelphia International Airport celebrates flight, movement—and sky.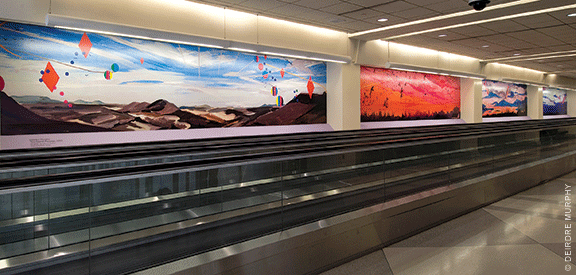 For Deirdre Murphy GFA'00, adjunct professor of fine arts, travel represents a "way to get outside oneself, to see the world anew." Having traveled and lived in Europe, Japan, and various parts of the United States, she is now giving travelers passing through Philadelphia International Airport an opportunity to see some select slices of the world overhead through her artist's eyes. Her vivid "Sky Painting Installation" is located above the moving walkway in the hallway between Terminals C and D.
Murphy says she knew that the panoramic Sky Paintings—which were digitally reproduced on vinyl and installed on the walls overlooking the moving walkway—were a success when she saw travelers "taking selfies in front of my work."

The immediate inspiration for these landscapes (skyscapes?) came from the Delaware River Valley, Hawk Mountain Bird Sanctuary in east-central Pennsylvania, and Maine, though she also drew on everything from photographs and contemporary art to 14th-century Chinese scroll paintings and Korean bridal robes "with their celebratory rainbow of colors."
As the landscape work progressed, the perspective shifted, she notes—"from the human point of view of landscape dominant, as in 'The Grand Passage' (below), to the bird's point of view, where sky is expansive and dominant, as in 'Point of Departure'" (above).

Birds, and the sense of movement they represent, have figured prominently in her work for the past 10 years.
"Birds have so much to teach us about living in the moment, adapting to changes and moving through life with reverence," she says. "I would love to pair up with a scientist to learn about flow dynamics and flight patterns." She's hoping to land a grant that will enable her to charter a helicopter and fly over tulip fields in full bloom, "to try and emulate what and how a bird sees while migrating."

In the meantime, she hopes that travelers "might pause and find refuge in my work while running to catch their next flight." —S.H.