Basketball's Building Projects, No Condolences Needed for Football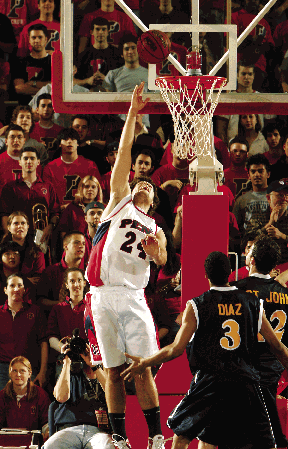 By David Porter | When we last looked in on Penn's men's basketball team, the curtain had just fallen on a 2003-04 season that was viewed by many as a preamble to greater things. Last season's 17-11 squad was an entertaining, if not always cohesive, amalgam of promising newcomers and old hands that dazzled at times and disappointed at others, the latter represented chiefly by a lost weekend in Providence and New Haven that put an early (and ultimately irreversible) crimp in the Quakers' Ivy title hopes. With last year's freshmen a year wiser in terms of basketball IQ and with senior guard Tim Begley, one of the Ivy League's best players, as the fulcrum, there is optimism in the Quakers' camp this season that wasn't dampened by the team's early results.

Begley has mostly been the quintessential role player at Penn for the last three seasons, a soft-spoken kid (in public, at least) who has been content to launch his feathery jumper from beyond the 3-point arc and otherwise do his part in coach Fran Dunphy's offensive and defensive schemes. This season, he is being counted on to take more of a leadership role, and he responded positively in the early weeks of the season, averaging 17 points per game and scoring a career-high 29 against La Salle in a 78-67 win. At 6 feet, 6 inches, his size makes him valuable on the boards, and he was second on the team in rebounding through the first six games.

The sophomores are the heart and soul of this team, and the Quakers' stock will rise and fall depending on how they absorbed last season's lessons. Mark Zoller, last season's pleasant surprise at forward, and Steve Danley provide size and skill up front, along with 6 foot, 10 inch senior Jan Fikiel, who, it is hoped, will become more of an inside player to complement his outside game. Danley plays as if each possession is his last and has begun to blossom as a scorer this season, averaging 11 points to rank second on the team behind Begley. Guards Ibrahim Jaaber and Ryan Pettinella are both what coaches like to term "active" players, meaning they raise the game's energy level the minute they step on the floor. Before the season, Dunphy allowed that the mercurial Jaaber could hold the key to how the Quakers fare if he harnesses his vast talents and becomes more consistent, particularly on defense, where he is an adept ball-stealer but can be beaten off the dribble too often.

Overall, defense was a problem for the Quakers in their two early losses, both of which were embarrassments, pure and simple. In back-to-back games, a strong Providence team shot 36-for-55 in beating Penn 89-52, and Wisconsin shot better than 50 percent (24-for-47) in a 77-44 win. Picked second in the Ivy League behind Princeton in the pre-season poll, Penn will have to do better if it hopes to dethrone the Tigers or avoid the other missteps that cost them last season.

---
More than 20 years in the college coaching ranks appear to have given Patrick Knapp's voice a permanent rasp, but they haven't erased his Philadelphia accent or blunted an enthusiasm for the game developed during countless hours spent at the Palestra as a youth. When he was announced as Penn's new women's basketball coach in August, replacing the departed Kelly Greenberg, some pondered his motives for leaving Georgetown and the glare of the Big East spotlight after 18 years to come to a league where the basketball expectations are not as lofty. But Knapp's ties to the Philadelphia area—he grew up in Roslyn, Pa., graduated from Widener College, and got his first head-coaching job at Bishop McDevitt High School—and the pull of the Big 5 trumped any other considerations.

"I just thought it would be an immense privilege to be at Penn because of the quality of the institution, the history of its basketball, and being in the Big 5," he said on the eve of the new season. "It certainly didn't hurt that my wife and I were born and raised here and that we have a lot of our family and friends here. I didn't have to think twice. I was very happy that they chose me."

Knapp inherits a program that was on the upswing under Greenberg, who led the team to two Ivy titles in the last four years. It is also a team that will be without the graduated Jewel Clark C'04, last year's Ivy League and Big 5 Player of the Year. A solid core of seniors led by guard Cat Makarewich and center Jennifer Fleischer figures to keep the Quakers competitive this season, and they had already defeated La Salle and St. Joseph's in the first month of play. Fleischer excelled with 21 points and 16 rebounds in the win over St. Joseph's, which was Penn's first-ever against the Hawks after 29 attempts. The results augur well for Knapp and his stated goal of one day winning the Big 5, something the Quakers have never done but are now inching closer to after defeating three of the other four schools in the last two seasons.

---
In addition to the usual exchanging of holiday wishes this season, football coach Al Bagnoli said he has been fielding condolences from some alumni on the Quakers' recently completed season. It is a vexing situation for a coach, to be sure, when your team finishes 6-1 in its conference and 8-2 overall, and sympathy cards are deemed appropriate. But that is where Bagnoli and his team find themselves after an unprecedented five-year run in which the Quakers' classes of 2004 and 2005 set a new Ivy League record with a 26-2 mark. All told, the Class of 2005 won 35 games and lost four in its four years, with all of the losses coming to Villanova and Harvard, which means the last time any of the other six Ivy League teams tasted victory against Penn was when President Clinton was in office.

Unfortunately, the numbers weren't able to salvage junior quarterback Pat McDermott's right shoulder, injured on the game-winning drive in a 16-15 nailbiter against Princeton, a development that forced Penn to use untested freshman Bryan Walker the next week in the title-deciding game against Harvard. Bagnoli conceded that McDermott's presence probably would not have reversed the 31-10 skunking the Quakers absorbed at the hands of an excellent Crimson squad, but there is no doubt that it would have provided a lift.

"There's never any good time for an injury, but that was probably the worst time for it to happen to us," Bagnoli said. "You work the whole year to put yourself in a position to control your own destiny, and you go into the biggest game of the year and you're starting a freshman. That's a lot of pressure on a young kid. Bryan acquitted himself well, but certainly it's not the ideal situation. But those things happen."

The following week at Cornell, in what coaches like to call a "pride" game, Penn pulled itself up by its bootstraps and vanquished the Big Red 20-14, though the game may have stood as a microcosm of a season where the margins shrank considerably: the Quakers jumping out to a 20-0 lead, then holding on for dear life while Cornell rallied to within a touchdown of winning. In what was supposed to be a rebuilding year—record-setting quarterback Mike Mitchell W'03 graduated along with the team's top seven offensive linemen—consistency was often a casualty, but somehow the wins kept adding up. They may not have been as pretty or as convincing as in years past, but those are quibbles of the spoiled. Note to alumni: keep those cards and letters coming, but send the condolences to Hanover, New Haven, Princeton, and Providence, where they're needed.

David Porter C'82 writes for the Associated Press.