Applying Themselves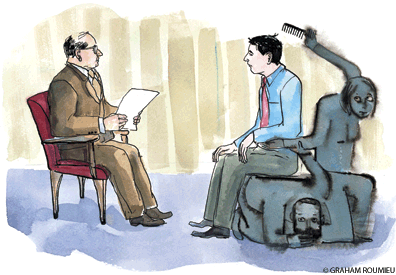 Two well-meaning parents get swept up in college-admissions insanity.
---
By Hank Herman | It's January 1998. My wife, Carol, and I have been invited to attend a guidance session for parents of high-school juniors who'll be applying to college next fall. As we approach the cafeteria, one of the moms takes a deep breath and says as calmly as possible, "All right. Here we go. This is going to be an ordeal!"
I look at her. "Hey, wait a minute," I say, casting myself as the voice of reason, in contrast to her scarcely controlled hysteria. "Our kids are applying to college. We're not applying to college."
My wife chimes in with the same smug tone, adding, "And I don't remember my parents going to any sessions like this!"
Neither did I. When I was my son Matt's age, I chose the colleges to which I was applying, wrote the essays and filled out the applications. My parents signed the checks, but that was the extent of it.
This time around, though, we're actually expected to get involved every step of the way. And this message isn't just coming from the basket-case mom mentioned above. Mr. Haydinger, head of our son's high school guidance department, grabs the mike and tells us solemnly that the process we're about to begin tonight will, over the course of the next 12 months, consume our lives.
Carol and I exchange knowing looks, feeling incredibly above this whole sordid fray. Mr. Haydinger is really directing his warnings to the certifiably loony parents—the upwardly mobiles, the intellectual wannabes, for whose kids only the top-level Ivies will be good enough. He's talking to the infamous transcript-building soccer moms who've been orchestrating their kids' play dates, athletic activities, and academics from Gymboree right on through to their volunteer work last summer on an Indian pueblo in South Dakota. He's sure as hell not talking to us—because we would never think of pressuring or choreographing our son during the college application process.
Fast forward to the fall.
• See me sitting at a bridge table, peering at my oversized, two-foot-by-three-foot "War Board," on which I've rated 36 "suitable" colleges and universities on the basis of academic standing, geographic location, size of undergraduate body, SAT scores needed for admission, and miscellaneous comments (i.e., did we by any chance know someone who donated a building there?).
•  See my wife helping our son write on the ninth application he's filled out this week why his formative years in Bestport, Connecticut, make him such a perfect fit for campus life at East Jabypp State University in southwestern Montana, and how the fact that he once assistant-coached a fourth-grade recreation basketball team makes him the ideal candidate for that school's Honors Early Child Development major.
•  See me driving five and a half hours in the darkness and rain, while my son sleeps snugly in the backseat, to Middle-of-Nowhere College in upstate New York for a 10 a.m. campus tour. See me wake my son before we reach campus to give him his "briefing" papers, including the MNC catalogue and what it is he said he wanted to do with his life on MNC's application essay.
•  See my wife "scripting" the phone call she's forcing our son to make to Elite College in western Massachusetts for further information about its very innovative American-Studies-major-with-Early-Child-Development-minor in which he's allegedly so deeply interested.
Trouble is, we baby-boomer parents are not very good at just sitting back and watching anything that has to do with our kids. We are a generation of Type A personalities. We are a generation of control freaks.
And there's nothing we can do about it.
---
It's a beautiful, sunshiny day in late September —and we're driving down to the University of Transylvania!* This won't be anything like our other campus tours. This is my alma mater! My wife's alma mater!
I remember the time our whole family came down for my 25th reunion. My entire graduating class was grouped together on the steps in front of the library for a reunion photo. We were singing the school's time-honored spirit song and pumping our right arms toward our chests in the ritual Transylvania salute.
My son, who was 14 at the time, was especially moved by the scene. Well, maybe not exactly moved. Well, okay, maybe appalled. As more than a thousand smiling middle-aged Transylvania alums swayed and sang, "Here's a toast to dear old Tran!", he shook his head in disbelief. "No way on earth would I ever go to this school," were his exact words.
But that was then. Now he's a senior in high school. He's more mature. He understands that it wouldn't be a bad thing for him down the road if he manages to get himself into an Ivy League school. He doesn't know exactly what the word legacy means, but he realizes that he stands a better chance of getting into Transylvania because both his parents went there.
We walk over to the alumni office for his interview. Given the favorable situation and friendly setting, I'm filled with tremendously positive vibes. I know they'll welcome my number one son with open arms. And why wouldn't they? After all, he's a real bright kid. Handsome, too. Great sense of humor. And my wife, Carol Korngut Herman CW'73, and I have been receiving these super-encouraging "legacy" mailings on an almost daily basis. We look at this whole interview deal as something of a formality.
I drop off my son at two o'clock sharp, walk over to the library, plop myself down on one of the benches out front, and joyfully ponder how I'll spend my next hour or more on the old campus as my son blows away the admissions interviewer.
Should I catch some rays out here on the green and watch the coeds go by, just like I did when I was an undergrad? Should I grab a Daily Transylvanian and find out what the kids are marching for and protesting about these days? Or maybe I'll just take a stroll up and down Magnolia Walk and see what's going down on Fraternity Row.
Twelve minutes later, I see my son shuffling toward me. How can he possibly be back so soon?
"I think I did okay," he says, somewhat defensively. "We really didn't have much to talk about."
Back home in Connecticut that evening, Carol conducts the post-interview debriefing.
"Did he ask you what your favorite subject is?"
"Yeah, well, I mean, more than that," our son complains. "He asked me what I'm going to, like, major in."
My wife looks at me. I know what she's thinking: A 17-year-old high school senior is supposed to know what he's going to major in? Wow. Maybe we should have prepped him a bit.
"So what did you say?" my wife asks.
Our son shrugs. "Maybe math. Maybe history."
Hmm.
"Oh, and he also wanted to know why I'd choose those majors," our son adds.
"And you said?" my wife prompts.
Our son shrugs again. "I said, 'I don't know."'
I can see our son slumped down in his chair, facing the interviewer.
"Then he asked me what I might want to do when I finish college."
"He asked you what you might want to do when you finish college?" my wife parrots. What's going on here? Man, we really weren't prepared for this.
"I said I might want to be a lawyer."
"A lawyer?" my wife asks.
"Yeah. You know. Like Uncle Dan." Our son seems to think maybe we don't know what a lawyer is.
"I also said I might go into business."
Business. Our son has no idea what business is.
"Then he asked me how I did on my SATs."
My wife and I look at each other. This wasn't supposed to come up yet. Our son has only taken the SATs once, and he hadn't done as well as we hoped he might.
"Did you tell him?" my wife asks.
Our son looks at her. "No, I lied. Yeah, of course I told him. What was I gonna do?"
"And what was his reaction?"
"He told me I should work real hard to get my verbal up about a hundred points."
"Did you at least get the chance to ask any questions of your own—or bring up anything interesting?" my wife says, hopefully.
"Oh, yeah—I almost forgot—I asked him how he thought it would look if I dropped AP Calculus."
Oh, no.
Without saying a word, my wife and I realize the same things: It's not looking real good for our son as an Early Decision candidate at the University of Transylvania. That being the case, he will probably have to subject himself to many, many more interviews. Our son will have to be a lot better prepared. It looks like my wife and I will have to—how shall I put this—take a little bit more of a "proactive" role.
In the end, Matt wasn't accepted at Transylvania, but he went on to Infinity College. And we all survived. In fact, he thrived during his four years there and has gone on to complete a master's degree in communications—without a bit of prompting from us.
---
It's the spring of 2004, and I'm coaching my third son's Little League practice. My third son, Robby, is ten years old.
I happen to be wearing a Transylvania baseball cap.
"My dad went to Transylvania," says a long-haired kid who's playing left field. "You went there, too?"
"Yeah," I answer, "I went to Tran, and so did my wife. "
"Wow," says the 11-year-old left fielder, his eyes widening. "Then Robby's a double legacy!"
With 11-year-olds talking about double legacies, I suppose it's fair to say that the insanity surrounding the college application process has not really abated since we went through it with my first son. I'm convinced, though, that the pendulum will swing back and that by the time Robby has to apply to college it'll be just grades and SATs again—period. No scrapbooks. No brag sheets. No letters of support from teachers and coaches. No "showing interest."
I base this conviction on blind faith. Blind faith coupled with desperation. Because if there's one thing my wife and I know, it's that we can't go through this a third time.We've pushed the envelope as far as it will go in terms of our patience, resourcefulness, and creativity. Having already expertly "positioned" our first son, having coached our second—now a junior at Transylvania—through the finer points of interviewing and showing interest, there's not much left in the tank. Our third son, all four-foot-seven-inches and 72 pounds of him, says he's skipping college and going directly to the NFL. Fine with us.
*The resemblance to a certain Ivy League university in Philadelphia is more than coincidental.
---
This essay is excerpted from the book, Accept My Kid, Please!, by Hank Herman C'71. Copyright ©2005. Reprinted by arrangement with Da Capo Press, a member of the Perseus Books Group. All rights reserved. Herman is also the author of a series of sports novels for children.