Alumni create a "living" art museum
Ready for a little memory exercise on this rainy Humpday morning? Think back to the art museums you visited on school trips past—or even your most recent trip to, say, the Met or the MoMa or (if you're particularly well-traveled) the Tate Modern or the Louvre. Remember what it looked like inside? The security guards who told you, "No touching!"? Good, your mind is just where I wanted it.
Now, get it ready for something completely different: Stephanie Elyse Sherman C'03 and George Scheer's C'03 "living art museum," Elsewhere, where the ever-evolving artwork is made from salvaged thrift-store items (toys, books, clothes, housewares), and where touching isn't just allowed—it's highly encouraged.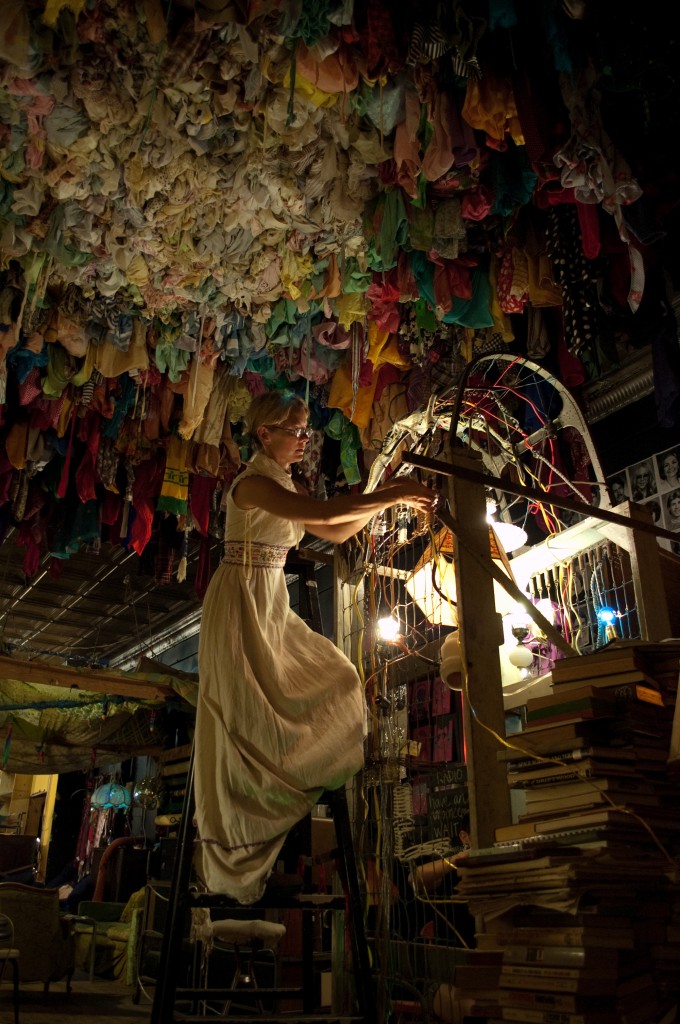 When Sylvia Gray, owner of the Carolina Sales Co. thrift store in Greensboro, N.C., died in 1997, she left behind a 12,000-square-foot store filled with three stories of assorted items. Her remaining family members closed the store's doors, keeping those treasures locked inside for the next six years. Every so often, Sylvia's grandson, George Scheer, would drop by to visit, and in 2003, he brought along fellow Quakers Stephanie Sherman and Josh Boyette C'04 L'10. The rest, one might say, is art history.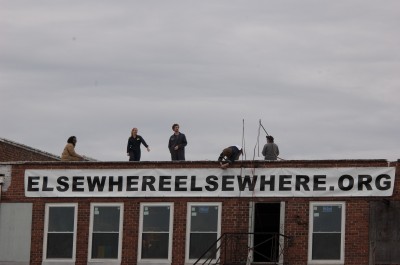 "We decided first that nothing would be for sale, and that instead these materials and resources would only circulate internally, providing a new set of things that could be continually explored through projects and creative research," says Sherman, who serves as Elsewhere's director along with Scheer. And just what is a "living museum"? It's meant to encourage visitors to view and interact with the goods "not as items for sale, but as aesthetic objects that you can appreciate not only by looking but through touch, play, arranging, and interactions with objects and works alike," Sherman says. "Museums display dead things [that] are preserved for an unknown future. For us, the things in Elsewhere are in continued flux."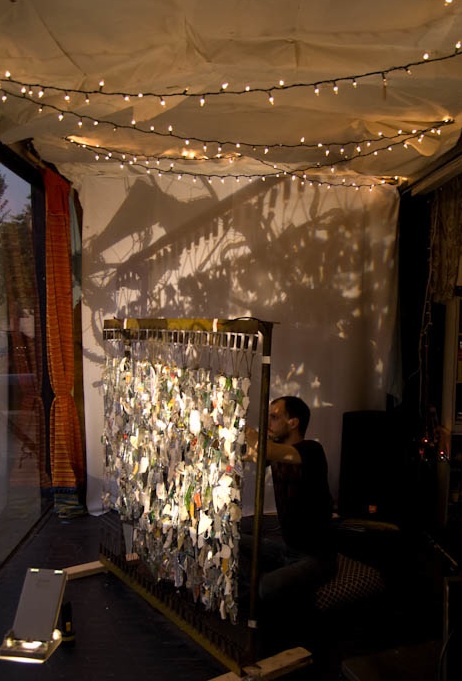 Artists from around the world visit Elsewhere to help transform its everyday items into new works. Sherman says the most innovative pieces she's seen created there are the ones that "serve a purpose or function beyond just aesthetic." For instance, artist/photographer/veteran Joseph Mougel transformed a room of army surplus into a bunker, complete with toothbrushed floors; artist Frau Fiber sewed a quilt that tells the story of life in the area's mill villages (photo below); and artists Agustina Woodgate and Ian Montgomery created a "glass forest" with giant gold furniture "trees."
In addition to inviting visitors to create or alter existing art, Elsewhere also offers a residency program, internships and apprenticeships. Residencies last from two to five weeks, and accepted artists "create works that respond to or investigate Elsewhere's site, materials, and community," Sherman says. The arts collaborative also hosts field trips, conversations (photo below), and retreats, and participates in off-site commissioned pieces and public projects.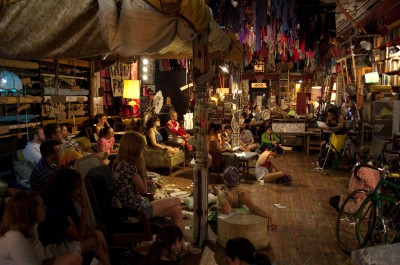 Sherman says Elsewhere has plans for a kitchen renovation in March and April, through which an artist will explore food, generosity and hospitality in a series of projects, including a large public dinner on the street outside the building. 2011 will also herald a new batch of what Sherman calls "front window performance theater"—that is, opening the building's windows to the street outside for lectures, performances and other conversations or interactions.
"Elsewhere is an amazing platform for collaborative, interdisciplinary investigations," Sherman says. "It's not only a fictional world of layered narratives, it's an intervention into a growing place. We've been able to build a city in conjunction with an art world – Greensboro has grown and transformed from a vacant, abandoned place to a thriving town. Our work is an expanding spiral, rethinking the ways that people communicate and collaborate, the ways that things evolve and transform, the way that things intervene in our everyday lives."