Alumna Selected as Yale Younger Poet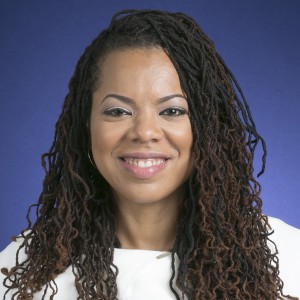 Earlier this month Airea D. Matthews C'94 landed one of poetry's most prestigious prizes. Her book manuscript, simulacra, won the 2016 Yale Series of Younger Poets competition—the oldest annual literary award in the United States. It's an honor reserved for emerging poets who have not yet published their first book, and simulacra will become volume 111 in the Yale series.
Matthews is the second African-American woman to ever win the award—the first was Margaret Walker in 1941—and she also shares the Yale Younger title with past recipients including Muriel Rukeyser, Adrienne Rich, William Meredith, W.S. Merwin, John Ashbery, John Hollander, James Tate and Carolyn Forché.
On the phone from Detroit, Matthews said she's "humbled and honored" to join the Yale series. "I've been trying to publish either poems or a book for about five years," she added, "and I've heard no and no and no and no I don't even know how many times."
Carl Phillips, the judge who selected Matthews's work, said in a public statement that "rebellion" was the first word he thought of while reading her manuscript. "The main rebellion here is against all formal expectations of what a book of poetry is or 'should' be," he continued, citing poems in which Narcissus Tweets and Anne Sexton sends text messages from death.
"The subject matter is no less various," Phillips said, "but a particular constant is the theme of wanting: on one hand, wanting as desire, for safety, for faith, for a way to know the self; and on the other hand, wanting as lack, lack both as emptiness and as a motivating force behind the quest for an end to emptiness."
Matthews's book won't emerge from Yale University Press until next April, but you can read and hear her work online in the meantime:
–Eight of her poems—including the Sexton and Narcissus ones—are available here.
–Here she reads "Hero(i)n," with the text included below.
–Here's "If My Late Grandmother Was Gertrude Stein":
[youtube height="HEIGHT" width="WIDTH"]http://www.youtube.com/watch?v=4hGsyL1QyqM[/youtube]
–And in her best-known work—Matthews jokes that it follows her like "Margaritaville" does Jimmy Buffet—she channels an older woman who refuses to evacuate during Hurricane Katrina:
[youtube height="HEIGHT" width="WIDTH"]http://www.youtube.com/watch?v=bfXW398_zs8[/youtube]
[youtube height="HEIGHT" width="WIDTH"]http://www.youtube.com/watch?v=3W76g0XBqek[/youtube]