Adjusting the Focus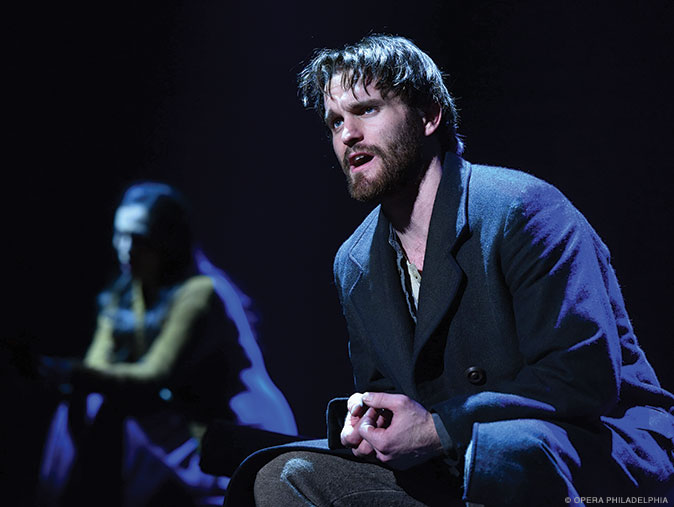 By shifting the emphasis away from objectified female passion—among other things—Jennifer Higdon's first opera breaks new ground.
---
By Karen Rile | When Opera Philadelphia presented Jennifer Higdon's highly anticipated Cold Mountain this past February, it was big news around town. Not just because Higdon G'92 Gr'94 is a celebrated composer with a Grammy and a Pulitzer to her name ["Arts," Jan|Feb 2011], or because she's a Philadelphia favorite and a faculty member at the Curtis Institute—or even because this is her first opera, which is based on Charles Frazier's best-selling Civil War novel.
There's also the matter of gender.
Opera has long been the domain of male composers, an admittedly glorious art that also draws its strength from the objectification of the female voice and the female form. While the canon is slowly changing to include operas that focus not on the passion of woman but on tempestuous political issues (John Adams comes to mind), that evolution has yet to yield more female composers. Not one, according to Operabase, is represented among the 50 most popular operas in performance today. In its entire history, the Metropolitan Opera has staged only a single production by a female composer—a brief one-act by British suffragette Ethel Smyth, back in 1903. (They'll break the ice next winter with a production by Finland's Kaija Saariaho, but still—113 years is an awfully long wait. And no women composers are slated for future seasons.)
Into this void steps Higdon, a quintessential up-by-the-bootstraps American-style prodigy. Raised in rural Tennessee in a rock-and-roll household, Higdon was a self-taught teenage flutist who had no formal music lessons until she got to college (Bowling Green). Now, at the ripening age of 53, she is one of the most successful figures in contemporary music.
Cold Mountain— a joint commission from the Santa Fe, North Carolina, and Minnesota Operas—premiered last summer in Santa Fe, and will be performed in North Carolina next year and in Minnesota in 2018. This long-awaited American upstart work breaks ground in several directions. For one thing, it offers no show-stopping arias—a sticking point with some critics. And while the plot is built around a traditional-sounding romance story (the Confederate deserter Inman's long journey home to his sweetheart Ada), the lovers' relationship is more of an abstraction than a fiery passion. After all, Inman and Ida barely know one another; they met at the start of the war, then corresponded briefly by letter. Cold Mountain is more about the solidarity between Ada and Ruby, the plainspoken mountain woman who befriends Ada and teaches her to survive on her hardscrabble mountain farm. While Inman's odyssey provides narrative structure and counterpoint to the women's story, the most exciting moments occur during scenes between Ada and Ruby, and during the large choruses, particularly the all-male chorus of dead soldiers that poignantly highlights the emotional devastation of war.
Though Higdon is known for writing engaging, accessible instrumental and choral compositions that are rooted in 20th-century classical tradition and suffused with American vernacular sound, audiences shouldn't come to Cold Mountain expecting to hear Civil War music or the bluegrass melodies she brought to her popular triple concerto, Concerto 4-3. In Cold Mountain, Higdon avoids the obvious Ken Burns route, perhaps because familiar tunes would inevitably distract the audience, or perhaps because, in the hands of a lesser production company, such themes might degenerate into Southern kitsch. With her palette of open intervals, she crafts an orchestral score that evokes Appalachian music without resorting to direct quotation. When the fiddler Stobrod, sung by baritone (and trained violinist) Kevin Burdette, charmingly performs his instrument live on stage, the tunes he plays are suggestions of traditional songs, but not recognizable as any one in particular.
Audaciously, the libretto by Gene Scheer is written in Southern-inflected English, and sung with distinctly Appalachian accents—a first-ever in the world of opera, and a terrific theatrical choice. The opera is ingeniously scored for two lyric mezzos, rather than a higher soprano and mezzo, so that their voices, closer to speaking range, are easily understood. Isabel Leonard, with her slightly darker voice, reprised her role as Ada from the world premiere last summer in Santa Fe, and Cecelia Hall sang the part of Ruby. The role of Inman, whose internal monologue drives much of the novel's plot, was sung by baritone Jarrett Ott.
Twenty-seven-year-old Ott was a last-minute replacement for Nathan Gunn, the more experienced baritone who premiered the role in Santa Fe but cancelled due to family problems. A swap like that might have spelled trouble for the production, but really the role was Ott's to begin with: as a student at Curtis he has been performing Inman in workshop and development productions since 2012. Watching him on stage, it was hard to imagine the much-older Gunn, or anyone else for that matter, in the role. Another felicitous choice was that of Marietta Simpson in the role of Lucinda, the runaway slave. In opera, it's called "luxury casting" when a major singer sings a small part, and Simpson brought a depth and intensity to that minor role that was truly luxurious.
The Academy of Music was built in 1857, just a few years before the Civil War, and Robert Brill's clever abstract set—constructed from large, moveable planks that were arranged and re-arranged at awkward angles to suggest the war-wracked landscape—provided powerful contrast to the ornate hall. Authentic period-style costumes and props, as well as dramatic digital projections of snow and night stars, added to the chilly, desolate effect.
Because few can ever agree about opera in the first place, critical response to the Philadelphia production was mixed, as it was in Santa Fe. Among other things, (male) critics complained that the opera was static, lacking large operatic moments. While audience response at the performance I attended was warmly enthusiastic, during intermission I could hear two men complaining about the lack of showcase arias in the first half. Whether the presence of such large moments is a function of gender, I can't say. But no genre is immutable.
Despite its abundant virtues, it remains to be seen whether Cold Mountain will continue to be programmed. In the highly sexist world of opera, a pacifist work about women's solidarity might not cut it—at least not yet.
---
Karen Rile C'80, a frequent contributor to the Gazette, teaches writing at Penn.