A Unique Tradition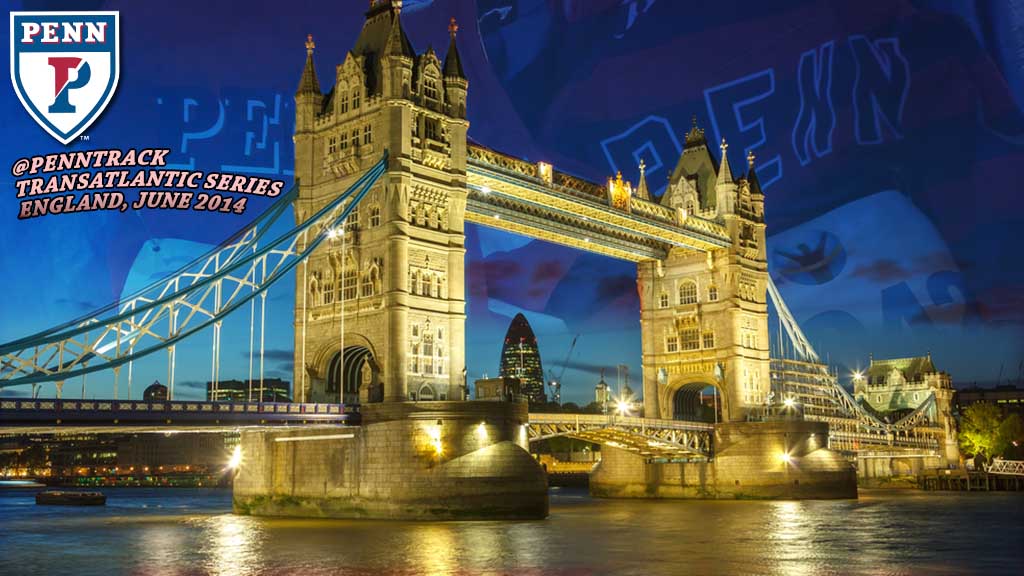 It's been a splendid year for Penn track and field, and it's only going to get more memorable.
After concluding the spring season at the NCAA Championships in which senior high jumper Maalik Reynolds and sophomore discus thrower Sam Mattis were named first-team All-Americans and sophomore Kelsey Hay earned honorable mention accolades in the javelin, the team departed for England to continue one of the school's most unique traditions.
On Monday, Penn joined the Cornell track team to fly across the Atlantic Ocean, where the two schools will team up and compete in a meet against storied English universities Oxford and Cambridge while touring the country for two weeks.
"It really is unique," Penn's second-year track and field director Steve Dolan said. "I think the competition athletically is a lot of fun but really it's the getting together of the great institutions of the world and sharing ideas and meeting those students. It's going to be quite an interaction."
The tradition dates back almost a century, with the four schools (Penn, Cornell, Oxford and Cambridge) alternating hosting duties. In the most recent matchup pitting Penn/Cornell against Oxford/Cambridge, the American men and women both emerged victorious in what's called the Transantlantic Series (while using a very different British scoring system).
Another reason why it's a special event: it's probably the only time Penn and Cornell are teammates and not Ivy League rivals.
"I think a lot of it is the camaraderie," Dolan said. "It's a unique trip because within the Ivy League you're always competing against each other. And this is unique because us and Cornell are combined as a team."
Dolan also said that the students spending time in the Cambridge and Oxford dormitories makes for a great "culture exchange." And that kind of exchange is not solely for the athletes, with Dolan adding that "our coaches and their coaches will share different ideas about training and stuff."
On top of the annual Translantic Series, the Quakers will also compete at England's U-20 and U-23 Championships this weekend, which Dolan is excited about since it's a "national-caliber meet." Later, they'll visit the world-famous Iffley Road Track in Oxford where Roger Bannister became the first man to break four minutes in the mile (a feat Penn sophomore Thomas Awad accomplished at this year's Penn Relays for which he'll be featured in the next print issue of the Gazette).
And before going to Cambridge for the Transatlantic Series on June 30, they'll spend time sightseeing a soccer-crazed country that will surely be captivated by the World Cup. (England plays Uruguay tomorrow in a key matchup between two former World Cup champions.)
"Maybe we'll get to a pub and watch some soccer," Dolan said.
But, of course, the trip is mostly about getting the chance to stay together – and compete together – when most other college athletes have long gone their separate ways. And Dolan is grateful for the alumni contributions that make the trip possible.
"It's something that's been part of our tradition for a long time," he said. "They're very generous and we're hoping to continue the tradition."
– Dave Zeitlin C'03