A Mentoring Program, With Teeth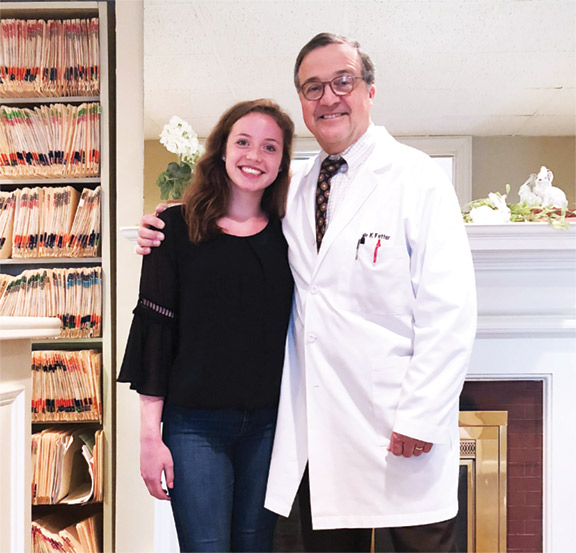 ---
A former Penn wrestler has developed a platform to connect alumni with job-hunting athletes.
---
During a Penn gymnastics practice early in her freshman year, Emma Cullen C'20 smashed her face on the uneven parallel bars, knocking out a front tooth and gashing her lip. She spent hours in the emergency room, had braces put in, and underwent a few different procedures before getting a new permanent tooth—all of which was "annoying as a patient," she says, "but also nice to learn about all of the different specialties."
Cullen's ordeal spurred an unexpected interest in dentistry. And even though her college gymnastics career ended after only one season—a back injury exacerbated her off-the-mat struggles—she still leaned on the Penn Athletics community to determine that becoming a dentist was indeed something she wanted to pursue.
Through Penn's Student-Athlete Mentor Program, which is administered through the athletic department's Pottruck Center for Student-Athlete Success, Cullen was set up with Ken Fetter C'72 D'76, a former Penn baseball player and a dentist in Wayne, Pennsylvania. After several conversations about applying to dental school, and a few trips to Wayne to shadow him in his office, Cullen began at the Marquette University School of Dentistry last August.
"He got me thinking about a lot of considerations about what I would want in a dental school," Cullen says of Fetter, who also helped her "talk to a patient and be close enough to watch a procedure for the first time."
The connection was made possible by Rick Bowe C'74, an old friend of Fetter's and the architect of Penn's mentoring program. A former Penn wrestler, Bowe began matching mentors with the wrestling team in 2005 before expanding to other sports and creating a small company called Umentor that works with the Penn athletic department and a few other schools around the country.
"I realized after a while that in order for this thing to be successful it needed some attention," Bowe says. What sets Umentor apart from other mentoring initiatives is a software platform that provides a space for athletes and mentors to stay connected through an app, offer feedback on how the relationship is going, follow a checklist of suggested tasks per semester, and more. "You need information in order to manage something, and you really need a better system than a bunch of spreadsheets," says Bowe, who works with each coach to track the data and ensure the program runs smoothly. "We don't assume the athlete is going to reach out to the mentor, or vice versa, and the magic is going to happen."
Running Umentor is a far cry from where Bowe started. Coming from a family of physicians, he was "supposed to be a doctor" and studied biology at Penn. He went into business consulting instead and founded a defense and aerospace consulting company that he sold in 2008. He started another consulting company in 2013 but has always spent a lot of time serving on the Penn wrestling board on the side. "I didn't wrestle all four years, and I wasn't the best wrestler," he says. But he made lasting bonds with his teammates—as well as wrestlers who came after him. "That's a great starting-off point for a relationship," he says.
When his role on the board led him to start a mentoring program for Penn wrestlers, "it was very informal and the results were mixed," he notes, because sometimes students and alums never actually connected. But more than 15 years later, it's grown to the point where 2,400 Penn students and alumni have participated in the program as a mentee, mentor, or advisor, and almost 40 percent of current mentors went through the program themselves as a mentee. Currently, about 375 athletes across 18 Penn varsity teams are matched up with an alum mentor.
The program's mission is threefold: to enable athletes to succeed in life and land jobs after graduation; to increase alumni involvement with their sport after graduation; and to bolster recruiting. The Penn Athletics' website (pennathletics.com/mentorprogram) features some of the program's "success stories," including Penn Executive Vice President Craig Carnaroli W'85's mentorship with baseball alum Jake Sadowitz W'20 and radiation oncologist Shelly Hayes EAS'95's work with a trio of recent women's basketball graduates interested in healthcare: Christina DiCindio C'21, Michae Jones C'21, and Eleah Parker C'21. (Athletes are generally paired with alums who played the same sport, but not in every case.) There's also a job board for Penn athletes, and the website boasts that "100 percent of senior student-athletes [involved in the program] received job offers."
"Everybody needs mentors," Bowe says. "The program is not perfect, but it can be great."
Bowe works with other athletic programs, including Vanderbilt women's soccer, coached by former Penn coach Darren Ambrose, and a handful of wrestling teams. But he admits he'd be "kind of challenged" if another Ivy League school asked to employ his company's services. "I'm a Penn guy," says Bowe, whose wife, sister, and daughter all went to Penn, as well as his older brother Andy Bowe C'72 (a physician who also wrestled and has been a longtime mentor to Penn wrestlers pursuing medical careers) and his niece Elise Bowe C'11 (a former Penn gymnast who helps run the mentor program for Penn gymnastics).
"I'm really proud of what we've done," Rick Bowe says. "These alums will go to great lengths to help these kids. So to be able to leverage that network and that energy, it's a pretty awesome thing." —DZ