A Global Dean for Nursing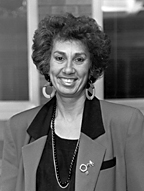 The School of Nursing has a new dean: Dr. Afaf I. Meleis, a prolific nursing scholar in the University of California system. A prominent medical sociologist, the Egyptian-born Meleis spent most of the past 30 years at UC-San Francisco, as professor in the nursing school's Department of Community Health Systems and as an associate in nursing for the Nursing Service. She also spent two years in the mid-seventies as associate professor at the University of Kuwait's School of Medicine and as dean of the Kuwaiti Ministry of Education's Health Institute.
    Penn President Judith Rodin praised Meleis' "international reputation as a nurse and medical sociologist," adding that she is "ideally suited to attract even more prominence to our School of Nursing, which is already a recognized leader in its field."
    Meleis, who will start at Penn in January, replaces Dr. Norma Lang, who stepped down in August of 2000 after serving as dean for eight years. Meleis says she didn't have her sights set on the dean's job.
    "A deanship was definitely not in my career plans," said Meleis, who spoke to the Gazette from San Francisco, in between trips to Finland and Germany. "The fact that I was attracted to the job came from the fact that the school is highly prominent in research and has many well-known and renowned scholars. It is definitely on the map as being innovative, visionary, and quite responsive to issues important to national health care. It has a real presence in the country."
    In addition to the high caliber of students, Meleis said she was impressed by "how committed President Rodin and Provost [Robert] Barchi are to the school," adding: "The fact that President Rodin was incredibly informed about the accomplishments of the faculty gave a clear message of the prominence and significance of nursing" to the University's overall agenda. And the fact that she herself was able to meet with the deans of the other schools, Meleis said, "was a clear message about the importance of collaboration.
    "The initiatives I've been working on match where the school and the University are going," she said.
    Meleis' primary fields of scholarship are theory and knowledge-development, immigrant and international health, and women's health. In addition to more than 100 articles and dozens of book chapters, she is the author of Theoretical Nursing: Development and Progress, and co-author of a book on immigrant women.
    The challenges facing the nursing school are "similar to those facing nursing nationally, and facing all prominent schools of nursing," Meleis said. The first is "continuing to attract and retain the best students at a time when we're facing economic constraints, a decreasing pool of students interested in nursing, and an increasingly aged population."
    Meleis also cited the need to simultaneously "balance our commitments to national nursing and international nursing." While she believes the school is "positioned to make a substantial contribution to international nursing," she acknowledged that the "economic constraints we're facing makes it a very tricky balance."
    Her own perspectives on health care "are not only based on my country of heritage, which I left 40 years ago," she added. "They're really based on my current extensive research and consultation on the national and international levels." And her research has made her a "firm believer that healthcare solutions in one region of the world can influence solutions in other regions of the world."
    Another challenge for the school, she said, is to "recruit students and faculty who represent diverse ethnic backgrounds in order to respond to the needs of a diverse population." Doing so will help to "develop the knowledge and models of care that are more responsive to the needs of a diverse population"—and thus "decrease the disparity in healthcare" that different people and groups receive.
    The terrorist attack in September, she said, "sharpened for me the importance of seeing different perspectives and worldviews—and respecting them."
    Her own research on women's health issues has made her "a lot more sensitive to issues of disparity, inequity, and marginalization," Meleis said, and to the need to "uncover and allow different voices to be heard." Women's work is often overlooked by traditional economic evaluations, she noted, and as a result, "we don't design healthcare programs for them." 
    Meleis began her teaching career as an instructor in nursing at the University of Alexandria, where she completed her undergraduate nursing education in 1961. She earned her master's degrees in nursing and sociology in 1964 and 1966 at UCLA, followed by a Ph.D. in medical social psychology in 1968. In 1971, she moved to UCSF as an assistant professor, and became a full professor there in 1980.