A Cool Hand Leads Hotlanta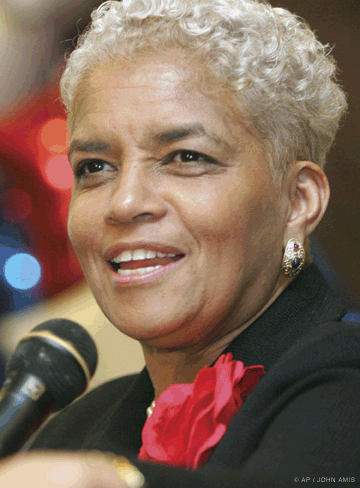 Class of '69 | This past May, Shirley Franklin G'69 Hon'07 returned to her native Philadelphia to receive an honorary Doctor of Laws degree from the University. Talk about a triumphant return.
After hailing Franklin's tenure as mayor of Atlanta as a "textbook case of excellent government," the citation read by Penn President Amy Gutmann lauded her for "profoundly improving the lives of the people of Atlanta, for demonstrating deft, pragmatic leadership that produces good will and results, and for serving as a model for civic leaders all over the world."
Thirty-eight years ago, having just earned her master's degree in sociology, Franklin headed to Atlanta, drawn by its energy and the possibility of rebuilding the "New South," she recalls. For the past three decades she's played a key role in that rebuilding, starting in 1978 as the commissioner of cultural affairs for Mayor Maynard Jackson, and becoming the city's executive officer for operations, chief administrative officer, and city manager.
But it's in her role as the city's first female mayor—and the first female African-American mayor of any major Southern city—that she has really shined. Since taking office in 2002, Franklin has led an exhaustive clean-up campaign. Dubbing herself the "sewer mayor," she started with the city's bowels—which, considering the cesspool her predecessor made of Atlanta, was a fitting place to begin. (Bill Campbell, now in prison for tax evasion, led Atlanta by way of corruption to financial and environmental decay.) On taking office, Franklin faced not only an $82 million deficit but a sewer system so dysfunctional it cost Atlanta $20,000 a day in EPA fines.
Today, with a balanced budget each year of her mayorship alongside plans for environmentally conscious growth, the city blooms just as surely as the signature oversized flower that Franklin clips to her lapel. In addition to its legacy as the birthplace of Martin Luther King Jr. and the home of the civil-rights movement, the city is a mecca for American blacks, home to several historically black colleges and a number of hip-hop artists. But it's also a national center for gay life and a beacon for immigrants drawn by the city's relatively high standard of living.
When Franklin focuses on a priority, she's methodical and tenacious.
Take, for example, her initial run for mayor, a move she was talked into by former Atlanta mayors Maynard Jackson and Andrew Young, both of whom she served in senior positions before opening her own consulting firm.
Franklin took two years to canvass the city in a measured run to overcome stereotypes she would face as an African-American woman, obstacles she says might make running for a higher office unrealistic.
She began her tenure with drastic measures to return Atlanta to financial solvency, enacting a nearly 50-percent jump in property taxes and hundreds of layoffs. But she softened the blow by leading the way—slashing her salary by $40,000 and halving her own staff. She also ended the corruption of Campbell's regime by creating an ethics task force to evaluate the ethics code; that task force authored legislation—eventually passed by City Council—barring gifts from government contractors to city employees and prohibiting outside income for mayors.
Her well-received "Pothole Posse" made good on campaign promises to fix eroding roads while underscoring a philosophy of customer service. The posse, a team of city workers, fills a pothole within 72 hours of it being reported to a hotline, aptly configured "404-Pot-Hole."
When it came to the sewer system, she negotiated "Clean Water Atlanta," a $3.9 billion project paid for with state loans, bond sales, rate increases, loans from the Georgia Environmental Facilities Authority, and a 1-percent voter-approved sales tax. The project is ahead of schedule.
In tackling this and other problems, Franklin has sought the backing of Atlanta's powerful business community, enlisting them in her vision to remake the city.
(That included pro bono services from Bain & Company, which audited City Hall and found—among other things—an excessive number of employee cell phones and vehicles, both of which were promptly cut from the budget. Bain also developed the mayor's economic plan.)
"Mayor Franklin has restored the faith of the business community in City Hall," said Sam A. Williams, president of the Metro Atlanta Chamber of Commerce. "In addition, she's the best saleswoman there is when it comes to building economic development for Atlanta, whether it's trade missions to New York City or business and diplomatic missions halfway around the world." Williams was referring to the recent chamber mission to China where Franklin helped Delta Air Lines negotiate direct service to Beijing.
With housekeeping in order, she has turned to sexier crusades, like saving King's papers from the auction block at Sotheby's for a proposed civil-rights museum here. She has also backed the Beltline project, which would replace the unused 22-mile circle of railroad that gave Atlanta its original raison d'etre—and its first name, Terminus—with a path of parks and transit to connect dozens of neighborhoods, develop business, and ease congestion.
Franklin's work ethic has not gone unnoticed. Not by her staff, who urge her to take an occasional breather from her seven-day workweek. Nor the city, which re-elected her by a margin of better than 90 percent. (On her initial run she barely eked out a victory.) And certainly not by the media. Time magazine named her one of America's five best mayors in 2005, the same year U.S. News & World Reportincluded her among "America's Best Leaders"; Esquirenamed her among the "Best and Brightest"; American City and County magazine crowned her "Municipal Leader of the Year"; and the John F. Kennedy Library Foundation awarded her its "Profile in Courage" award.
It is, frankly, tough to find her critics, apart from the occasional grumbling that her ties with the business community have led to such downtown gentrification as to drive out affordable housing. But Franklin stresses her concern about poverty, which afflicts more than 20 percent of Atlanta proper.
Now, after a highly successful term in office, her goal is to make sure that when she leaves office in January 2010, Atlanta will not only be fiscally sound but have the kind of long-range plans that will make it a leader for years to come. That means determining the "right mix of industries," she says, naming its current sectors—hospitality, healthcare, logistics, and higher education—while nurturing its heritage of diversity.
"The biggest challenge," says Franklin, "is to make decisions today that would be beneficial 150 years from now."
—Rachel Pomerance C'97