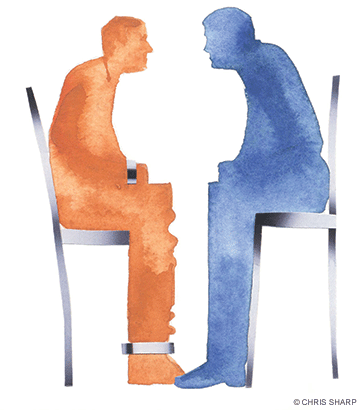 Class of '99 | Sujatha Baliga L'99 is a nationally recognized expert on restorative justice. She is not, she notes dryly, "a poster child for forgiveness."
Restorative justice—a consensual, mediation-like process in which victims' needs are addressed and offenders are encouraged to take responsibility for what they have done—does not have forgiveness as one of its goals, she points out. However, forgiveness can often be a byproduct of the process—which, unlike the criminal-justice system, aims to make both victim and offender, on some level, "whole."
"I can't think of a better cauldron for cooking up forgiveness than answers to questions, the desire to make things right, and apologies," Baliga says. "That can result in some fertile ground for forgiveness, but we never expect it of the victims. We are not positing forgiveness as a policy alternative to criminal justice."
Baliga entered the field of restorative justice in part due to a meeting with one of the most forgiving people on Earth, the Dalai Lama. After college, while working in India with women and children trafficked into sexual slavery, Baliga sent a letter to the Dalai Lama asking how one could work to end oppression without being overwhelmed by anger. In response, the Dalai Lama invited her to meet with him.
In their private meeting, Baliga recounts, the Dalai Lama asked her what she thought he could do to end sex trafficking. "You've been [reincarnated] here 14 times—you might want to come back as a woman every once in a while," Baliga remembers telling the holy man. "I was a very angry 24-year-old."
When she told him about having been sexually abused by her father as a child, the Dalai Lama responded with a question: "Have you been angry long enough?" He then told her to meditate, and to open her heart to her enemies.
"I laughed out loud—I told him that I was just about to start law school, to become a prosecutor against those who committed sex crimes," she remembers. "He said, 'Okay, then just meditate.'" So Baliga went on a 10-day silent meditation retreat—where, she says, she had a "spontaneous experience of complete forgiveness" of her father.
When she got to law school, Baliga realized that it would be nearly impossible for her to stomach becoming a prosecutor: "I didn't feel like locking everyone up when I knew they'd be released again, particularly in child sexual-abuse cases, where an average person who does great harm within their own home doesn't get any time at all."
Though she had heard about the concept of restorative justice from another Penn Law student, she got to see the need for it firsthand when, after choosing to go into defense law, she began clerking in a federal court in Vermont. The first trial she assisted with involved the rape of an 8-year-old.
"I had to defend everybody, even people who had done what had been done to me," Baliga recalls. She found she loved defense work, but realized that the system was "deeply flawed"—especially when she had clients "begging to let them apologize."
"There is a fundamental moral desire to apologize and to confess," Baliga says. "We think it's just us, people with some moral integrity—but [it's] true of all the people in prison: they want to talk."
Baliga's standard response in the context of her appellate work, though, had to be, "Tell your therapist, and tell me, but if you talk to the victims, they'll get a new trial and whatever you say is going to be evidence," which had the chilling effect of penalizing an apology and squelching the potential for emotional peace.
"What a missed moral opportunity that is," Baliga says thoughtfully. "What a missed rehabilitation opportunity—it's something victims really want, an explanation and an apology, and we deny them that all the time because of legal posturing."
After clerking in Vermont she moved to another federal district court in New Mexico, where she later became a public defender; she went on to do appellate work in New York and capital cases in California. In Oakland, having received a Soros Foundation fellowship to work on restorative justice in a juvenile context, she put the funds to work on a juvenile-diversion program, bringing people face-to-face with victims of crimes ranging from assault to burglaries to car theft. After the fellowship ended, Baliga struggled to keep the program alive, at one point even cutting off her family's health insurance rather than firing the one person who worked for her. She stuck with it, though, and obtained federal funding for the project.
As she was trying to get her program up and running, she received a call about a family in Florida that was struggling to cope with the murder of their teenage girl at the hands of her teenage boyfriend. Both families wanted more than a trial: they wanted a resolution that would allow them to live again in the wake of the disastrous death.
"And you want me to do what with that?" Baliga recalls saying. She had never dealt with restorative justice in the context of murder. "After speaking with both families, though, I just fell in love with everybody, and couldn't not find a way to make something happen."
Her work on this case, which was chronicled in a New York Times Magazine article this past January, led to an emotional sit-down in which the young man, accompanied by his parents, sat face-to-face with the murdered girl's parents. After the prosecutor read the charges and summarized the police reports, the girl's parents spoke in wrenching detail about their daughter, her life and dreams, and the terrible effect of her death on them. Then the boy described—also in harrowing detail—the escalating arguments that led, over the course of a weekend, to him shooting her with a loaded shotgun as she knelt on the floor. Ultimately, with more discussions that included Baliga and the prosecutor, the two sides agreed to 20 years of prison, plus 10 more of probation. The family of the murdered girl said that they forgave the murderer—not for his sake but for their own. Doing so brought them a peace that no criminal proceeding could.
Suddenly Baliga started getting calls from Katie Couric and The Today Show, catapulting restorative justice to a new level of visibility and desirability for victims of crimes across the country. Baliga now gets calls every day from people around the country, asking if restorative justice can be applied to pending cases.
"You don't need lawyers to be [restorative-justice] facilitators, but at this nascent stage, we need some wisdom and knowledge about what the potential legal snafus are as we have face-to-face dialogues," she notes. "What can be used that is said in a court of law? What can't? Does it fall under privilege? On the criminal side, what protective mechanisms can be used to protect against subpoenas?
"That's restorative lawyering," she adds: "figuring out how to interface with the system so that we don't create fodder for further legal issues, and so that we're protective of everyone in the process."
The logic of restorative justice, Baliga says, is inherently appealing. By contrast, trials in court can actually make victims feel worse about the underlying offense.
"If you are trying to concoct the best environment for as much traumatic stress as possible, you can't do better than a court of law," she says. "The way in which victims are re-victimized, hearing the stories of what has happened again in ways that do great harm to them—in murder trials, for example, hearing how loved ones lost their lives, or some contributory factor of where their loved one was that night—it's really hard for victims."
In the restorative process, the facilitator can ask victims in advance what they want to know. "You can't manage any of that in a trial," Baliga notes, "because a trial is not primarily about the victims. In restorative justice, the victims are primary."
Baliga recently received a grant from the Department of Justice to survey the nation for restorative-justice programs that are both culturally responsive and victim-oriented.
In addition to the emotional savings, restorative justice also offers considerable financial savings to the courts. Running a child through juvenile-court proceedings can cost as much as $55,000, whereas the average restorative-justice process, from start to finish, costs about $4,000, Baliga says. Furthermore, "you fold in recidivism reduction. You can't even begin to think of what the cost savings are in the long run—those who have committed a crime have a moral wake-up that their harm impacted another human being in a way that they don't want to do to someone ever again."
So far restorative justice appears to be more effective in resolving some crimes than others. "Face-to-face dialogues are now being shown to be effective in both basic relationship-building school-based programs, as well as in crimes of severe violence," she notes. "Where it appears to be less effective is in crimes like lower-level property damage, vandalism, shoplifting, and graffiti."
Baliga worked with a middle school in an impoverished part of Oakland that had the highest expulsion and suspension rates in the area. By the end of the first year there was an 84 percent reduction in suspensions, as well as zero expulsions and physical fights, says Baliga. "I really do believe we can resolve basically everything through restorative processes if victims are amenable."
—Jordana Horn Gordon C'95 L'99