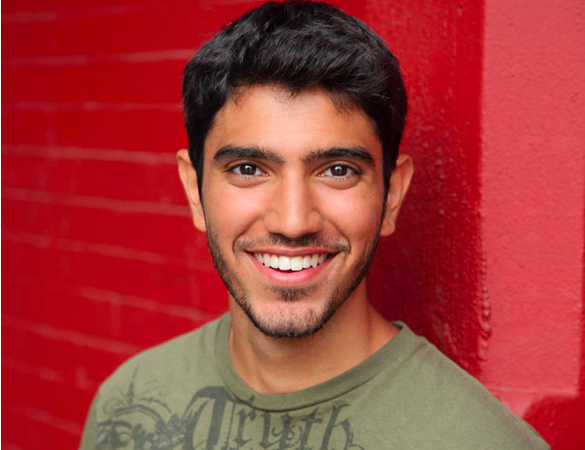 On a Wednesday afternoon in mid-October, as his college theater buddies plowed through their afternoons in nearby investment-bank offices, Omar Maskati EAS'11 lounged on a well-used couch several stories below Forty-Sixth Street in New York City.
With an hour or so until he'd appear in Indian Ink, an off-Broadway Tom Stoppard play produced by Roundabout Theatre Company, Maskati looked nothing like he would on stage. Soon he'd exchange his hoodie and T-shirt for the fez, loose white top and puffy blue pants he dons as the main character's cook and bottle-washer in Indian Ink.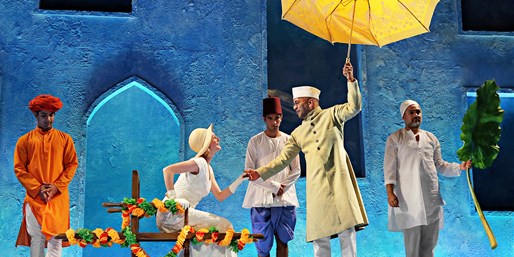 "By graduation, I had decided," he is saying, still in the hoodie, speaking quietly in the theater's underground green room. "It was a long, gradual process of coming to terms with it. It was just this lingering feeling that didn't go away. There was always a little part of me that thought this was an option. Eventually, by the end of junior year, I was like, I think I can be okay with this. I'll tell my parents, and they'll be okay with it at some point—and they were."
He's talking about becoming an actor—the career he chose despite an engineering degree and Digital Media Design major. By this past September, when he turned 25, Maskati had acted in an off-Broadway play at Lincoln Center, appeared in guest roles on two network TV shows, filmed scenes for an upcoming indie movie, and blown out his candles alongside Rosemary Harris—the Indian Ink star who shares his birthday—while the Roundabout cast sang to them.
"I'm so thrilled he's getting a lot of work, but not at all surprised," says Tony Braithwaite, a Philly theatre vet who directed Maskati in several Mask and Wig shows. "Omar has a groundedness and a very natural poise that makes him a terrific actor. He impressed me from day one. He's totally got the 'it factor,' plus a great look for today."
That look comes from Maskati's multi-ethnic background: his dad is originally from Pune, India, and his mom is Puerto Rican. As a result, he's been able to slip between characters of varied ethnicities: an Iranian named Kareem, a Hispanic teenager, a Pakistani-American Muslim who goes by Abe, and in Indian Ink, an Indian houseboy from the 1930s.
"It's good and bad, because sometimes it limits what you can play, so I'm like, I wish there was more out there for someone like me," Maskati says. "But I think I've been fortunate in some ways to be starting at this time, because now there are a lot more—and a better variety of—roles for brown actors."
In the notoriously fickle business of show, Maskati has found steady work so far. His first job came shortly after graduation. Cast in the George Street Playhouse touring theater, he traveled to schools around New Jersey with three other actors, putting on shows about cyber bullying and healthy eating and staying active. "I felt like, if I can do this, I can do anything," he says. "It's not going to be harder than this, ever: waking up at 4:30 a.m. and loading a van and being the crew and the cast. But it was also great because for nine months, I got to work that acting muscle every day."
Shortly after his final anti-bullying performance, Maskati auditioned for Disgraced—a Lincoln Center Theater play about a successful Pakistani-American lawyer named Amir who is distancing himself from his cultural roots. Maskati was cast as Amir's young and "very Americanized" nephew, Abe. The show's run was extended twice, its playwright won the Pulitzer, and it opened on Broadway this past October.
That role was the tipping point, he says now: it required him to join the Actors' Equity Association and helped him find a manager, which led to more auditions, a small movie role, Indian Ink, and TV guest spots on NBC's Believe and CBS's Blue Bloods.
Maskati says his best part to date was Rahim in Modern Terrorism, or They Who Want to Kill Us and How We Learn to Love Them—a play he did at the Contemporary American Theater Festival in West Virginia. It's about three people who want to execute a terrorist attack on the Empire State Building. And it's a comedy.
In his current role in Indian Ink, he's the only cast member under 30. "A lot of these people have done Masters degrees or went to undergraduate acting schools," he adds. "I don't have that experience, but I'm working, and that's the best thing—I'm learning while I work."
MFA or not, Maskati did study acting at Penn, both in classes (he has a theater arts minor) and with Mask and Wig. He spent four years with the all-male comedy group, playing one of the princesses in the annual "Tuition" number, serving as chairman his senior year, and frequently putting his tap-dancing skills to use.
"Wig was great for honing comedic skills and just for reminding me this is something you really enjoy doing and maybe you should consider it," he says. "Unlike any other group on campus, Mask and Wig gets to run their show every weekend for three months in their own theater. It was really the closest thing to doing something like this"—that is, performing eight shows a week in an off-Broadway production—"that you could get from a college group."
As Indian Ink finishes its run at Roundabout, Maskati is already thinking about what he'll do next. He wants to keep pursuing an acting career, toggling between theater and film and TV "as long as it's working and as long as I'm finding work." Before the show closes on Nov. 30, he may also hit the Roundabout stage as Dilip, the part he's been understudying in Indian Ink. "If I don't go on, I'll be just fine," he says. "But if I do, I'll have to call my parents immediately."
—Molly Petrilla C'06
Want to see Omar in action? Here he is in Disgraced, opposite The Daily Show's Aasif Mandvi:
And here's a scene from the 2011 Mask and Wig show A Volcanic Corruption: