Water Polo Ivy Championship tourney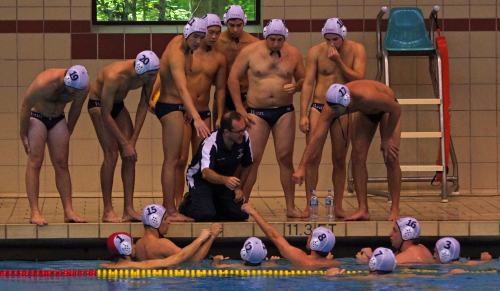 Antonio Merlo lived in Italy for most of his life and now teaches economics at Penn. Since 2008, he's coached Penn's men's water polo team, but being that it's a club team in an underpublicized sport, he's mostly removed from the spotlight of the Penn-Princeton rivalry.
Still, when asked if he knows about the history of the famous rivalry, his inflection changes and he responds emphatically with just one word: "Absolutely!"
And now the one-time professional water polo player from Italy is ready to beat Princeton at this weekend's Ivy championships at Penn – even though the Tigers come to Philly with a nationally ranked varsity water polo program.
"It would be very sweet to show them a good game," Merlo said. "There's always a chance. The ball is round. Something can always happen."
According to Merlo, no other competition in the country features club teams competing against varsity programs, meaning that if Penn can beat Princeton, it would make for one of the most unlikely results in the long-standing rivalry between the two nearby schools – across any sport. The same can be said if the Quakers manage to finish higher than the two other varsity teams from Ivy League institutions: Harvard and Brown.
But even though Penn is limited in the way all club teams are (not being able to recruit, a lighter practice schedule, generally worse facilities, etc.), Merlo believes his team can hoist a championship trophy in what will be the fourth annual Ivy championships.
"I must say this is one of the strongest teams I've ever coached," he said.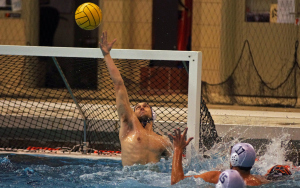 The Quakers certainly are a powerhouse at the club level, where they've won seven Mid-Atlantic Division titles and are currently 9-0 on the season. In their last two trips to national club championships of the Collegiate Water Polo Association (CWPA), they finished in 10th place – "which is remarkable for an East Coast program," Merlo said.
This season Penn hops to finish in the top four nationally, which would be an even greater feat. But before the division championship and national tournament, the Quakers are excited to host the Ivy Championship at home at Sheerr Pool, where they expect between 200 and 300 fans.
"Our pool is narrower than usual and one of the two ends is shallow," Merlo said. "We hope the pool is going to play to our advantage."
The tournament is constructed so that the club teams first compete on Saturday, with Penn playing Cornell and then probably Dartmouth, which won the Ivy club title last season. The winner of the club competition then moves into a semifinal game Sunday against top-seeded Princeton, while the other two varsity teams – Brown and Harvard – play in the other semifinal contest. The winner of both of those games then play for the overall championship, while the losing squads match up in the third-place game.
If the Quakers do make it to Sunday, it won't be the first time they've competed against varsity teams. In September, they were invited to Princeton Invitational and held their own, losing to the host Tigers by just three goals.
So winning the whole thing is certainly not out of the realm of possibility.
"It would be unbelievable," Merlo said. "The odds are not that high but we are going to give it our best."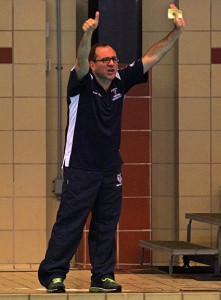 At the very least, the tournament at Penn should help give more exposure to Penn's water polo programs. (The women also have a very good team that I reported on three years ago.) But even though many high schools and colleges are playing the sport, especially in Pennsylvania, Merlo (pictured at left) knows it's an uphill battle to get more recognition. And it will certainly never get as popular as it is in Italy, where Merlo said water polo stadiums dot the entire country.
"Just to give you an idea, when Italy makes it to the final for Olympic gold in water polo, the whole country stops," he said. "It's like the same thing as watching the soccer World Cup."
But even after leaving Italy to get his PhD in economics from New York University in 1988, Merlo has tried his best to stay involved in water polo, which he calls "one of the hardest sports" because of how much you have to swim and tread water. He was an assistant coach at the University of Minnesota and NYU, and then trained with the Quakers after getting hired by Penn in 2000.
In 2008, when Penn's coach left, the players asked Merlo to take over. He agreed under one condition: because of his busy schedule as the Lawrence R. Klein Professor of Economics and director of the Penn institute for Economic Research, he could only do it for season.
But he hasn't been able to walk away since then – both because of his love of the sport and the upward trajectory of Penn's ever-growing team. And, of course, the chance to add another chapter to the Penn-Princeton rivalry.
"The team keeps telling me how happy they are when I coach them," he said. "I must say it's a rewarding experience, especially when I see the commitment these kids have. The fact that they're willing to put so much into the team and the effort they show makes me want to do the same."
—Dave Zeitlin C'03