Memorable weekend for Penn sports
What a weekend.
From overtime heroics to last-second goals to penalty shootouts to routs of Princeton, these past couple of days simply had everything you can ask for if you're a Penn sports fan. And best of all, it all came at home.
If you missed any of it, here's a recap of Penn's remarkable 5-0-1 record over the weekend, and what it means going forward as the fall season begins to wind down.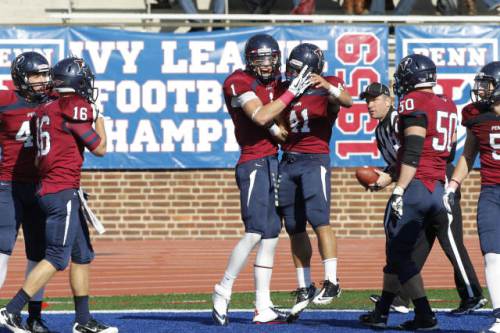 Football
Despite record-breaking quarterback Billy Ragone being sidelined with a foot injury, the Quakers remained perfect in the Ivy League with a 28-17 win over Yale on Saturday at Franklin Field. Fifth-year senior Ryan Becker, who usually platoons with Ragone, completed 77 percent of his passes and threw for two touchdowns in the win, Penn's seventh straight against Ivy competition. Running back Kyle Wilcox contributed 158 total yards and receiver Conner Scott caught a TD while eclipsing 1,000 career receiving yards.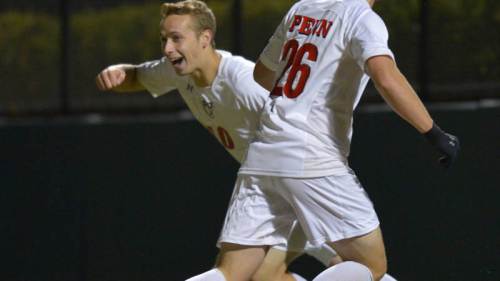 Men's Soccer
In one of the most dramatic games of the weekend, the Quakers beat Yale in overtime, 3-2, on the strength of a 94th-minute goal from senior Stephen Baker, who also assisted on Penn's first two goals Saturday night at Rhodes Field. Goalkeeper Tyler Kinn allowed Penn to get to OT with a huge save in the final seconds of regulation. With a 3-0-1 record in the league, Penn now sits all alone in first place in the Ivies.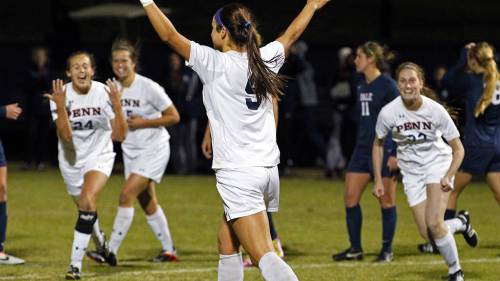 Women's Soccer
It was the only game of the weekend that didn't end in a Penn win – but it still produced one of the most thrilling moments. With time winding down and the Quakers about to drop a 1-0 decision to Yale on Saturday at Rhodes Field, Penn was awarded a penalty kick. And senior Kerry Scalora delivered, scoring the PK goal to tie the game at 1-1, which is how the score would remain through overtime. With a 3-1-1 Ivy record, the Quakers are tied for second place with Brown, behind only unbeaten Harvard.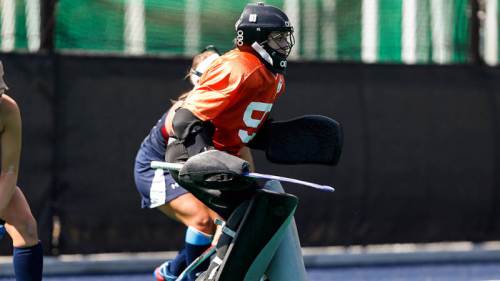 Field Hockey
The new stadium continues to pay big dividends for the Quakers, who improved to 3-1-1 in the Ivy League and a whopping 10-1-4 overall with a 1-0 win over Yale in penalty strokes Saturday at Ellen Vagelos Field. Goalie Carly Sokach finished with 15 saves, tying a career-high, and led the way in what was the program's first penalty stroke shootout since 2002. Penn currently sits just one game behind defending national champion Princeton, who they play, at home, in the regular-season finale on Nov. 9.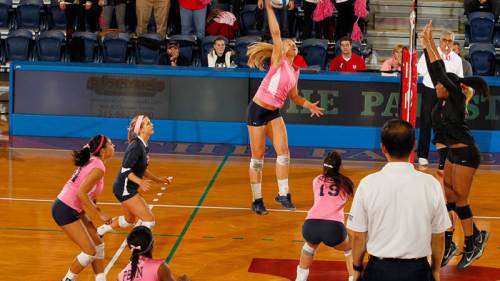 Volleyball
This one didn't have the same kind of last-second heroics as some of the other games but the Friday night sweep of Princeton was just as satisfying. Alex Caldwell had 24 assists and four different Quakers had eight kills as Penn beat its rival, 25-19, 25-22, 25-20, at the Palestra on Friday night to even its Ivy League record at 4-4.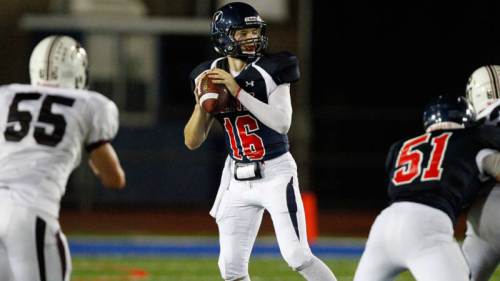 Sprint Football
Speaking of handily beating Princeton, Penn's sprint football team hammered the Tigers, 72-29, under the lights of Franklin Field on Friday night, improving to 3-3 in the Collegiate Sprint Football League. The 72 points scored were the most in a single game since Penn put up 70 on Princeton in 2010. Quarterback Mike McCurdy led the way with 352 passing yards – the fourth most in Penn history – and four touchdowns.
—Dave Zeitlin C'03