Lucky Ant Marches On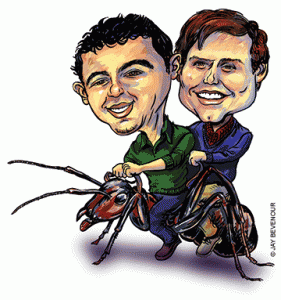 Class of '10 & '11 | Manhattan's Lower East Side is a throwback, a still-gritty neighborhood scarred by graffiti and home to light industry, where family-owned Judaica shops have sold tefilin and tallis for decades and purveyors of cheap leather goods never go out of business. A porkpie-wearing hipster can find contemporary "makers" galore here, too—such as the custom-tailor-cum-vintage-barbershop that recalls the area's immigrant legacy—but a handmade shirt fetches $187 and a straight razor shave will set him back 40 bucks.
No wonder it was only when he crossed Delancey, so to speak, that Jonathan Moyal W'10, an entrepreneurial Wharton grad, conceived an idea centered on, well, entrepreneurship. The result, Lucky Ant, is a crowd-funding source for small businesses—think Kickstarter with a soupçon of Groupon—that taps the client bases of local retailers to enable their dreams of expansion. In return, donors earn rewards that pertain to the actualized project—like, say, the chance to name, and eat free for one month, a taco from the menu of a new food truck.
"A lot of businesses are familiar with the Living Social model, the idea that starts by saying, 'You're going to lose money on the deal, but you'll get new people to walk in your door,'" says Nate Echeverria GCP'11, who was recruited by Moyal a few months after the launch. "This turns the idea on its head. The secret sauce is that there's a reward tied to helping make one of your favorite local businesses even more successful."
Projects have ranged from funding the purchase of an oven for an artisanal pie company in Brooklyn to outfitting a workshop for sculptors in Philadelphia. The average investor promises $100 toward an average goal of $10,000; as with other crowd-funding efforts, the money isn't committed unless the total sum is raised. So far, about 80 percent of Lucky Ant's projects have reached their funding goals.
In its first 15 months, the start-up helped raise $250,000 for about 50 businesses. Along the way, Moyal and Echeverria were joined by a third partner, Vincent Jaouen, who serves as chief technology officer and is responsible for building a 2.0 version of the software that makes Lucky Ant hum.
"We're looking to blow this whole thing out of the water," Moyal says. By this year's end, Lucky Ant will be in five cities, he predicts, and "will have passed the $500,000 mark in money that it's raised for other businesses."
Meanwhile, it's looking to bolster its own finances with some venture capital. That money will go toward hiring additional programming and sales staff. But ultimately, Echeverria says, Lucky Ant is a "volume business," keeping 15 percent of each successfully funded project for itself.
The idea came to Moyal one summer day while he was hanging out in the sunlit space of his sister's graphic-design studio in an old Lower East Side loft building. What really inspires me? he asked himself.A brief stint moving money around at J.P. Morgan certainly hadn't. Six stories below him, kids were shooting hoops, as others had for decades, in a park that runs along a wide median. Designed during the Depression to provide respite for the enterprising hat-blockers and pickle-makers who crammed into the neighborhood's tenements, it had lost none of its power.
"I was sitting right there," the boyish 24-year-old recalls, pointing to a desk near the window, "when it came to me. What I love is entrepreneurship. I love the building of things."
Moyal's family has a long history of starting small businesses, so it seemed natural for him to bring a modern twist to the idea. "Groupon was big at the time and it showed me that there was interest in shopping local, with the right incentives," he says. Furthermore, he had grown familiar with the mechanism behind Kickstarter, which typically crowd-funds artistic projects, during a college stint promoting independent bands. A favorite Wharton class in social ventures taught by Ian MacMillan (the Dhirubhai Ambani Professor of Innovation and Entrepreneurship and director of the Sol C. Snider Entrepreneurial Research Center) cemented the idea.
"I wanted to do something that could change the local business landscape," Moyal says.
In January 2012, he launched a beta version of Lucky Ant, so-named when his sister, who eventually designed the firm's logo, encouraged him to use the cooperative nature of the insect as a jumping off point rather than the "worker bee" metaphors he'd latched onto. The start-up funded its first project—raising $5,000 to help a fitness studio called Bari acquire a trademark for one of its signature methods—in six days.
"If we had tried this through the usual friends-and-family way, it would have been an email with a PayPal link," says Bari founder Alexandra Perez W'07. "Lucky Ant did much more than that, creating a beautiful website and a powerful video." Moyal, she adds, pushed her to come up with the right reward for investors. "He'd say, 'Make it more of an experience. Instead of just a free class, make it an outdoor class.'"
To that good old-fashioned marketing, Lucky Ant added plenty of newfangled social media, allowing Bari to reach more potential donors than it might have otherwise. Bloggers quickly caught on to the campaign and so did sites like Fast Company.
"It kept snowballing, and then the venture capitalists began calling, and I was just overwhelmed, sitting at my desk, trying not to cry," says Moyal. "I didn't know what I was supposed to be doing next."
He needed help—and found it in Echeverria, who was living in Philadelphia working in micro finance when he noticed Moyal's ad on PennLink. By March of last year, Echeverria was hitting the pavement trying to sell businesses on the idea. As a city-planning major who "took half my classes at Wharton," the 28-year-old Echeverria knew how difficult it can be for existing businesses to get capital loans.
"Most of them wind up turning to friends and family, or using credit cards," he says. "Crowd-funding offers a new and innovative way to solve the problem. The numbers and kinds of businesses, projects, and rewards seem limitless. There's no standard template for us—that's our biggest opportunity and, probably, our biggest challenge."
—JoAnn Greco