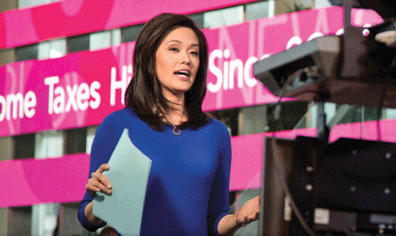 Class of '95 | "I always think about viewers when I'm doing an interview," Betty Liu C'95 is saying. "If they're going to spend five minutes with me and listen in on an interview, what do they want to get out of it? There's always a way you can ask a tough question without putting them off. There's an art to it and I definitely had to learn the art."
She's a fast learner. As the host of Bloomberg TV's In the Loop with Betty Liu, she brings the day's economic news to a global audience that has more than its share of affluent, highly educated, influential businesspeople. They rely on Liu and her team of reporters to give them the financial news and analyses in a straightforward, objective way. Since the show's debut in 2007, Liu has interviewed the likes of Warren Buffett, Jack Welch, Ted Turner, and Rupert Murdoch. And she's not afraid to ask tough questions—or take on new responsibilities. Last year, in addition to In the Loop, she premiered a new TV show, Titans at the Table, and a Bloomberg Radio showcalled In the Loop at the Half.
"I love what I do and I think that shows," says Liu. "Even though I accidentally fell into business news, I have grown to love every part of it—so I want to do more of it. Luckily I have an opportunity at Bloomberg where if I have an idea, if they like it, they'll go for it."
The idea behind Titans at the Table, which airs four times a year, was to replicate the casual networking-over-a-meal that happens on Wall Street and throughout the business world. Liu (or occasionally another host) interviews leaders and captains of industry over dinner at restaurants ranging from The Modern in Manhattan to Gino's East in Chicago. Her guests have included hedge-fund managers, banking CEOs, even Chicago mayor and former White House chief-of-staff Rahm Emanuel.
"One of the ways people exchange ideas is to go out to dinner together," Liu explains. "It's like these informal gatherings where they talk about things, give each other investment ideas, and it just sparks different ways of thinking."
Similarly, her idea for In the Loop at the Half, which hits the radio waves at noon, was to give In the Loop viewers a halftime report on the markets—recap the trading day, look ahead to the closing bell, and provide interviews with business and market analysts about market trends and developments.
Oddly enough, Liu never took any business classes at Penn.
"I had no idea in college that I wanted to do business at all," she says, noting that she majored in English and dreamed of writing for The New York Times or The New Yorker.
Liu's parents, who emigrated from Hong Kong when she was three, were initially skeptical about a career path in writing. Like many Asian immigrants, they hoped their daughter would follow in her father's footsteps and study medicine.It wasn't until they saw her byline in The Wall Street Journal that they realized journalism was a viable career.
Her journalism career began humbly enough when she signed on as a copyeditor at AP Dow Jones after graduating from Penn.
"When I first got the job, I didn't even know it was a business newswire," she recalls. "I just knew it was a newswire, it was global, and there was a chance that they would post someone as young as me overseas to become a foreign correspondent."
Terms like earnings per share and dividends were a new language for Liu, who gave herself an on-the-job crash course in business and economic news. But she quickly got up to speed, and eventually the organization sent her to Hong Kong as a foreign correspondent, later promoting her to Taiwan bureau chief.
After a few years in Asia, Liu returned to the United States to take a job with the Financial Times as its Atlanta bureau chief.
"Really, it was a one-person band," she says. "They supplied me with a laptop and I bought a car, and that was my office."
While in Atlanta, she did guest segments on CNN about China, its politics and economy, leveraging her experiences in Asia. Then CNBC Asia offered her a foreign-correspondent position in Hong Kong.
"I decided to take the plunge and do television," she says, and a few years later, Bloomberg TV offered her a show in New York. Financial news is a highly competitive field, and Liu acknowledges that balancing family and career was a major challenge.
"Like many women, I struggled for a while with 'How do I have kids while continuing to grow my career? Should I stay home?'" she recalls. "I started to look at role models during that time, women whom I saw were working and having great careers, and they had children and they were still able to be at the very top of their fields. So I said, 'I won't change my goals. I'll just make them all fit together.'"
Her workday starts at 4:30 a.m. with a packed schedule that revolves around her two shows. Now that her sons are older, she is home by the time they return from school, and the rest of the day is spent with them. By 9 p.m. she is getting ready for bed to start the cycle again.
"I'm used to it," she says. "I've been doing this [schedule] for almost eight years," starting with CNBC Asia's version of Squawk Box.
If Bloomberg TV continues to gain market share, Liu's star will likely rise. She says she has a few more projects brewing, too. Not bad for an English major who, until the mid-1990s, didn't know dividends from earnings.
—Wanchee Wang C'83