Entrepreneurship on Ice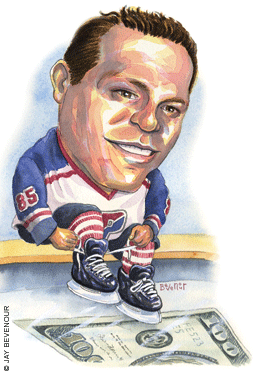 Class of '85 | When Stu Siegel W'85 was in elementary school, the National Hockey League expanded to include a team that played near his family home in Plainview, Long Island. One of the first New York Islander draftees, center Tom Miller, rented a house across the street, and though the team was pretty pathetic that first year—they won 12 games, lost 60, and tied six—the young Siegel was hooked.
"We had played a little street hockey before that," he recalls, "but now we had a team to root for—and I just loved the game."
Having been good enough in high school to be recruited for varsity teams at the university level, Siegel nonetheless "opted for the future—Wharton and club hockey at Penn was just the right mix," he says. (He turned down an offer to play in Germany after college, opting to get going on his business career instead.) The decision-sciences courses at Wharton provided the foundation for using computers in business and would lead to a lucrative career of building technology start-ups.
But Siegel still had the hockey bug festering in his system. After four years as a part-owner of the NHL's Florida Panthers, he recently became part-owner and CEO of International Scouting Services Hockey, the largest service of its kind, rating young hockey players in North America and abroad. The gig satisfies both his hockey and his entrepreneurial urges.
"I'm involved in all aspects of hockey and all around the world," he says. "That is really exciting. But at the same time, it is a business. And one thing I have always loved to do is take an organization and make it the best it can be—and that means taking even your passions and making them work as a business."
Siegel's first businesses were, to be sure, far from hockey. Having graduated from Penn at the cusp of the personal-computer era, he saw that the integration of computers into pretty much everything was on its way.
"Using computers to [help make] business decisions doesn't sound so inventive now," he notes, "but back then it was unusual for a Wharton grad to be interested in programming and that sort of thing."
With a housing boom also going on, Siegel saw a need for realtors to know everything possible about properties and their locations. Enlisting Remax as his biggest customer, he and his tech guru—brother-in-law David Meyer EAS'91 W'91—came up with eNeighborhoods, a business-to-business system that applied algorithms to raw data (income demographics, lot sizes, school quality, et cetera), thus providing realtors with statistics that could then be passed on to their customers. Over the next 20 years, as the brothers-in-law kept fine-tuning the data-mining business, they started, bought, and sold companies—the most prominent of which was arguably freecreditreport.com.
After he and a group of investors tried unsuccessfully to buy the Tampa Bay Lightning, Siegel became a minority partner in the Florida Panthers, a team that had seen little success despite some big-name, high-salaried players. Still, he says, it was a piece of the dream from those days playing street hockey on Long Island. For four years, he got to be on the inside—even, for a short time, running the front office. But eventually he grew frustrated with the mercurial nature of sports-team owners.
"What he realized is that the economics of a losing team in South Florida didn't make sense, and Stu is a practical guy," explains Meyer. "Not everyone who owns a team is entirely dedicated to running it like a business, and because it is a league, often you don't have control. So in time, and I am sure he was disappointed, he sold his interest."
That was in December 2011. Within a few months, a man he had met along the way, Stu Hyman, said he wanted to sell his hockey-scouting business.
"That really appealed to me," says Siegel. "Hockey scouting is still not as sophisticated as in the other sports, and I could use my data background to make a lot of improvements."
Siegel had actually drafted Hyman's son, Zachary, for the Panthers in 2010. Hyman said he found Siegel much more caring and straightforward than many others he had met in the hockey business.
"He was professional and knowledgeable about hockey, so I was happy Zach went with the Panthers," says Hyman. "And then I was also happy that he was the one who bought ISS from me. I know it's in good hands with a man who wants to expand it, and has both the hockey and business knowledge to do it."
In October, as the NHL lockout was imminent, Siegel tapped a Penn connection at Sports Illustrated (senior writer Jon Wertheim L'97) and wrote an opinion piece for the magazine analyzing why the NHL needs to reform its business practices. He advocated bringing in "a team of independent financial and accounting geniuses to figure out the math to equitably divide up $3.3 billion in revenue."
That sums up Siegel, says Meyer—the passion for the sport and the practicality to make it work.
Siegel has maintained his Penn connections. He's currently on the board of Professor Kenneth Shropshire's Wharton Sports Business Initiative, and at Homecoming this past October, a group of Penn Hockey alumni dedicated the players bench at the Class of 1923 Arena to Siegel and his family for their ongoing support of the team.
Ironically, Siegel's own Florida-raised children have eschewed hockey.
"But I take them to Panthers games," says Siegel, who still has season tickets for his former team. "I think they let their old man indulge them."
—Robert Strauss