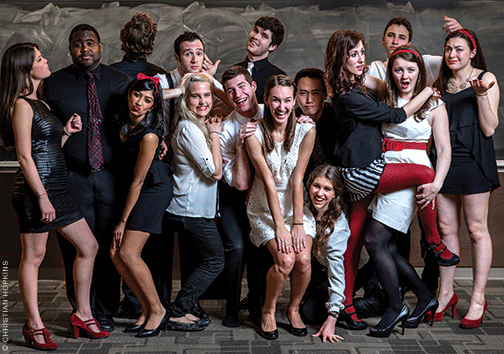 There were Beach Boys medleys and Freddie Mercury tributes, bright green suspenders and gyrations to "Hey Ya." It was everything a college a cappella competition should be—and for the first time in nearly a decade, Penn had a fighter in the ring: the jazz/pop group Counterparts.
Even as heavy rain flooded most of New Jersey, hundreds of college singers and more than 700 of their fans arrived at Rutgers University in late March for the Mid-Atlantic semifinal round of the International Championship of Collegiate A Cappella. Ten groups were competing that night for a spot in the ICCA finals in New York—which, by the way, had already sold out in January, in 11 hours.
Out in the lobby, where two women hawked "Best of College A Cappella 2014" CDs, the chatter was what one might expect: discussions of a certain Mormon university where the a cappella group is actually a class led by a teacher for which students get credit;debates over which all-male group has the best dance moves; reflections on past ICCA glory days.
Meanwhile, Counterparts and their competitors filled the building next door, warming up their voices. For the 16 members of Counterparts—a group founded in 1981 as Penn's first co-ed a cappella ensemble—it had been a long and rather surprising journey to this night. The ride started last fall when then-president Jackson Foster EAS'14 made his annual appeal to enter ICCA, a competition the group hadn't joined since 2005.
"Competing and trying to get national or even local recognition for Counterparts is something I've always wanted to do," he says, "but it was something that members in past years weren't so sure about. I'd been pushing hard, and finally I said, 'Let's just try this out and see what happens. If we don't like it, we never have to do it again.'"
The group recorded videos of three songs, sent the footage off to Varsity Vocals—the company that runs ICCA—and then forgot about the whole thing. They had bigger concerns at the time: specifically, prepping their fall show, "Private Parts."
A few months later, an email arrived: Counterparts had been selected for the ICCA quarterfinals and would compete at Drexel University against 10 other groups. There was only one issue to resolve first. "We had never danced before, and that's a huge component at ICCA," says soprano Lilly Claar, a College sophomore. An experienced dancer, Claar volunteered to create choreography for the group and teach it to them. Many hours in a mirrored rehearsal room followed.
As the competition date came closer, "We were kind of freaking out about getting it together," Claar says, but on February 1, the group took the stage at Drexel and performed "Big White Room," "The Lady Is a Tramp," and "Creep." They finished in second place, behind The Deaftones from Westminster Choir College. Furthermore, College junior Swaroop Rao, the group's president, won Outstanding Soloist for "Big White Room," and Counterparts—the group that "does not dance"—won Outstanding Choreography.
"I was totally in shock," Claar says. "We knew we were good musically, but the fact that this awkward group of kids who usually sway and stand in a circle won an award for dance is just amazing."
With the semifinals up next, the group continued to fine-tune their three-song set. Finally, on March 29, after weeks of extra rehearsals, there they were at Rutgers, waiting to step out on the Nicholas Music Center stage and burst into song—and waiting. And waiting …
Performing ninth out of 10 groups left them with significant time to kill backstage. "We were hanging out with a group from Elizabethtown College playing charades in the hallway," recalls College sophomore Scott Cesta, Counterparts' music director. "A cappella people get along really well. We're all the same kind of people—we love music and we're lively and outgoing, so we always have a good time."
The group's quarterfinals rival, The Deaftones, opened the competition with a set of pop hits that included "Clarity" and "Neon Lights." As the 12-minute sets continued, so did the parade of radio favorites by the likes of Maroon 5, Paramore, Outkast, Queen, and Taylor Swift, with a number of more obscure songs stuck in as well.
When Counterparts at last took the stage, they sang the same three-song set that had advanced them from quarterfinals. The sold-out theater giggled at parts of "The Lady Is a Tramp" and cheered at the end of the performance. The competition had been running for almost two hours by that point, but few in the audience seemed to mind. To its biggest fans, there is clearly no such thing as too much a cappella.
No one from Counterparts can discuss the genre's current popularity without invoking Pitch Perfect, the 2012 movie in which Anna Kendrick portrays a grumpy budding DJ who joins her college's a cappella group and leads them to ICCA glory. (As it happens, the movie was produced by Elizabeth Banks C'96 and Max Handelman C'95, who have admitted they drew inspiration from Penn's a cappella scene.)
Varsity Vocals said their competition had more entries this year than ever before. "It all has to come back to TV and movies," Foster says. " Pitch Perfect basically took Glee and made it more collegiate and a little bit—not 100 percent, obviously—more accurate to the collegiate a cappella scene. I think both of those have a lot to do with the recent popularization."
"A cappella is awesome because all it takes is six or more people who just want to create music out of nothing," Cesta says. "It's very easy to replicate. It's really good for the artists themselves, and since the people who sing a cappella love a cappella, their friends start to love a cappella, too, and then it just spreads from there."
"It's fascinating that you can recreate instrumental noises and sounds with just the voice," Rao adds. "I think it's absolutely fantastic that the human body can even do that."
After successfully mimicking drum sets, basses, pianos, and more at Rutgers that night, Counterparts stood on stage with the other groups, waiting to hear who would advance to the finals.
They didn't win.
First place went to N'Harmonics from New York University, a group whose alumni have appeared in Glee and on Broadway. Runner-up went to the University of Rochester YellowJackets, who finished in the top half of NBC's a cappella competition The Sing-Off in 2011.
But members of the Counterparts crew say their fourth-place finish is just fine. They got to sing on a beautiful stage with excellent acoustics in front of 740 people. They took their first group road trip, which was fun in spite of the torrential rain. They met other singers from local schools, and they may perform on those campuses in the future.
No one's ready to commit to competing next year, but there are indications. "We might as well send in a video," Claar says. "I think the fact that we got so far our first time means we can only improve."
But a cappella fans, take note: with a Pitch Perfect sequel due in 2015—Banks is directing this one—tickets to future ICCA showdowns may be even harder to come by.
—Molly Petrilla C'06